Northeast Florida is growing quickly. And since some of our new neighbors may be unfamiliar with how to prepare for hurricane season, we thought it might be helpful to pull together a few helpful facts and resources.
When is hurricane season?
The Atlantic hurricane season stretches from June 1 to November 30. But tropical storms and even a few hurricanes have formed in every month of the year.
How many storms occur during that time?
The National Oceanic and Atmospheric Administration (NOAA) offers an annual hurricane prediction for the Atlantic basin, which includes the Atlantic Ocean, the Caribbean Sea and the Gulf of Mexico. On average, Florida is affected by a tropical storm or hurricane once every three years.
What are some ways I can stay prepared?
Nassau County Emergency Management has a whole webpage dedicated to hurricane preparedness, including ways to prepare far ahead of time and what to do when a storm is approaching or has made landfall. And Wildlight's very own Home Owners Association has put together an extensive Disaster Preparedness Guide that covers everything from floods to fires. Another excellent resource is this disaster supply kit checklist from floridadisaster.org.

How can I stay up to date on hurricanes and tropical storms?
First, NOAA has a webpage that tracks every storm in the Atlantic. So you can see what's brewing days before it gets close to Florida. And Nassau County has set up the opt-in AlertNassau service that will send you the latest updates on storms and other emergency situations via text, voice or email.
Why does northeast Florida experience so few hurricanes?
Northeast Florida has had fewer hurricane strikes in the last century than many other places in Florida. In fact, since 1851 (when people began to keep track of storm data) the region has been affected by a hurricane only once every six or seven years, with only one Category 3 storm and no Category 4 or 5 storms. Why so few? It's a simple matter of geography. If you look at a map, you'll see that the Atlantic coastline dips northwest, forming a sort of protected bay around the Jacksonville region. Just another confirmation that your decision to move here was a good one.
Is Wildlight designed to withstand a hurricane?
Over the past decade, hurricane-resistant home design has advanced significantly. And Wildlight is one of the beneficiaries. All our homes are built to the latest standards for hurricane resiliency. And the community itself has been designed to manage large amounts of stormwater, greatly reducing the chance of flooding.
No community or homebuilder can guarantee absolute invulnerability to storm damage. But with the steps we and our builders have taken, combined with Wildlight's location on elevated land a few miles inland, you have a lot to feel good about.
One last piece of advice
Keep in mind that you live in one of the most beautiful places in the world. Like every other place, we sometimes have to contend with the extremes of nature. But just take some steps to prepare, take a deep breath, and go enjoy a sunny Florida day.
Actually, make that good things at The Horizon. Because Del Webb's newest amenity, Horizon Club, is going to have everything you need to make your days even more delightful. Exclusively for use by residents of our gated Del Webb 55+ neighborhood, Horizon Club is where relaxation meets activation — and this 16,000-square-foot space has room for it all. (Even dogs get their very own park.)
Start your day with yoga on the event lawn, or soak in the sun by the resort-style pool. (Want to get a few laps in? There will be lanes for that, too.) For the fitness-minded, a fully equipped workout center will feature top-of-the-line machines, weights and equipment. And outside, pickleball and tennis courts will serve up some fun for beginners and more seasoned players alike. Green thumbs (or those striving to be) can hone their skills in the community garden. And an arts & crafts room will provide an outlet for creativity — whether your passion is painting or pottery.
There will be plenty of other spaces to gather as well — like an event ballroom for bigger get-togethers and an outdoor firepit for impromptu happy hours. Speaking of happy hours … the onsite bar and grill just might become your new favorite hangout (if, of course, you don't want to head to Wildlight's Village Center for a burger, tacos or sushi). And the best part? This is just the start of what Horizon Club will have.
With all this space to play, relax and meet new friends and neighbors, don't be surprised if you feel like every day feels like a little vacation — there's even plenty of golf cart parking.
Homes in Del Webb Wildlight start in the $300s. Located conveniently between Amelia Island and Jacksonville, the architecture captures the charm of the Florida Lowcountry. Del Webb model homes are open daily. 
In the interest of efficiency, we'll let you know you can skip this entire article if you simply go tour the nine new model homes that Del Webb recently unveiled in Wildlight. We'll do our best to briefly describe the homes and the whole wonderful place that Del Webb is creating here in Wildlight. But as always, the real thing is so much better than words.
Ok, now that we've gotten the disclaimer out of the way, let's dive in.
When it comes to creating beautiful homes designed to make life easy and comfortable, nobody has more experience than Del Webb. And in Wildlight, Del Webb is offering four home collections, which include 16 of Del Webb's most popular floor plans. From the surprisingly attainable Villa Series, with prices starting in the $300s, all the way up to the open, flowing spaces and elegant finishes of the Estates Series, priced from the $500s. Altogether, the homes offer anywhere from 1,343 square feet and two bedrooms to more than 3,300 square feet and five bedrooms.
The primary takeaway here is that with this kind of variety, you're sure to find a home plan that fits your life plan.
Here's something else to know about these homes, something that's pretty special. In Wildlight, Del Webb is offering a lowcountry-inspired architectural style that's available nowhere else. With raised front porches and other charming details, this exclusive style honors the Florida lowcountry spirit that is at the heart of Wildlight. After all, this is a place where you can get out on a trail and explore parks and wetlands and Florida lowcountry nature in all its unfiltered glory.
But suppose you're looking for fun that's a little closer to home. Del Webb has you luxuriously covered. Construction has already begun on what will be a 16,000-square-foot resort-style clubhouse amenity. Think onsite bar and grill. Pickleball and tennis courts. An event lawn and community event room. A huge menu of interesting classes: yoga, cooking, wine-tasting and so forth. Oh, and a swimming pool that feels like your own private neighborhood lagoon. All planned to open in 2023.
So now that you've read a little about the new homes and soon-to-be amenities of Del Webb Wildlight, ready for a tour? Feel free to drop by any day of the week from 9:30am to 5:30pm except for Wednesdays and Sundays, which are open noon to 5:30pm.
Then again, if you just can't wait to explore the homes, click directly over to the new Wildlight.com.
We had a thought. What if our town in nature included even more of the nature part? So we got to work and planned new parks, trails and more. And the best part (besides all the new outdoor activities to do here?) It will all be ready in 2023.
Here's a sneak preview of what's coming.
Coin Toss Park
It's the ultimate place to play at Wildlight. From tennis to pickleball, sand volleyball to basketball, we've got your favorite sports covered. And with two event lawns, this will be the perfect spot for community events. There will be climbing structures for the kids. An off-leash area for the dogs. And golf cart parking for those who want to get here on four wheels.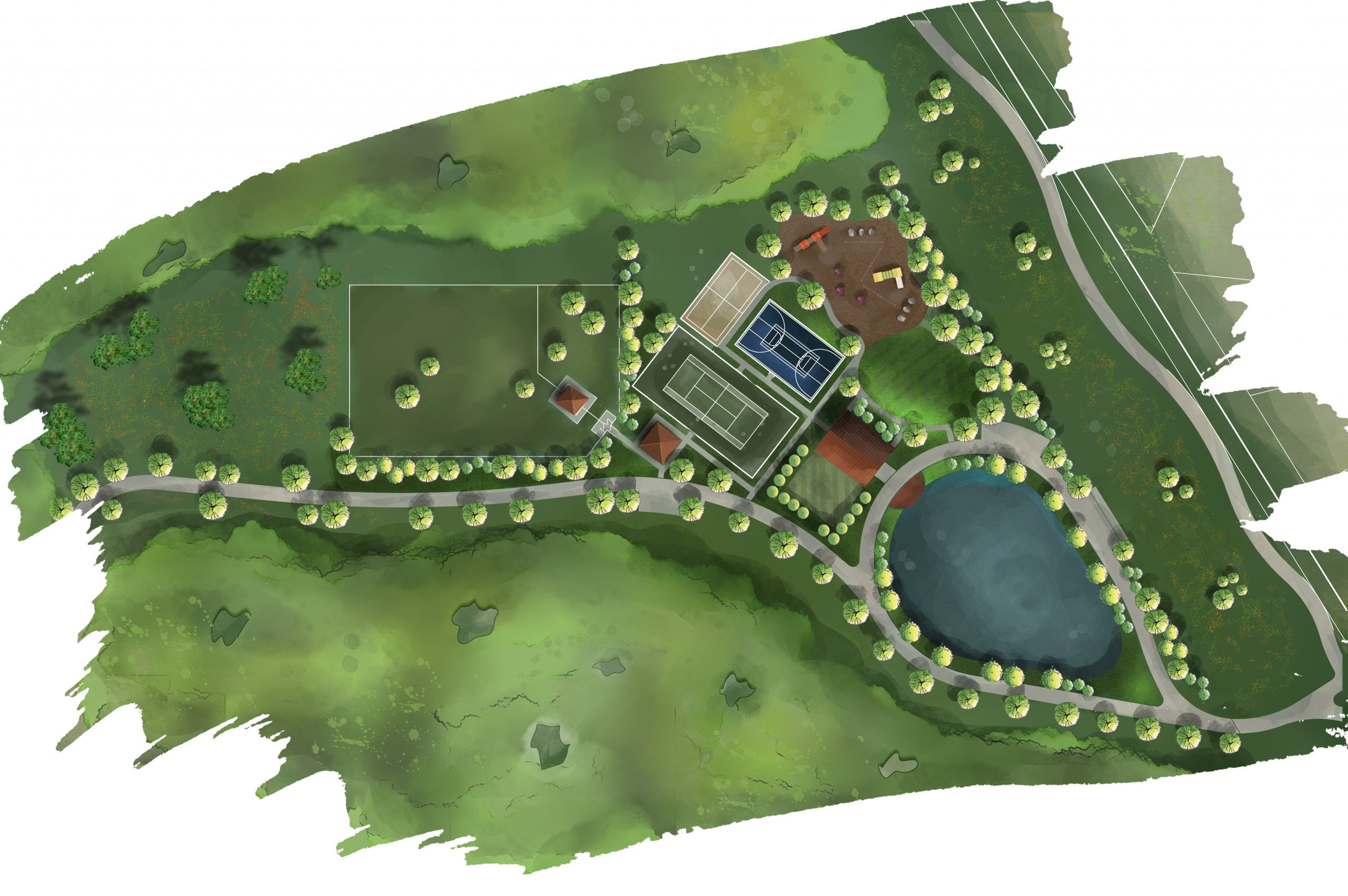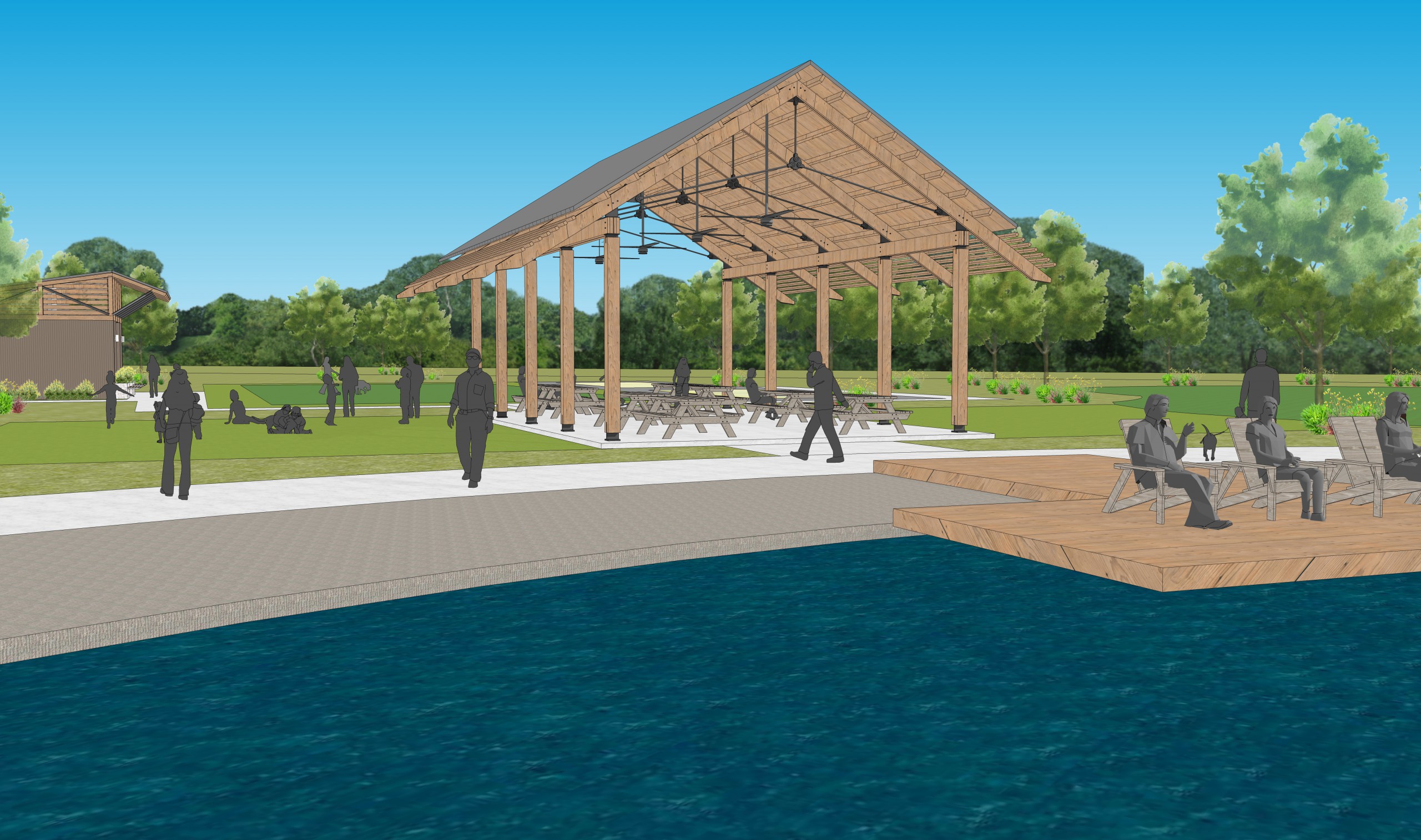 Whistling Duck Pond
We took a cue from this spot's namesake, and made it a relaxing place to spend lazy days on the water. Take a kayak out onto the pond. Walk on a surrounding trail. Or, if you'd rather, just sit on a bench and listen to the quiet calm of the gentle waves.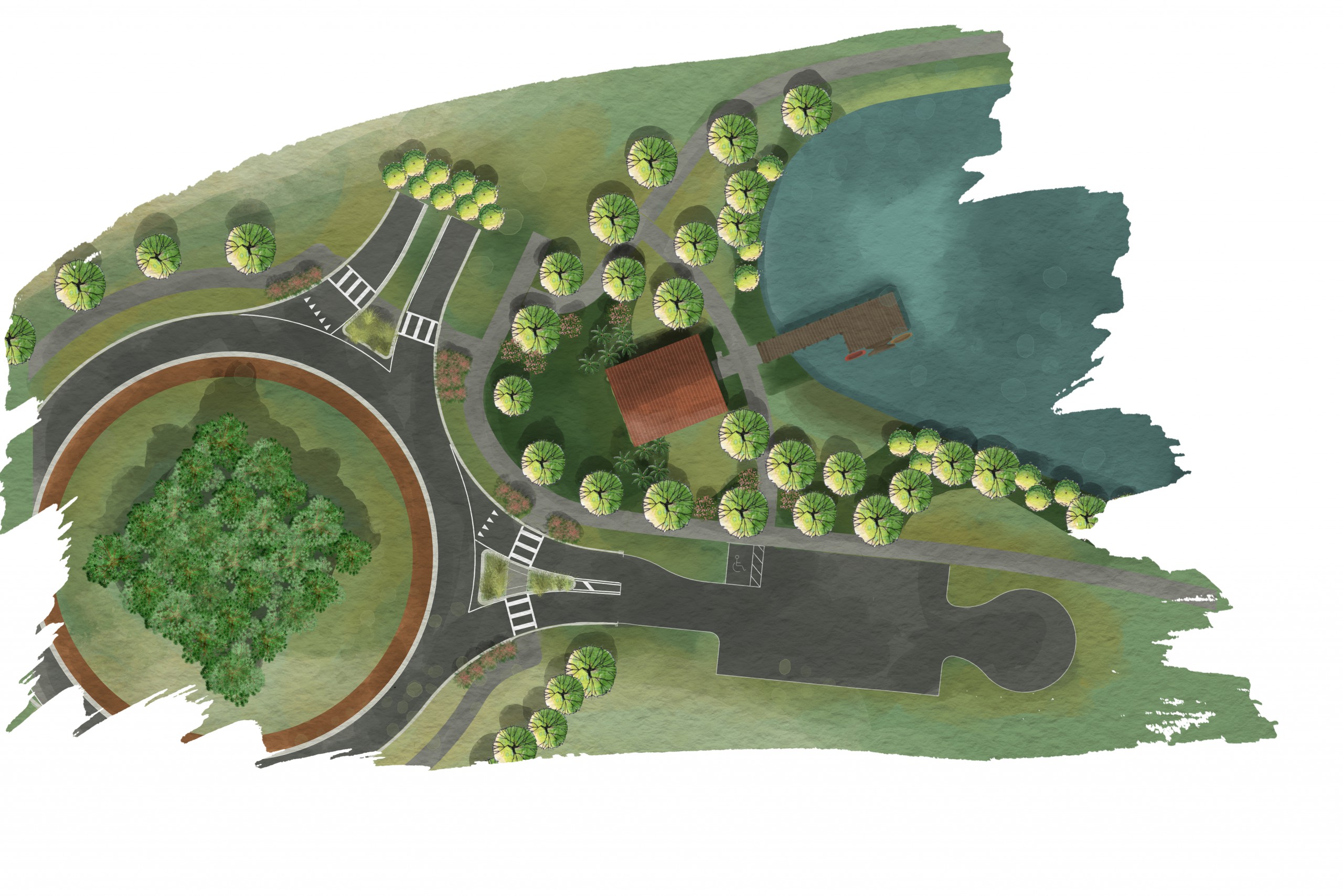 Four O'Clock Park
Little known fact: Four O'Clock is a type of wildflower that will be planted in this park. But the name is about more than that. It's also about the feeling of freedom that comes with the end of a school or workday — when you have time to work out or just relax. And you can do just that here, thanks to a hammock grove, fitness area, trails and a pond overlook.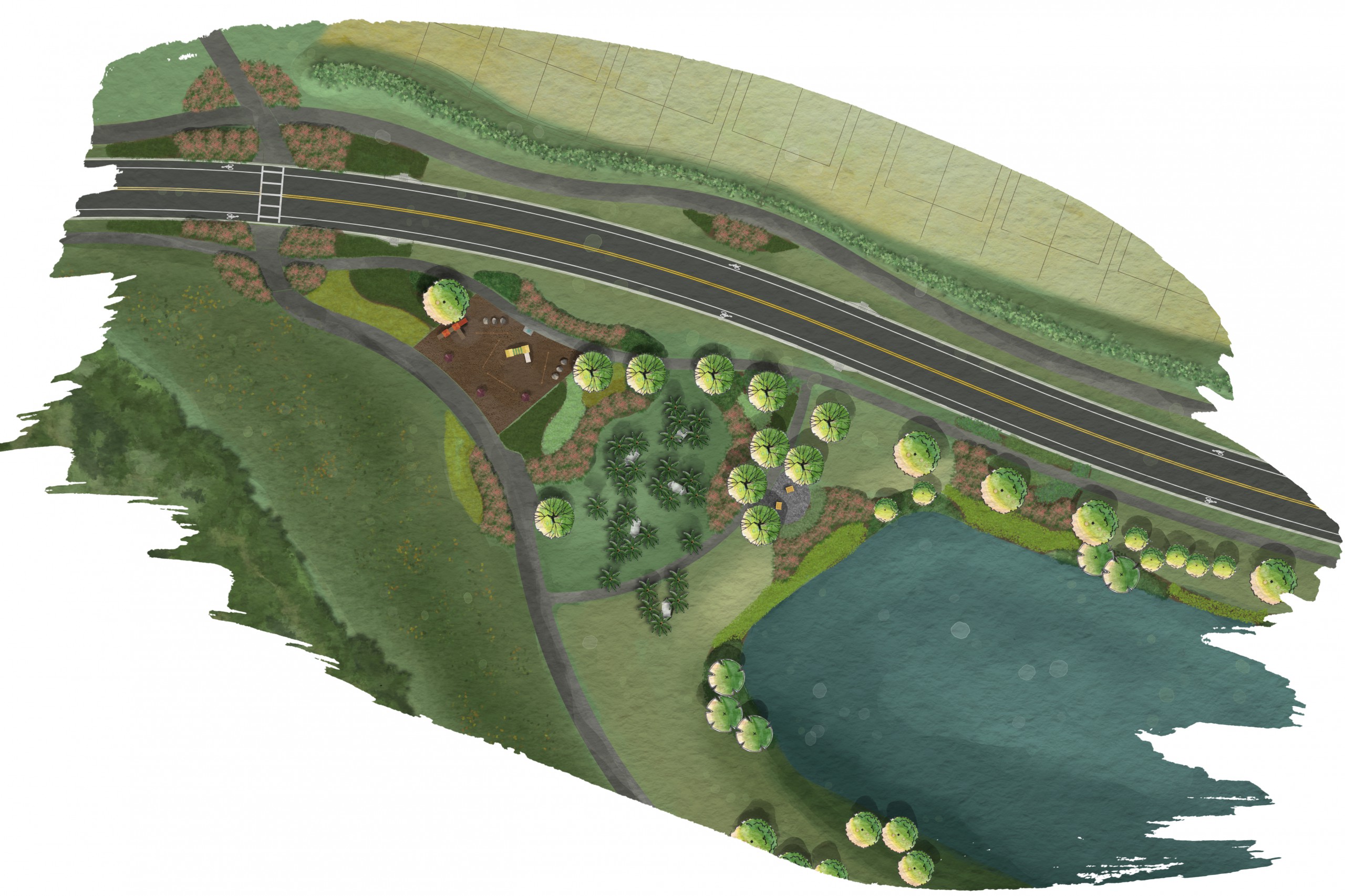 We can't wait for these parks to be complete — and we're even more excited for you to enjoy them. Stay tuned. We'll keep you updated on our progress! And if reading about all the new parks makes you want to buy a new home here, well, we can help with that.
Our Porchfest Model Home Tour was a fun-filled couple of weeks, and a celebration of community—from the fresh homes to the fresh food and the fresh air. We gathered together to celebrate neighbors, nature and all the things that make Wildlight so special.
For those who couldn't make it, here's what you missed: live music from local artists (a feast for the ears), six beautiful model homes to tour (a feast for the eyes) and delicious fare from local eateries (a feast for … well, a literal feast).
It was our way of showcasing the wonderful way that Wildlight lives. We like to say we're a new kind of Florida lowcountry. A town in nature, where your new home is an easy walk or ride (bike or golf cart) from a town center full of shops, restaurants, a YMCA, parks and trails. A place where, whether you prefer coastal or Craftsman, you can find a home that fits your flavor. And a spot where, without a doubt, the porch is the perfect place to spend time with family and friends.
We already can't wait for next time.
https://wildlight.com/wp-content/uploads/2022/05/April-Blog-06-800×419.jpghttps://wildlight.com/wp-content/uploads/2022/05/April-Blog-04-800×419.jpghttps://wildlight.com/wp-content/uploads/2022/05/April-Blog-08-800×419.jpghttps://wildlight.com/wp-content/uploads/2022/05/April-Blog-09-800×419.jpghttps://wildlight.com/wp-content/uploads/2022/05/April-Blog-07-800×419.jpg
If you've been looking at 55+ communities, you might be familiar with Del Webb—a builder of luxury age-restricted communities across the nation. And they're coming to Wildlight this spring.
Del Webb Wildlight will be a gated neighborhood within our community. And oh, what a neighborhood it will be. With a host of luxury, resort-style amenities (exclusive clubhouse, anyone?), residents will be able to relax by the pool, play a little pickleball, and socialize with neighbors at various events planned by our dedicated Lifestyle Director. Want to head over to one of the restaurants in the Town Center? Just hop in your golf cart and take a short drive.
You can see why living here will be unlike anything else. And that goes for the homes, too, with nothing cookie-cutter about them. The fifteen floorplans and variety of exterior elevations by Del Webb will provide all the space (and style) you need, and none of the maintenance you don't. And the opportunity to add your own personal touches will make your home even more uniquely yours. Del Webb Wildlight homes will range from 1,343 to 3,339 square feet, with prices starting in the $300s.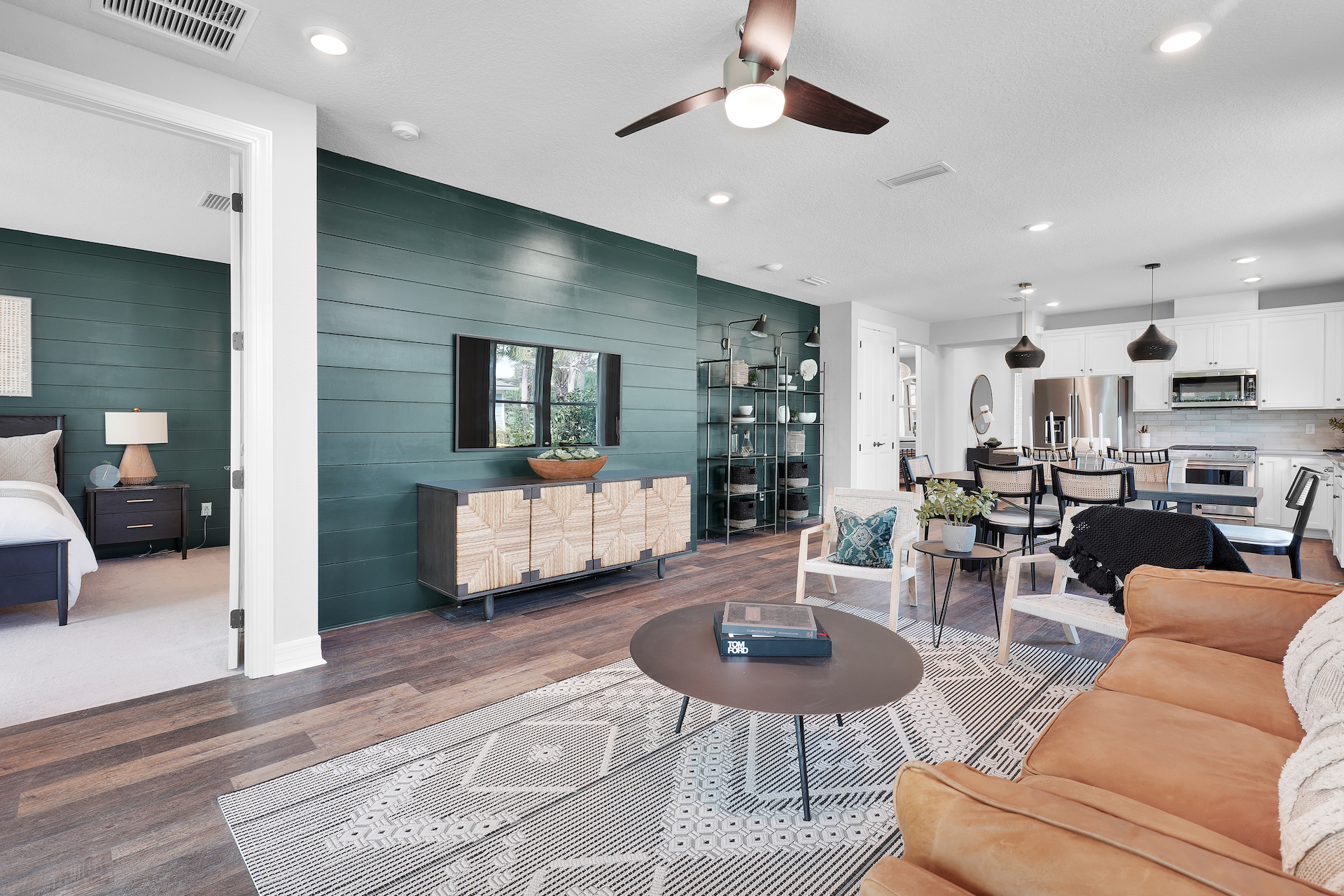 We're proud to have Mattamy Homes as one of our builder partners at Wildlight. They approach home design a little differently — creating new homes that still have character. Mattamy designs forward-thinking communities with lots of green space and attractive, pedestrian-friendly streetscapes. That's why Wildlight is the perfect fit for this builder.
You'll find Mattamy Homes in Forest Park, a short walk from the town center at Wildlight — perfect for weekend burger runs, after-dinner ice cream cones and more. Of course, that's providing you ever feel the need to leave such a thoughtfully designed home.
With two models and one- and two-story floorplans left in our Forest Park neighborhood, you'll be able to experience an inspiring space perfectly suited to your personal tastes. Mattamy offers a selection of Quick Move-In Homes, which means you can get in early and significantly shorten the typical homebuying journey. And they partner with some of the best brands in the industry, from Moen to Ecobee to Whirlpool, so you can be assured you're not sacrificing quality for style.
But you don't have to take our word for it. Mattamy Homes has built over 100,000 homes for happy homeowners in hundreds of communities throughout Florida, North Carolina and beyond. Just think — your home could be next.
Mattamy Homes at Wildlight start in the $300s and range from 1,740 to 2,260 square feet, with three to four bedrooms and two to three bathrooms.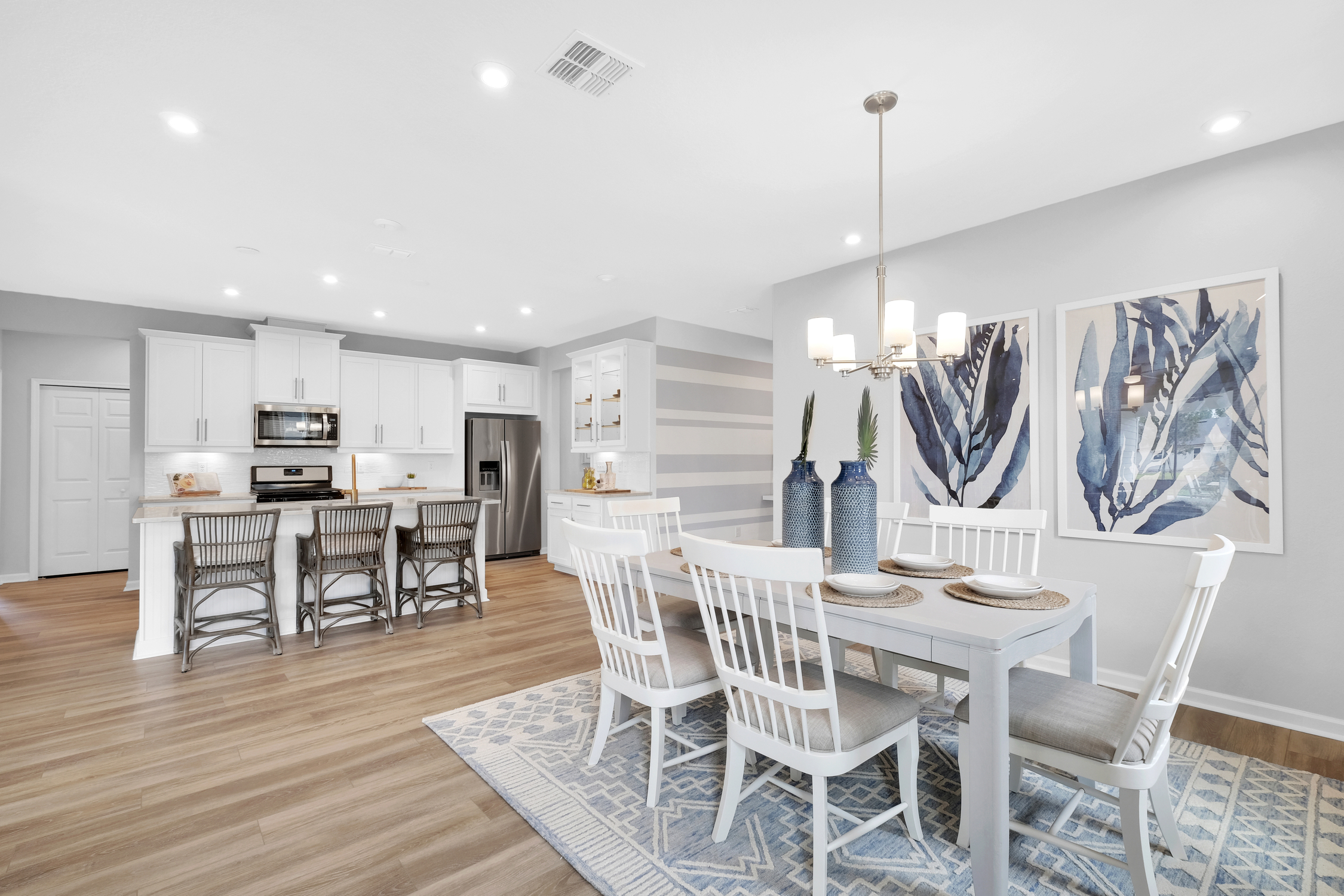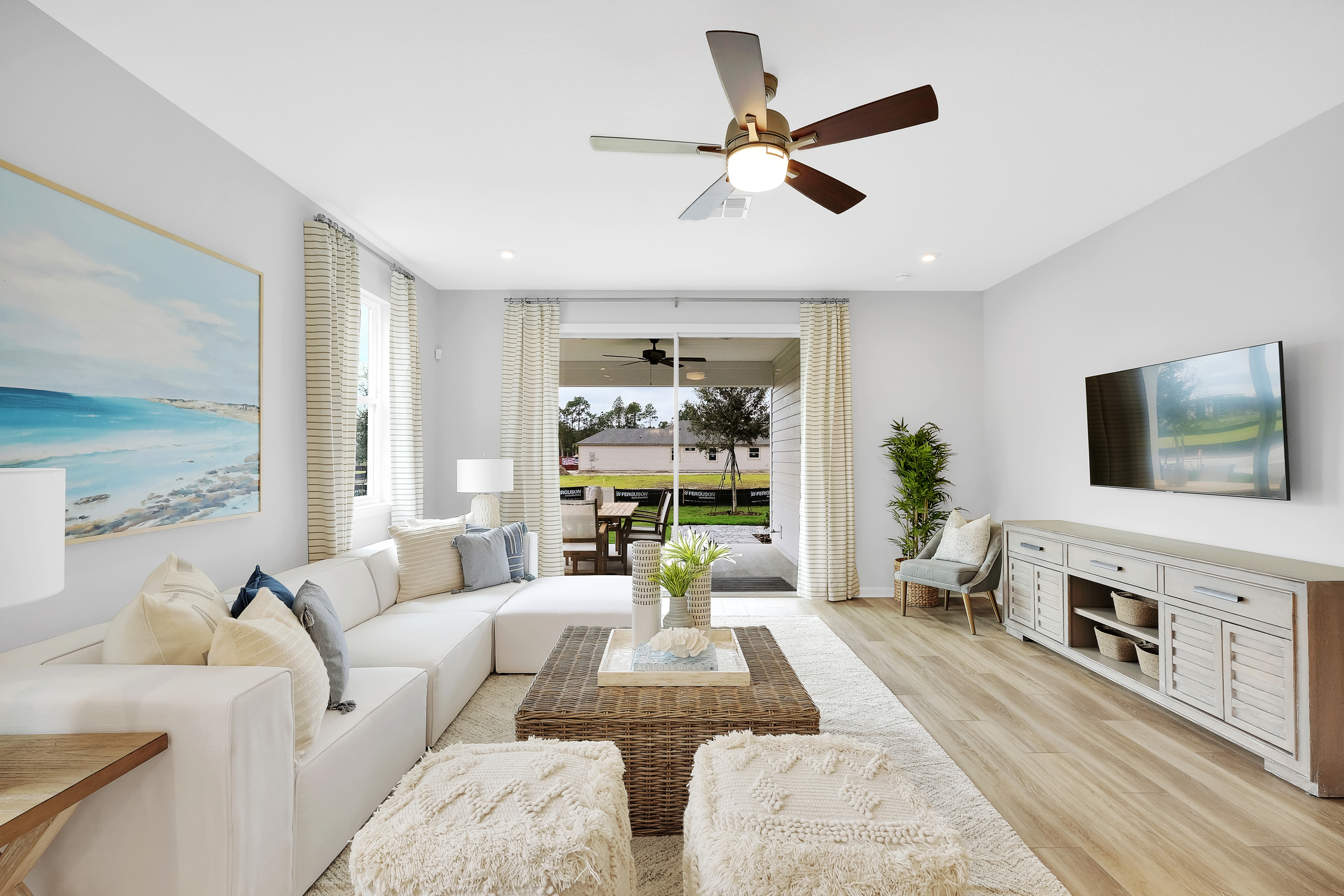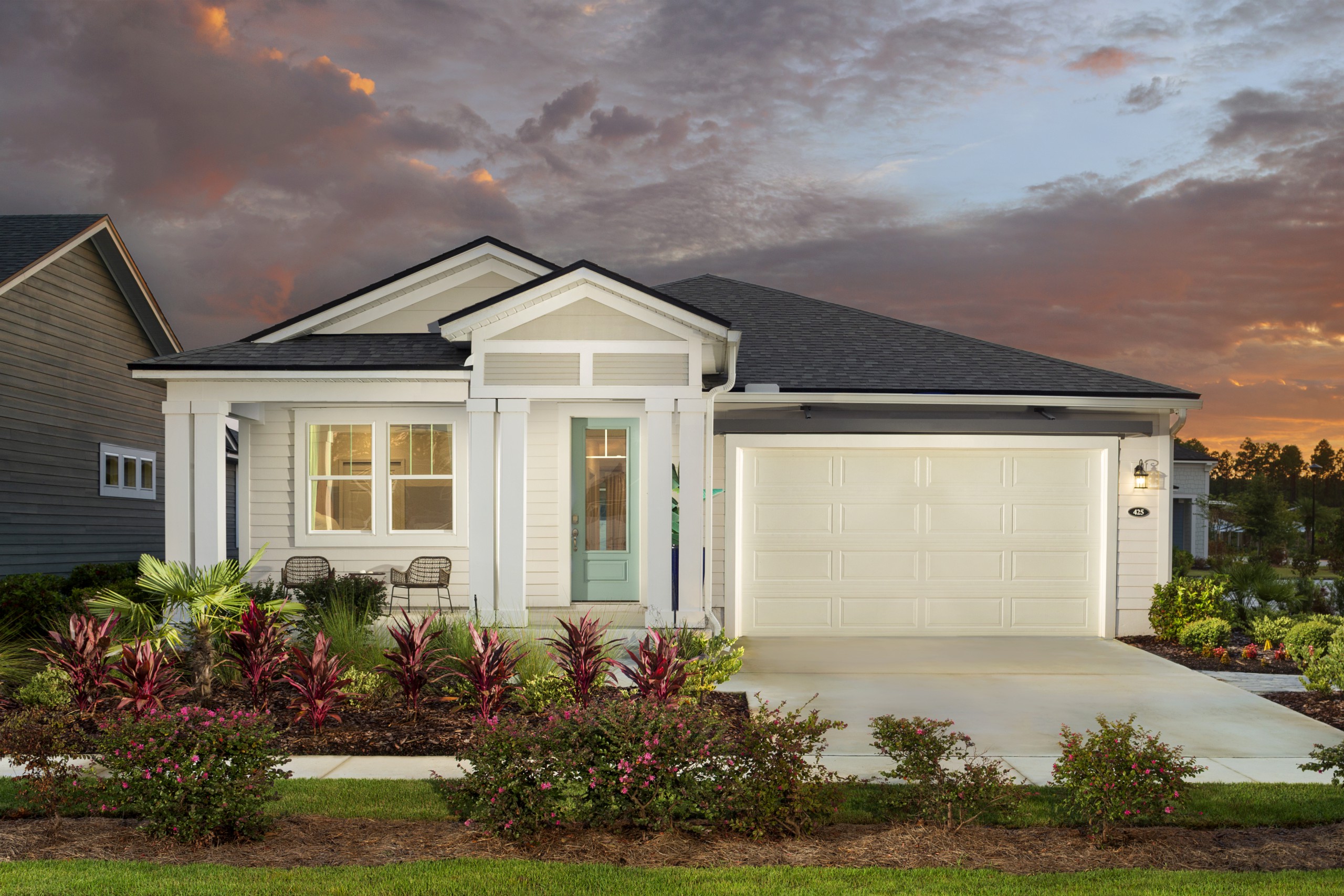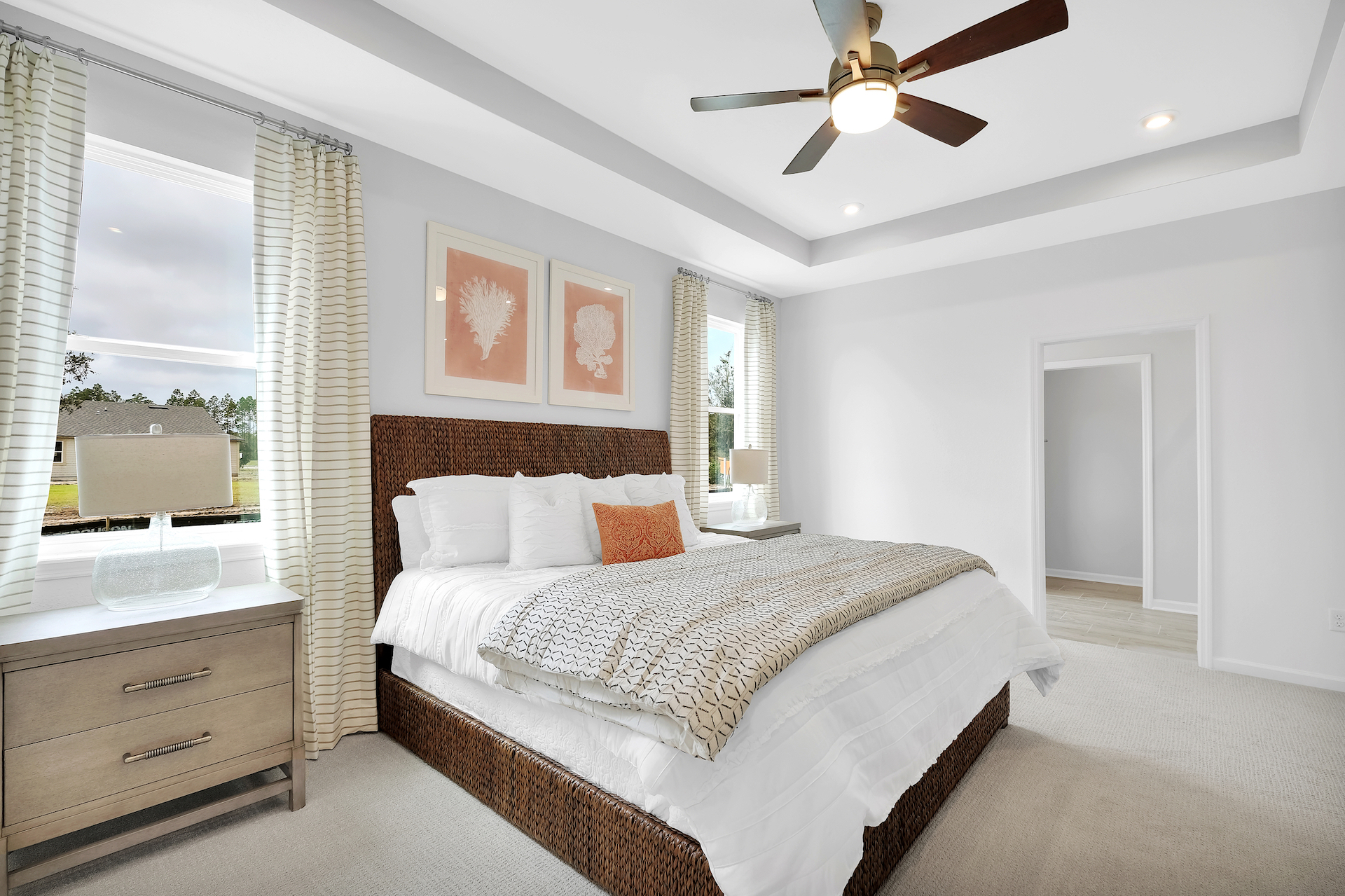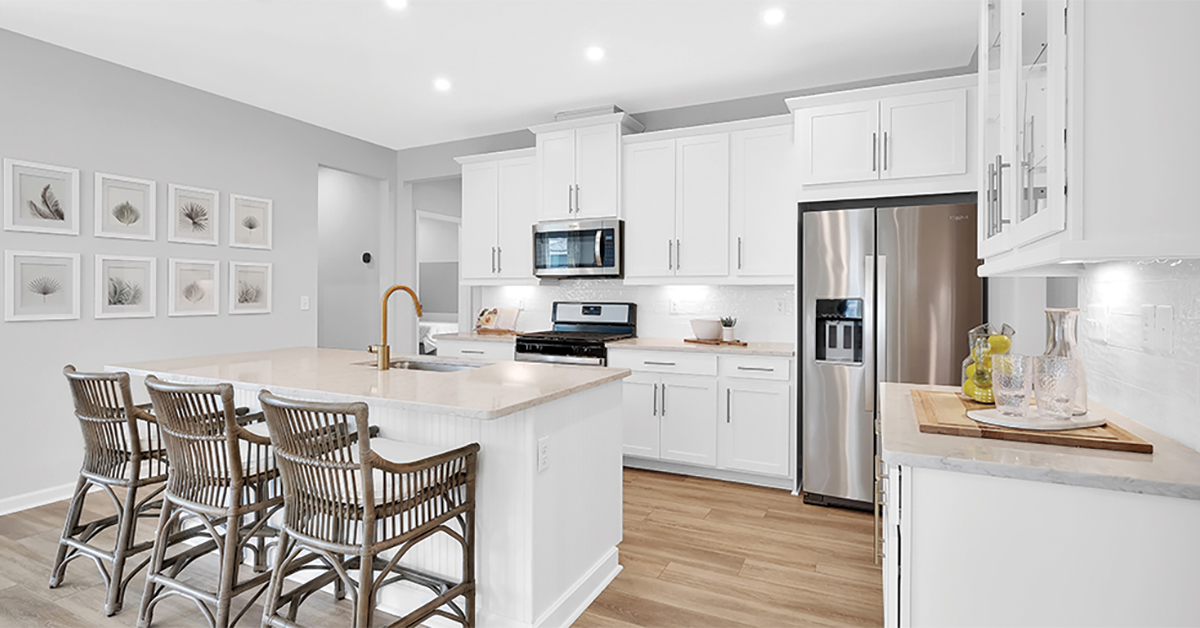 Mattamy Homes Floorplans
There's a reason why, after over 70 years, Pulte Homes is still one of the nation's preeminent builders. Actually, make that many reasons. Like the fact that they offer innovative floorplans that help you live the life you've imagined. Or their industry-leading 10-year warranty. Or their commitment to using premium materials and best-in-class building practices.
With two models and five flexible floorplans in Forest Park, Pulte Homes makes it easy to find the home of your dreams at Wildlight—whether you want inviting entertaining spaces, or family-friendly gathering places. (Of course, with design details like oversized kitchen islands, you'll find that you can do both.) And that's just the start. The real fun begins when you head to their design center to choose the finishes that reflect your personal taste. And you can get inspired at the Spruce and Whitestone models right here in our community.
These two homes feature on-trend, but still timeless modern-rustic touches, like wood beams, shiplap walls, crisp white interiors and more. (Pulte also lets you start visualizing your home online, right down to the paint color—and where you're going to put the furniture.) The single-family Pulte Homes at Wildlight range from 1,775 to 3,459 square feet with three to five bedrooms, two to four bathrooms and start in the $300s.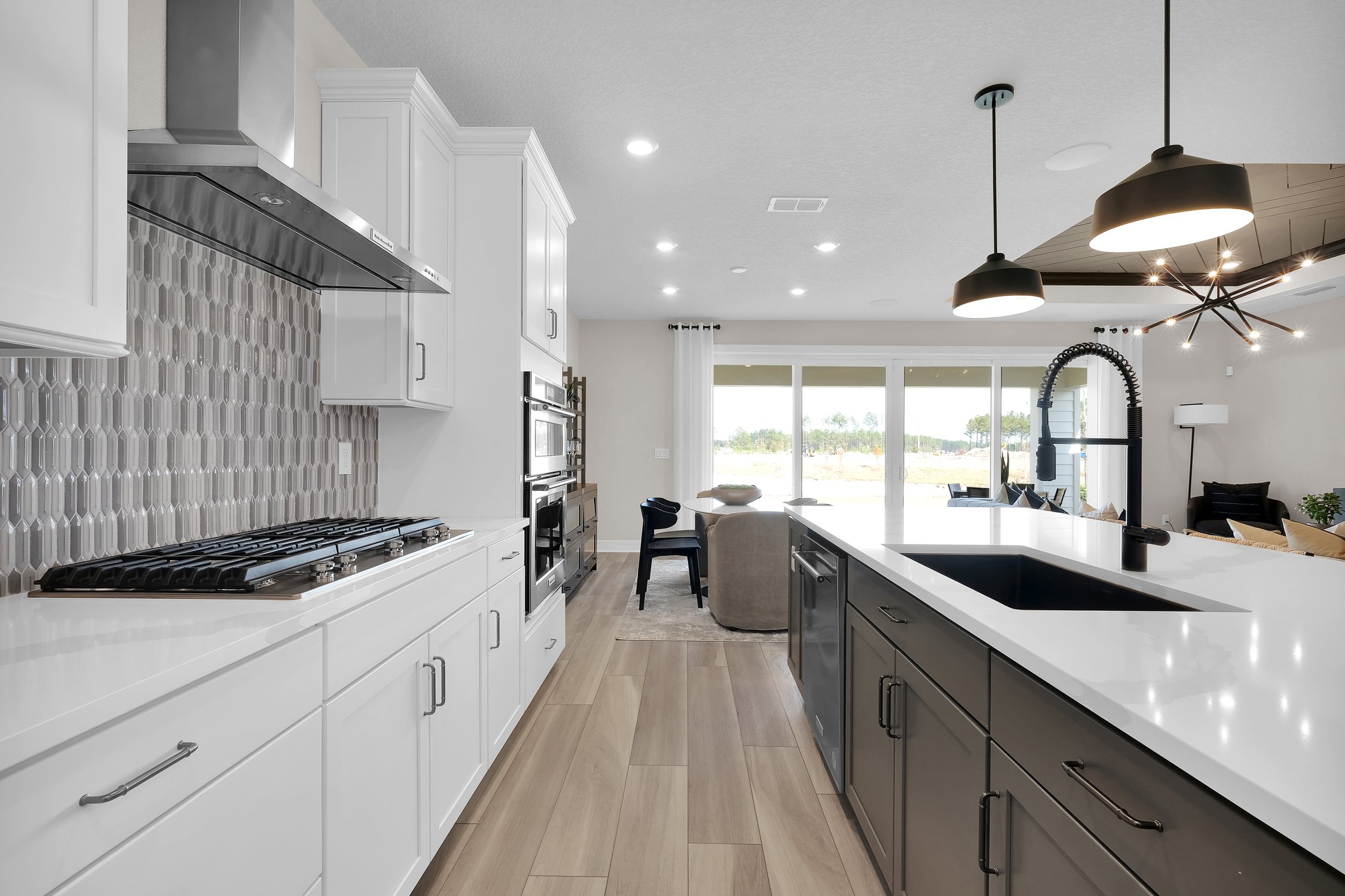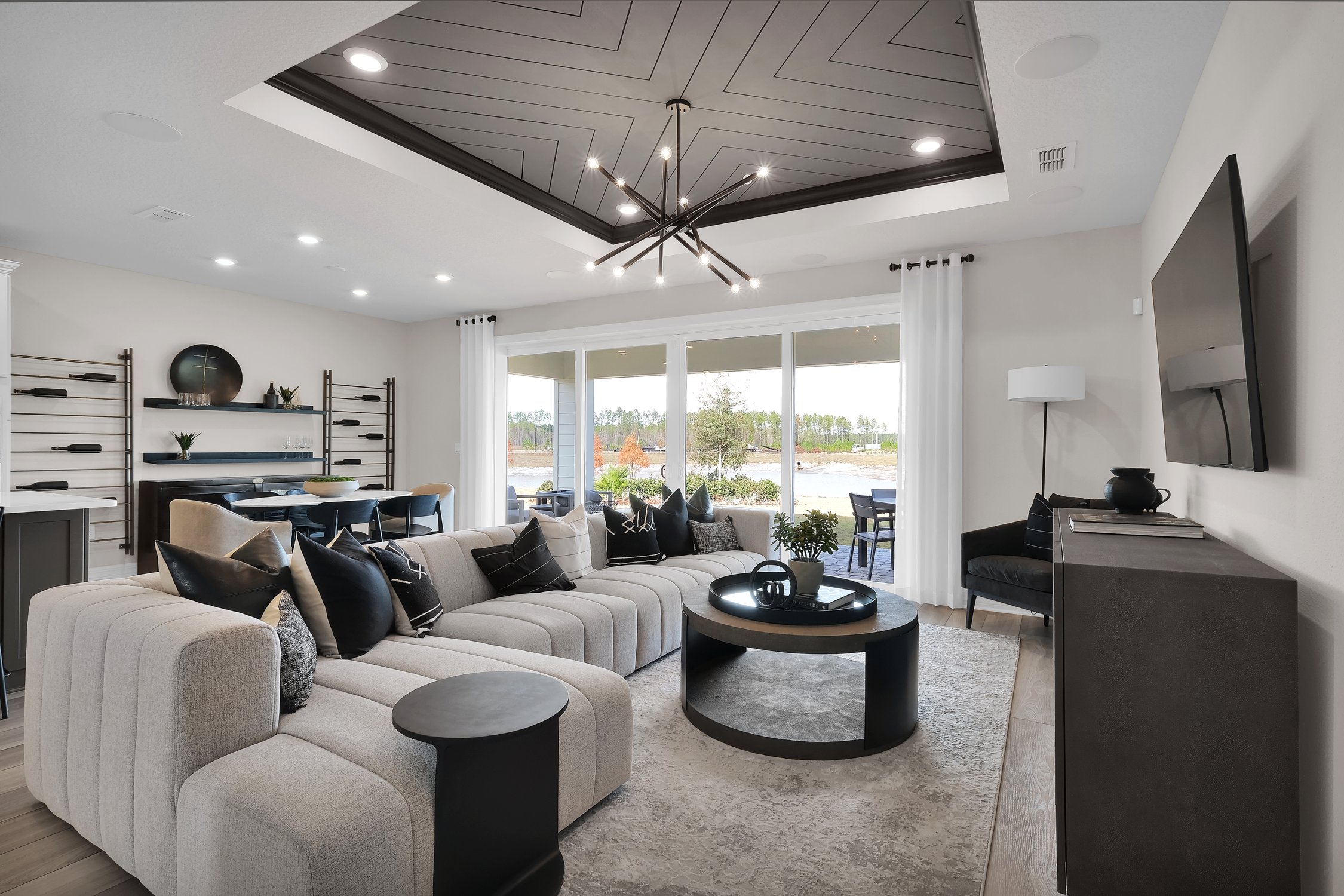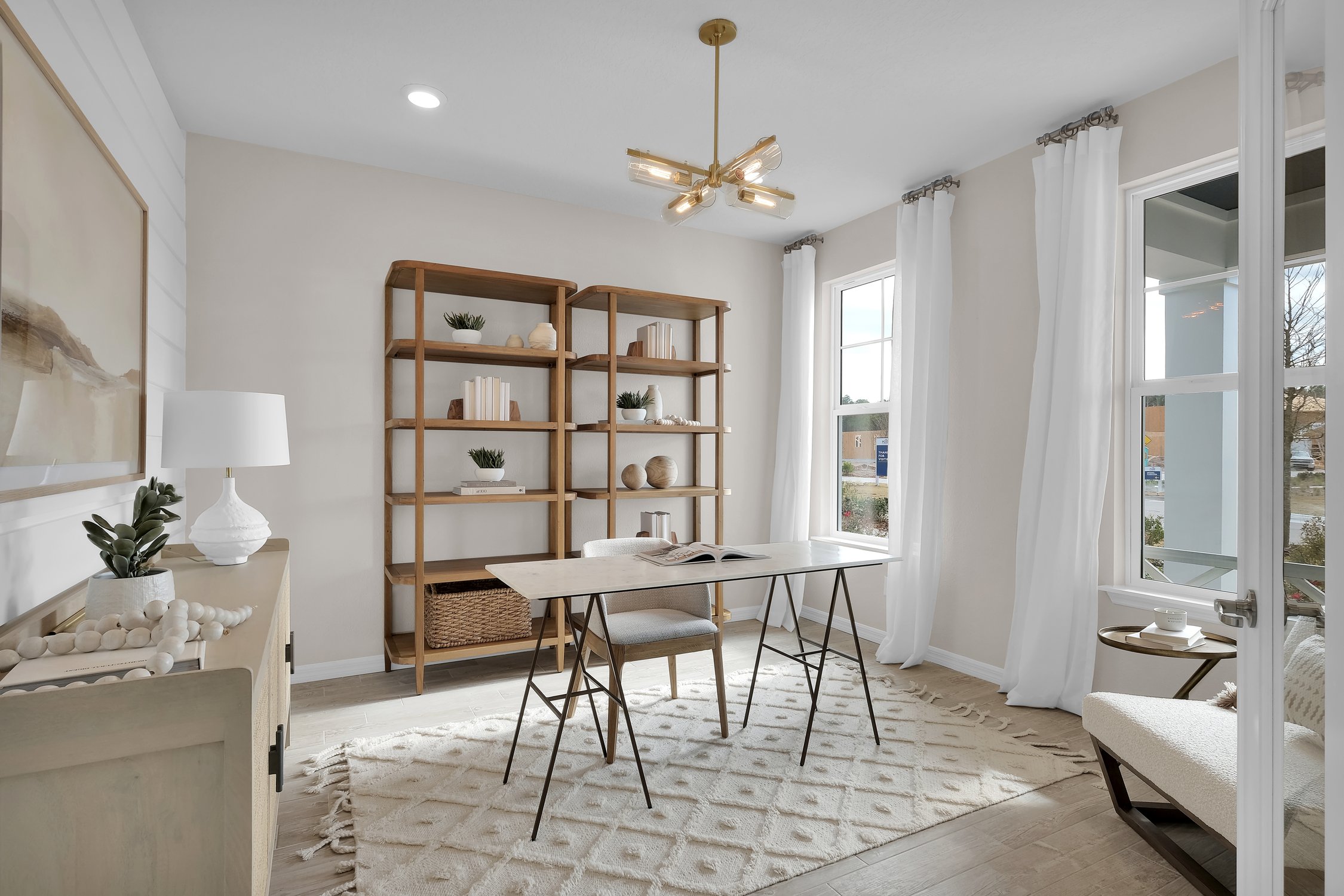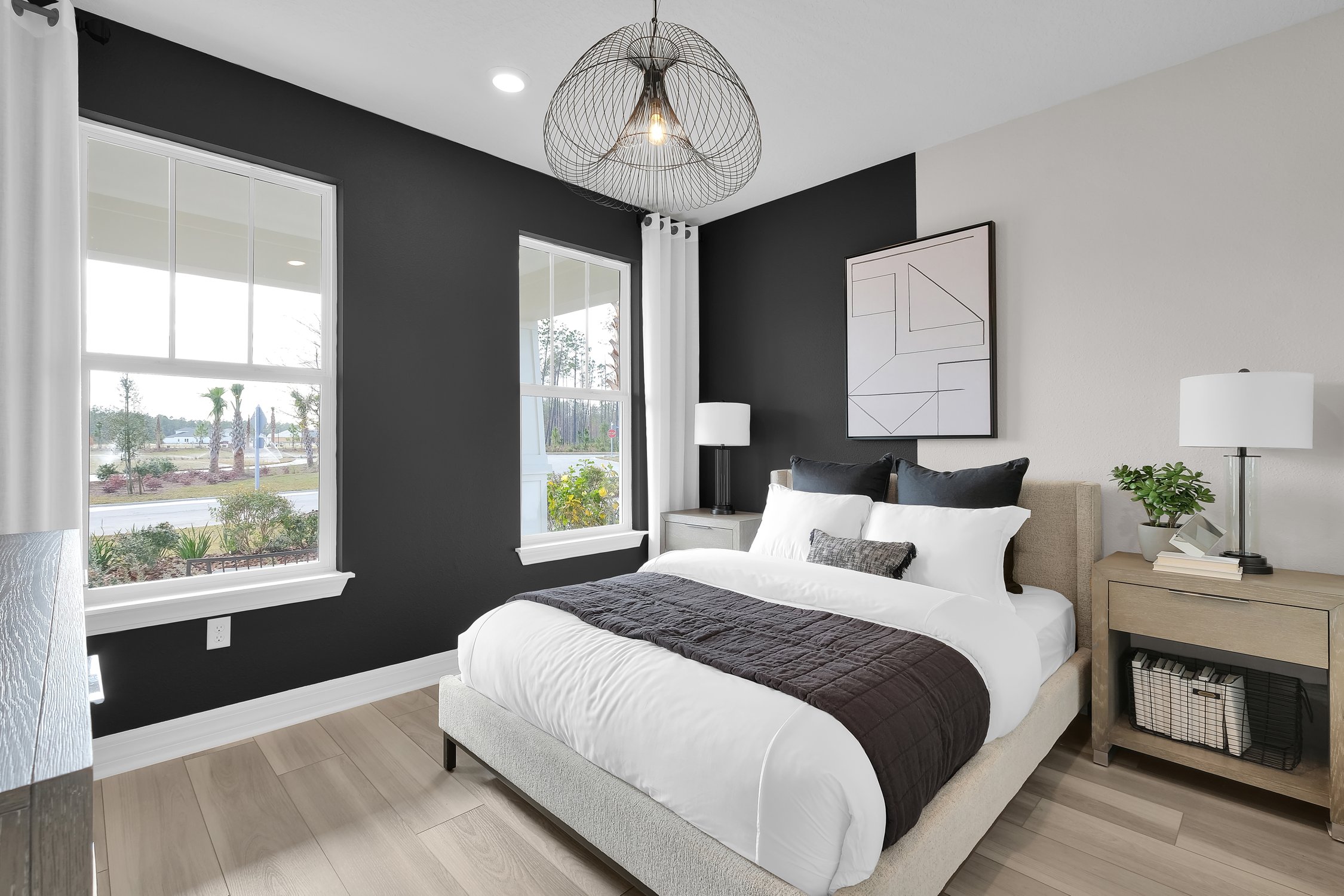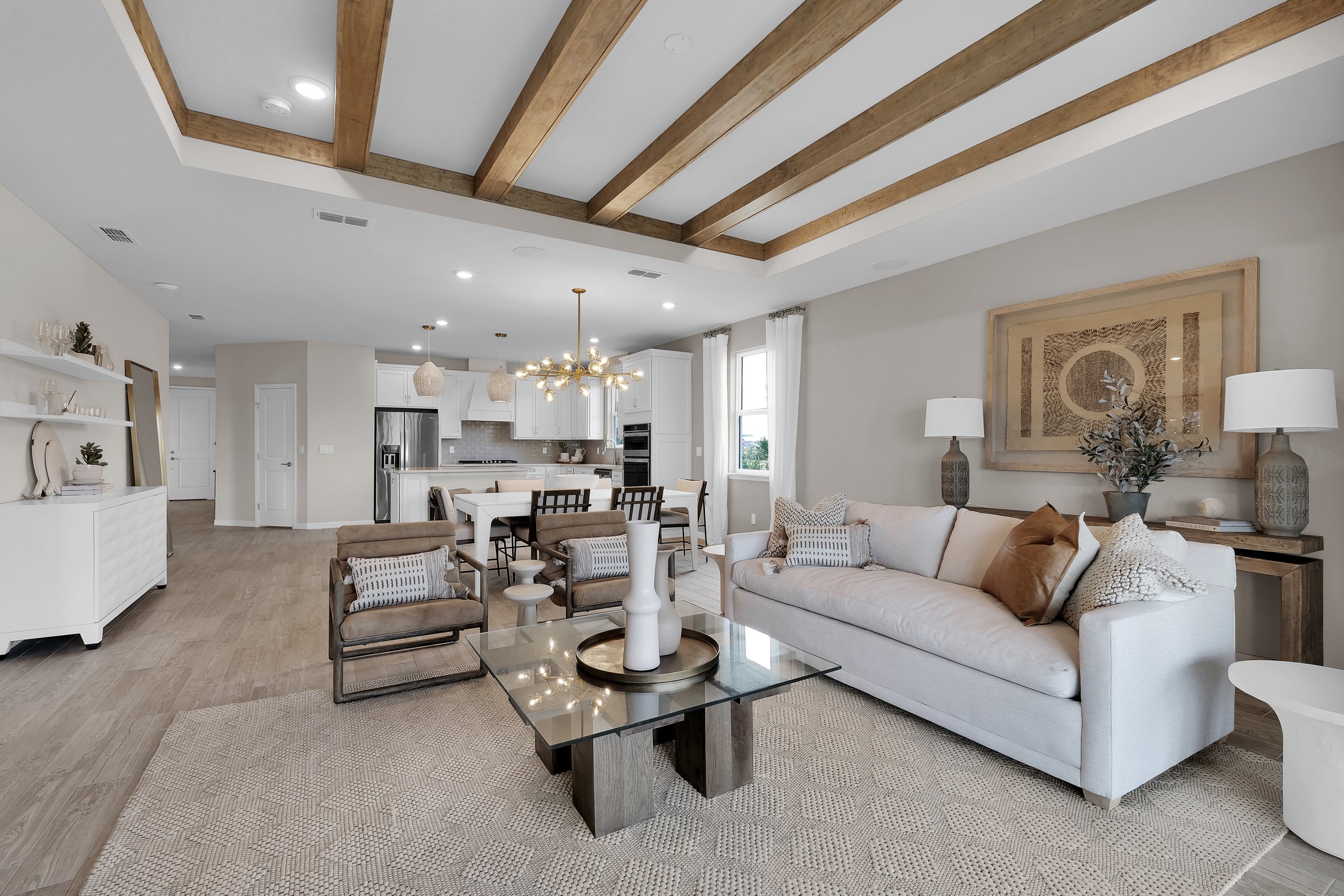 At Wildlight, we like to say we're "town in nature." And our distinct neighborhoods let you experience exactly that. Whether you choose to make your home nearer the "town" part, or the "nature," you'll get to experience a new kind of lowcountry living. One where trails and wetland preserves are right out your door. And an ice cream shop (and more) is just down the street.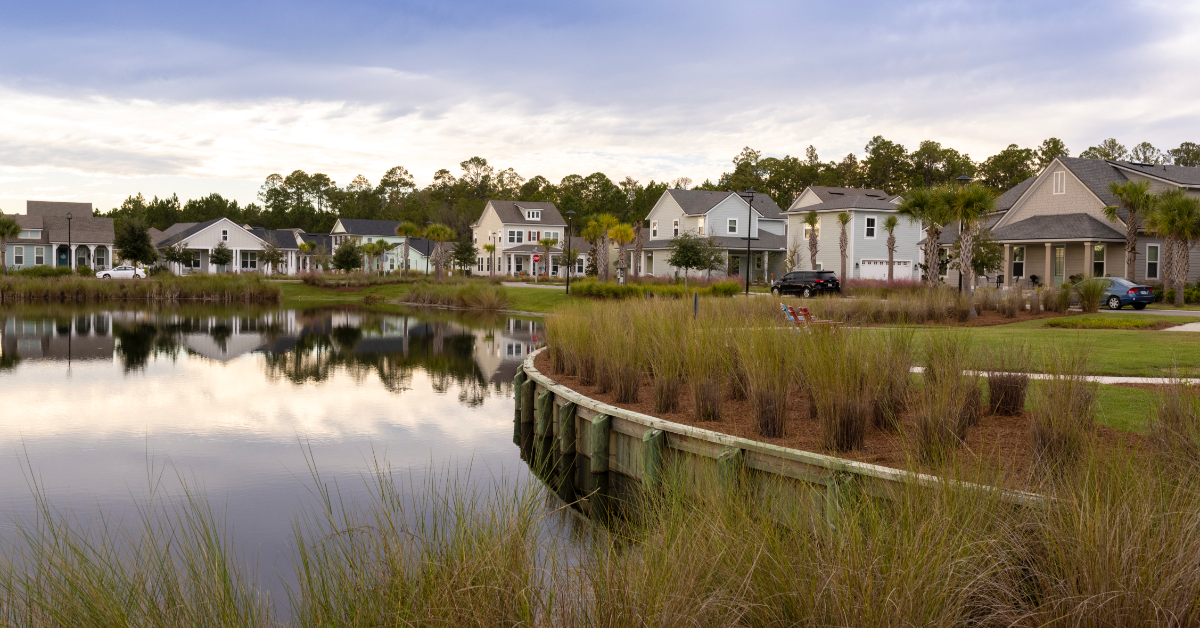 Founder's Park
Wildlight's first (and most centrally located) neighborhood, Founder's Park puts you closest to the center of town. Which means you'll be a short walk away from shops, restaurants and local businesses.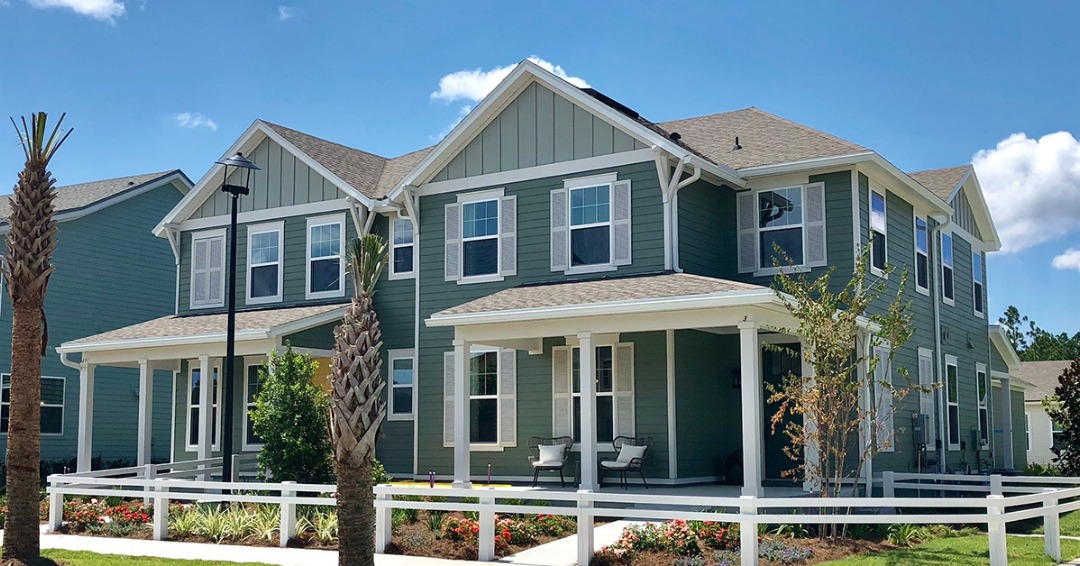 Founder's park is home to local North Florida builder Dostie. There are still a few townhome plans by Dostie available—the last opportunities in the neighborhood.
Forest Park
Surrounded by parks and walking trails, Forest Park is nearest to nature (and the YMCA that's right in the community). And those with kids, take note: it's also home to Wildlight Elementary and Waterbug Park pool.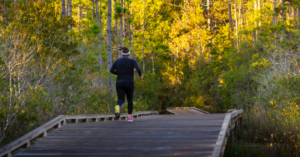 Forest Park features 19 floorplans (yes, 19) between Mattamy Homes and Riverside Homes. And Pulte Homes just introduced 5 new single-family plans (and opened two brand-new models).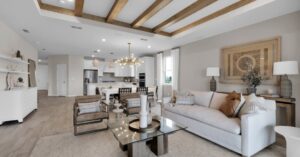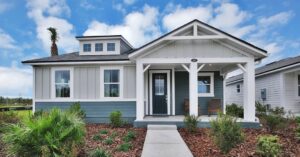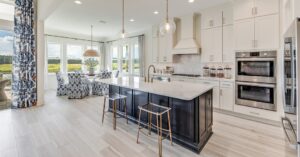 Del Webb Wildlight
This gated 55+ neighborhood is coming in spring 2022, and is equal parts luxury and low-maintenance. The one-story homes put everything you need on one level—and resort-style amenities like an exclusive clubhouse, pool, fitness center, social events and more will provide leisure opportunities just for Del Webb Wildlight residents.
Stay up to date on Del Webb Wildlight >
The Lofts at Wildlight
While these for-rent apartments aren't necessarily a 'neighborhood,' they certainly live like one. One-, two- and three-bedroom apartment homes – from 662 – 1,368 square feet – offer the latest in convenience and comfort. These pet-friendly buildings also include a swimming pool, outdoor kitchen, fitness center and more.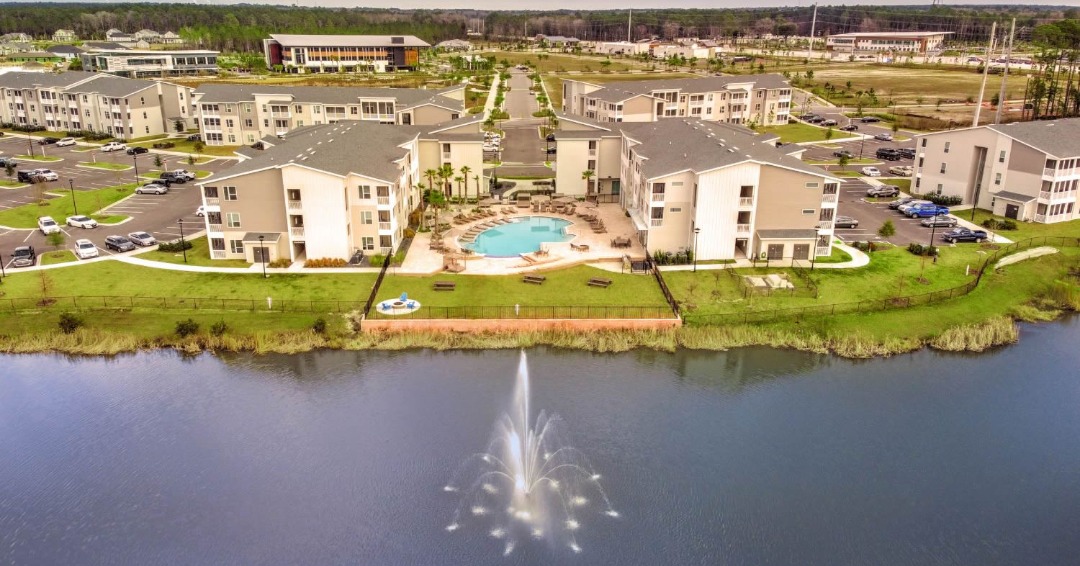 So, which will you choose? (Spoiler alert: you can't go wrong.)
And if there isn't something available that fits your needs right now, stay tuned. We'll be announcing more options this spring.