We don't need to tell you how great living in Northeast Florida is. (The beaches! The sun! And did we mention the beaches?!) But if you're looking for some other outdoor ways to spend your days, we've put together some thought-starters.
Outdoor Fun in Northeast Florida
Kayaking & Canoeing
If you want to get out on the water, the kayaking in Yulee, Florida has plenty of opportunities. Like Lofton Creek, for one. This protected hardwood creek is shaded, shielded from wind, and suitable for all ages and skill levels (although younger kids may want to ride with an adult). And while you're paddling through the towering trees keep your eyes peeled and your ears open — you might see a sea turtle, alligator, otter, hawk or heron … or hear the distinctive bird calls of the creek's winged residents. Of course, if you'd rather stay close to home (as in right in the community), you're in luck. Wildlight has its own pond — Whistling Duck Pond — for kayaking coming soon!
Biking
Northeast Florida is a terrific spot for two-wheeled fun, including 40 miles of bike trails on Amelia Island. You can take the Amelia Island Trail that runs from Peters Point Beachfront Park to Amelia Island State Park in the city of Fernandina Beach — a 7-mile paved and tree-lined route, much of it with views of the water. Of course, in Amelia Island some of the best biking isn't on a trail at all, but on the wide, flat beaches when the tide is low. Here at Wildlight, we have 11+ miles of trails, and many more planned, that beckon bikers, and take them past parks, through nature — even down to our Village Center.
Sea Turtle Season
If you've never seen a sea turtle up close and personal, take note of when it's sea turtle nesting season in Nassau County. Running from May 1st to October 31st every year, turtles are actively nesting, and may be seen emerging from or re-entering the ocean. There are three different types of sea turtles in Northeast Florida (Green Sea Turtle, Loggerhead Sea Turtle and Leatherback Sea Turtle), each endangered, and each with a distinct track that they leave in the sand as they drag their shells in search of a dry place to lay their eggs. While catching sight of one of these amazing creatures is exciting, if you do see one, make sure to keep a quiet distance, stay out of their path and report any sighting to ameliaislandseaturtlewatch@gmail.com.
Go Fish
So. Much. Fishing. And so many kinds of fish to be caught. Redfish are one of the most sought-after species, for good reason: they're a challenge to catch, and they're big — like impressive-in-a-social-post big. In fact, fishing for reds is so popular, there are whole tournaments based on catching them. Rather focus on bass? Northeast Florida bass fishing rivers include the St. Marys and Nassau Rivers, with their feeder bodies of water — like Lofton Creek, a haven for bass. And don't be surprised if you also catch a saltwater fish … sea trout, flounder and others like to live where saltwater mixes with freshwater. Whether you go at it alone, or out with a charter, there are almost as many opportunities as … well, fish in the water. 

Whatever outdoor adventure you embark on, Northeast Florida (and the parks, pools and trails here at Wildlight) will satisfy your curious spirit. Enjoy your time. (Make sure to tag some pics with @wildlightliving and share your adventures with us!)
Northeast Florida is booming and making room for new arrivals. New York's Long Island is frozen in the 20th century.
Read Full article on Bloomberg News here.
Kids who live in Wildlight get the benefit of living in one of the best school districts in the state. (As in #2 out of 67!) Nassau County School District consistently gets A ratings, thanks in part to impressive achievement scores and high graduation rates. And the way students feed into particular schools near their community means they have a strong support system from elementary through high school.
So, where will your kids go?
Located right in the neighborhood, just a short walk or bike ride from the homes here. The school's mission is to foster a community of self-motivated learners, and help kids succeed academically, socially, and developmentally. And it shows: Wildlight Elementary is A-rated, and ranks in the top 5% in the state. And here's something the kids will love — there are three (yep, three) playgrounds for adventure and exploration. (Is it any surprise that the school's address is on "Curiosity Drive"?)
Another A-rated school (are you sensing a pattern here?), with a commitment to providing each student with the best education possible. That drive for excellence shows in a curriculum that includes advanced and honors classes, fine and performing arts, and industry certification classes. There's also plenty of opportunity to get involved and stay engaged outside of the classroom, with clubs and athletic teams for just about every interest.
Holds students accountable to high standards, to prepare them for college or career readiness. The school's varied class offerings include advanced placement, dual enrollment, honors, and career/technical programs. And students can participate in clubs, the school musical, and just about every sport, from basketball to weight lifting. Yulee High alumni have gone on to play college sports, attend dental school, serve in the armed forces … and even come back to teach at the school!
Nope, there won't be a pop quiz on what you just read. But, if you remember one thing, it's this: when you live at Wildlight, your kid is going to have amazing learning opportunities.
A well-known and highly respected amphibian once said, "It's not easy being green." And he was right. Figuring out how to build a community that lives in balance and in close relationship with nature is a complicated, work-intensive undertaking. But is it ever worth it.
When a community is oriented around nature — protecting it and connecting to it — day-to-day life takes on a different complexion. It becomes richer. Healthier. Filled with more activity, more fresh air and more moments of quiet awe.
So that's the kind of community we're creating in Wildlight. Here's how …
Sustainable by design
Long before construction began, a team of engineers and scientists worked together on a plan that would allow community and nature to thrive together. What resulted was a new pattern of community, in which neighborhoods and business districts are carefully interwoven with each other and with parks, trails and conservation land. Creating a place that both preserves nature and inspires everyone to get out and enjoy it.
Conservation gone wild
We've set aside roughly half of Wildlight's overall acreage as dedicated conservation land, much of it in the 7,000-acre Wildlight Conservation Network located in the next phase of Wildlight. In Wildlight's permanently protected wetlands and forests, native species can continue to thrive. And the expanding Wildlight Trailways network (already 10+ miles long) lets you explore these pristine expanses of Northeast Florida lowcountry nature.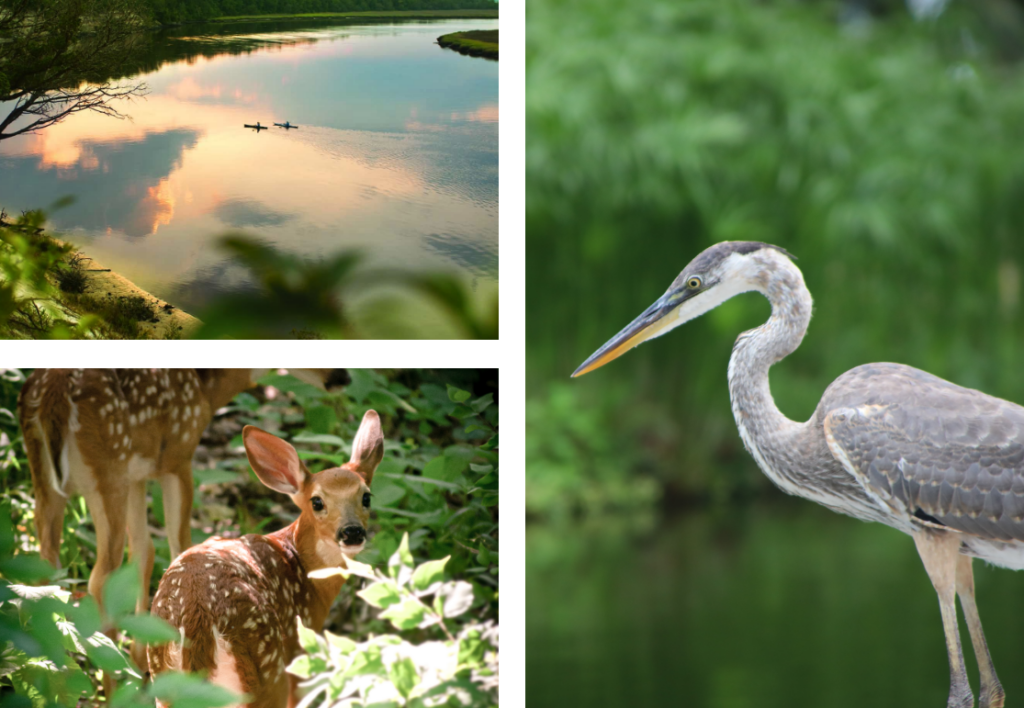 All-natural water management
Nature is more than beautiful. It's practical. It's really good at what it does. And one of its most important jobs is capturing and purifying water. With its extensive natural forest and wetland areas, Wildlight allows rainfall to seep into the ground, slowly being cleansed as it travels down into the soil, and eventually making its way to the underground aquifer that supplies the region's drinking water. Even the developed areas of Wildlight are designed to intelligently manage stormwater runoff and allow nature to do its thing.
Mixing it all together
It's one thing to conserve nature. It's another to make it readily accessible to people. The community plan for Wildlight lets us do both at the same time. Each homesite has easy connections to parks, trails and big swaths of nature for even more access to the outdoors. And by providing plenty of walking/biking paths and bringing the homes closer not only to nature but to restaurants, shops and offices, we create a community that lives more like a small town where everything is an easy stroll or bike ride away.
More nature, just around the corner
The Wildlight Conservation Network isn't the only important new nature area we're introducing in our next phase. We're also creating a 13-mile-long linear park that will stretch along the bluffs of the St. Marys River. We call it the Green Ribbon. And with its 8 miles of river frontage, the park will be anchored by a variety of experiences including a publicly accessible trail that ties the park together.
Also, we can't talk about nearby nature without mentioning the White Oak Conservation center. Located about 10 miles north of Wildlight, White Oak shares some of its heritage with our community since both places are built on land that was once part of Rayonier's sustainable timber-growing operation. On its 17,000 acres, White Oak helps to protect and advance the understanding of dozens of endangered species including the Florida panther, the Mississippi sandhill crane and three different types of rhinoceros.  
Get a little wild
If you visit Wildlight, you're welcome to take some time exploring our Wildlight Trailways. You might spot a fox or bobcat or one of the dozens of bird species that migrate along the Atlantic Flyway. You can even experience some of the wetlands using our boardwalk trails. And all along the way, you'll find fun, informative signs that inspire a deeper understanding and greater appreciation of all things wild and Floridian.
Download our trail map.
Northeast Florida is growing quickly. And since some of our new neighbors may be unfamiliar with how to prepare for hurricane season, we thought it might be helpful to pull together a few helpful facts and resources.
When is hurricane season?
The Atlantic hurricane season stretches from June 1 to November 30. But tropical storms and even a few hurricanes have formed in every month of the year.
How many storms occur during that time?
The National Oceanic and Atmospheric Administration (NOAA) offers an annual hurricane prediction for the Atlantic basin, which includes the Atlantic Ocean, the Caribbean Sea and the Gulf of Mexico. On average, Florida is affected by a tropical storm or hurricane once every three years.
What are some ways I can stay prepared?
Nassau County Emergency Management has a whole webpage dedicated to hurricane preparedness, including ways to prepare far ahead of time and what to do when a storm is approaching or has made landfall. And Wildlight's very own Home Owners Association has put together an extensive Disaster Preparedness Guide that covers everything from floods to fires. Another excellent resource is this disaster supply kit checklist from floridadisaster.org.

How can I stay up to date on hurricanes and tropical storms?
First, NOAA has a webpage that tracks every storm in the Atlantic. So you can see what's brewing days before it gets close to Florida. And Nassau County has set up the opt-in AlertNassau service that will send you the latest updates on storms and other emergency situations via text, voice or email.
Why does northeast Florida experience so few hurricanes?
Northeast Florida has had fewer hurricane strikes in the last century than many other places in Florida. In fact, since 1851 (when people began to keep track of storm data) the region has been affected by a hurricane only once every six or seven years, with only one Category 3 storm and no Category 4 or 5 storms. Why so few? It's a simple matter of geography. If you look at a map, you'll see that the Atlantic coastline dips northwest, forming a sort of protected bay around the Jacksonville region. Just another confirmation that your decision to move here was a good one.
Is Wildlight designed to withstand a hurricane?
Over the past decade, hurricane-resistant home design has advanced significantly. And Wildlight is one of the beneficiaries. All our homes are built to the latest standards for hurricane resiliency. And the community itself has been designed to manage large amounts of stormwater, greatly reducing the chance of flooding.
No community or homebuilder can guarantee absolute invulnerability to storm damage. But with the steps we and our builders have taken, combined with Wildlight's location on elevated land a few miles inland, you have a lot to feel good about.
One last piece of advice
Keep in mind that you live in one of the most beautiful places in the world. Like every other place, we sometimes have to contend with the extremes of nature. But just take some steps to prepare, take a deep breath, and go enjoy a sunny Florida day.
On March 11th, over 500 runners took their marks and got set to run in the first Run Wild 5K and Family Fun Run. Participants of all ages (from 2 to 83!) found themselves enjoying a morning of events that included everything from an exciting race course to an awesome Kids' Zone.
Running through our trails and neighborhoods — on asphalt, gravel and boardwalks, and over wetlands and natural grass, we think it's safe to say our racers had a great time. (Speaking of times, we want to give a shout-out to Kathryn Ches and Connor Etheridge, our top female and male finishers who finished in 21:43 and 19:26, respectively.)

Of course it wasn't "run and done." Racers (and spectators) also got to enjoy the food trucks, beers from SJ Brewing, and the local vendor marketplace. As for the kids? They lined up (balloon animals in hand) to ride the rides in the Kids' Zone.
It was a good day, and we did some good, too — awarding Girls on the Run of Northeast Florida with a check for $3,000 from the race proceeds.
So, what do you say? Let's do it again next year.
P.S. Whether you missed the Run Wild 5K (or just want to relive the memories) you can view some highlights in the video.
Actually, make that good things at The Horizon. Because Del Webb's newest amenity, Horizon Club, is going to have everything you need to make your days even more delightful. Exclusively for use by residents of our gated Del Webb 55+ neighborhood, Horizon Club is where relaxation meets activation — and this 16,000-square-foot space has room for it all. (Even dogs get their very own park.)
Start your day with yoga on the event lawn, or soak in the sun by the resort-style pool. (Want to get a few laps in? There will be lanes for that, too.) For the fitness-minded, a fully equipped workout center will feature top-of-the-line machines, weights and equipment. And outside, pickleball and tennis courts will serve up some fun for beginners and more seasoned players alike. Green thumbs (or those striving to be) can hone their skills in the community garden. And an arts & crafts room will provide an outlet for creativity — whether your passion is painting or pottery.
There will be plenty of other spaces to gather as well — like an event ballroom for bigger get-togethers and an outdoor firepit for impromptu happy hours. Speaking of happy hours … the onsite bar and grill just might become your new favorite hangout (if, of course, you don't want to head to Wildlight's Village Center for a burger, tacos or sushi). And the best part? This is just the start of what Horizon Club will have.
With all this space to play, relax and meet new friends and neighbors, don't be surprised if you feel like every day feels like a little vacation — there's even plenty of golf cart parking.
Homes in Del Webb Wildlight start in the $300s. Located conveniently between Amelia Island and Jacksonville, the architecture captures the charm of the Florida Lowcountry. Del Webb model homes are open daily. 
Mocama Wildlight to open in community's former StoryCenter

WILDLIGHT, Fla. – January 31, 2023 – Wildlight is pleased to announce that Mocama
Beer Company will open a new satellite taproom in its mixed-use community. Occupying
2,000 square feet of space with beer taps and wine selections, the new location will
serve as a gathering place for residents of both Wildlight and greater Nassau County.

Reflecting the sophisticated, mid-century design of the historic Fernandina Beach
location, the taproom will offer ample parking along with additional outdoor space for
community events, activities and games. It is expected to open in the summer of 2023.
"From the beginning, Wildlight was created to encourage community connections
through a vibrant mix of neighborhoods, walkable trails, and dining and retail options,"
said Wes Hinton, Vice President, Wildlight. "We're excited to offer residents a social hub
that embodies the authentic Nassau County spirit with the addition of Mocama's
thoughtfully-designed concept."

Mocama plans to serve its distinctive products through 12 taps, along with a curated
selection of craft beers from around the world, in a large custom bar and lounge room.
Unique to this location, an enhanced wine program offers an expanded collection from
varying regions available by the glass, bottle or to go. Outdoor seating areas will play
host to festivals, culinary events and live music ideal for families and guests of all ages.
Future plans for the taproom include the addition of Mocama Coffee.

"We hope to create a welcoming space for friends to gather and drink great beer," said
Dan McCranie, Mocama Beer Company's operations manager. "Our vision perfectly
aligns with the goals of Wildlight, and our new partnership allows us to serve even more
residents as we expand our Northeast Florida presence."

About Wildlight
Wildlight is a mixed-use master-planned community inspired by a character, culture and
way of living called "Florida Lowcountry". Approximately half of this 2,900-acre
community is devoted to green space, including parks and nature trails. The other half
features a mix of unique homes, townhomes and rental properties, as well as
businesses, shops, restaurants, schools and medical facilities, connected by trails and
walkable pathways. It is located 20 minutes from Downtown Jacksonville and Amelia
Island, just east of I-95 on A1A with easy access to Jacksonville International Airport.
Wildlight is being developed by Raydient Places + Properties, a taxable subsidiary of
Rayonier Inc., a real estate investment trust. For more information please visit
www.wildlight.com.

About Mocama Beer Company
Mocama Beer Company offers an experience curated for seekers, blending classic
design, future vision, and expert attention to detail. Finding beauty in the pursuit of
perfection, the goal is to engage the senses while creating opportunities for connection.
Founded in historic Fernandina Beach, Mocama Beer Company offers a range of beers
from lagers, stouts, and "not your average" IPAs. Mocama was designed from the
ground up to have a meaningful positive impact on our communities and the
environment.
WILDLIGHT, Fla. (Dec. 6, 2022) – PulteGroup, one of the nation's leading homebuilders, has announced plans for its newest neighborhood, Hawthorn Park, coming soon to the Wildlight community, a master-planned mixed-use development in Nassau County.

The new construction single-family home community will consist of 25 50-foot homesites and 49 bungalow-style homes with rear-loading garages. Hawthorn Park at Wildlight will embody the community's overall Florida Lowcountry and coastal aesthetic. Development is underway and sales are anticipated to open in mid-2023.
"We are thrilled to be building on our success at Forest Park and proud to announce our next community at Wildlight, Hawthorn Park," said Tony Nason, PulteGroup's Northeast Florida Division President. "With Wildlight's superb location, excellent local schools and outstanding recreation offerings combined with the value Pulte offers, we expect strong home buyer interest at Hawthorn Park." As Wildlight's newest neighborhood, Hawthorn Park is truly unique. Surrounded by three ponds in close proximity to the trail system, residents will have plenty of opportunities to bike, kayak and birdwatch. And although it may feel like a private sanctuary, it's still a short bike or golf cart ride away to Wildlight's village center with a variety of restaurants and services, including a new Publix.

"We really value our partnership with PulteGroup and are excited about the future." said Wes Hinton, vice
president, Wildlight. "Hawthorn Park will be a unique addition to their existing Forest Park and Del Webb communities that have been so instrumental in shaping the residential landscape here at Wildlight."
Hawthorn Park is a welcomed addition to Wildlight's initial phase, consisting of 2,900 acres with a mix of residential homesites, multi-family apartments, an expansive town center including a new Publix, top rated schools, and UF Health and YMCA facilities already in place. Miles of trails, creative parks and amenities, and almost half of the community dedicated to green space create a healthy and vibrant environment for residents.

For information on the two additional communities at Wildlight – Forest Park at Wildlight and the popular age-restrictedDel Webb Wildlight visit www.Pulte.com/Jacksonville or call (904) 595-9180.
Jax Daily Record: https://www.jaxdailyrecord.com/article/wildlight-announces-plans-for-senior-housing-community
WILDLIGHT, FLA. – November 29, 2022 – Wildlight announced today that The Fellowship Family and Ambling Property Investments will develop a senior housing community within its mixed-use master planned development in Nassau County.
Fellowship at Wildlight will be a highly amenitized senior housing community consisting of 24 memory care units, 48 assisted living units, 125 independent living units and six cottages on nearly 16 acres of land within the first phase of the Wildlight development. Sitework is slated to begin in 2023 with anticipated completion in 2025. Fellowship at Wildlight pre-leasing will begin in 2024.
"Our goal at Wildlight is to create an extraordinary sense of place for community residents and families in every life phase," said Wes Hinton, vice president of Wildlight. "The addition of Fellowship at Wildlight will bring a new sanctuary for seniors with a range of living options and support services available, and we couldn't be more excited to partner with the family-owned Fellowship Family to offer this level of care."
The Fellowship Family is a welcomed addition to Wildlight's initial phase, consisting of 2,900 acres with a mix of residential homesites, multi-family apartments, an expansive town center, schools, and UF Health and YMCA health & wellness facilities already in place, as well as the recently announced Wildlight Commerce Park.
"Fellowship at Wildlight will bring premier quality senior living accommodations with personalized service for every resident, delivered by an experienced team in an inviting, warm atmosphere," said The Fellowship Family's President and CEO John LaHood. "Each of our Fellowship communities are designed among a unique landscape, offering a tranquil place to connect with God and nature. The beautiful scenery of Nassau County makes this a perfect fit."
In addition to the community's thoughtfully planned amenities, residents and their families can take advantage of the greater Wildlight community offering miles of trails, creative parks, open green space and access to healthy living systems and facilities.
"Ambling believes in building generational relationships," added Kevin King, Ambling Property Investment's president of development. "We are excited to further our partnership with Fellowship while supporting the vision and purpose of Wildlight."
To ensure masterful integration of Wildlight's Florida Lowcountry aesthetic, ETM, Stewart & Conners Architects, Niles Bolton Interiors and Elkins Construction have been selected for project design and construction.
Follow this link for renderings and a conceptual site plan of Fellowship at Wildlight.