We don't need to tell you how great living in Northeast Florida is. (The beaches! The sun! And did we mention the beaches?!) But if you're looking for some other outdoor ways to spend your days, we've put together some thought-starters.
Outdoor Fun in Northeast Florida
Kayaking & Canoeing
If you want to get out on the water, the kayaking in Yulee, Florida has plenty of opportunities. Like Lofton Creek, for one. This protected hardwood creek is shaded, shielded from wind, and suitable for all ages and skill levels (although younger kids may want to ride with an adult). And while you're paddling through the towering trees keep your eyes peeled and your ears open — you might see a sea turtle, alligator, otter, hawk or heron … or hear the distinctive bird calls of the creek's winged residents. Of course, if you'd rather stay close to home (as in right in the community), you're in luck. Wildlight has its own pond — Whistling Duck Pond — for kayaking coming soon!
Biking
Northeast Florida is a terrific spot for two-wheeled fun, including 40 miles of bike trails on Amelia Island. You can take the Amelia Island Trail that runs from Peters Point Beachfront Park to Amelia Island State Park in the city of Fernandina Beach — a 7-mile paved and tree-lined route, much of it with views of the water. Of course, in Amelia Island some of the best biking isn't on a trail at all, but on the wide, flat beaches when the tide is low. Here at Wildlight, we have 11+ miles of trails, and many more planned, that beckon bikers, and take them past parks, through nature — even down to our Village Center.
Sea Turtle Season
If you've never seen a sea turtle up close and personal, take note of when it's sea turtle nesting season in Nassau County. Running from May 1st to October 31st every year, turtles are actively nesting, and may be seen emerging from or re-entering the ocean. There are three different types of sea turtles in Northeast Florida (Green Sea Turtle, Loggerhead Sea Turtle and Leatherback Sea Turtle), each endangered, and each with a distinct track that they leave in the sand as they drag their shells in search of a dry place to lay their eggs. While catching sight of one of these amazing creatures is exciting, if you do see one, make sure to keep a quiet distance, stay out of their path and report any sighting to ameliaislandseaturtlewatch@gmail.com.
Go Fish
So. Much. Fishing. And so many kinds of fish to be caught. Redfish are one of the most sought-after species, for good reason: they're a challenge to catch, and they're big — like impressive-in-a-social-post big. In fact, fishing for reds is so popular, there are whole tournaments based on catching them. Rather focus on bass? Northeast Florida bass fishing rivers include the St. Marys and Nassau Rivers, with their feeder bodies of water — like Lofton Creek, a haven for bass. And don't be surprised if you also catch a saltwater fish … sea trout, flounder and others like to live where saltwater mixes with freshwater. Whether you go at it alone, or out with a charter, there are almost as many opportunities as … well, fish in the water. 

Whatever outdoor adventure you embark on, Northeast Florida (and the parks, pools and trails here at Wildlight) will satisfy your curious spirit. Enjoy your time. (Make sure to tag some pics with @wildlightliving and share your adventures with us!)
A well-known and highly respected amphibian once said, "It's not easy being green." And he was right. Figuring out how to build a community that lives in balance and in close relationship with nature is a complicated, work-intensive undertaking. But is it ever worth it.
When a community is oriented around nature — protecting it and connecting to it — day-to-day life takes on a different complexion. It becomes richer. Healthier. Filled with more activity, more fresh air and more moments of quiet awe.
So that's the kind of community we're creating in Wildlight. Here's how …
Sustainable by design
Long before construction began, a team of engineers and scientists worked together on a plan that would allow community and nature to thrive together. What resulted was a new pattern of community, in which neighborhoods and business districts are carefully interwoven with each other and with parks, trails and conservation land. Creating a place that both preserves nature and inspires everyone to get out and enjoy it.
Conservation gone wild
We've set aside roughly half of Wildlight's overall acreage as dedicated conservation land, much of it in the 7,000-acre Wildlight Conservation Network located in the next phase of Wildlight. In Wildlight's permanently protected wetlands and forests, native species can continue to thrive. And the expanding Wildlight Trailways network (already 10+ miles long) lets you explore these pristine expanses of Northeast Florida lowcountry nature.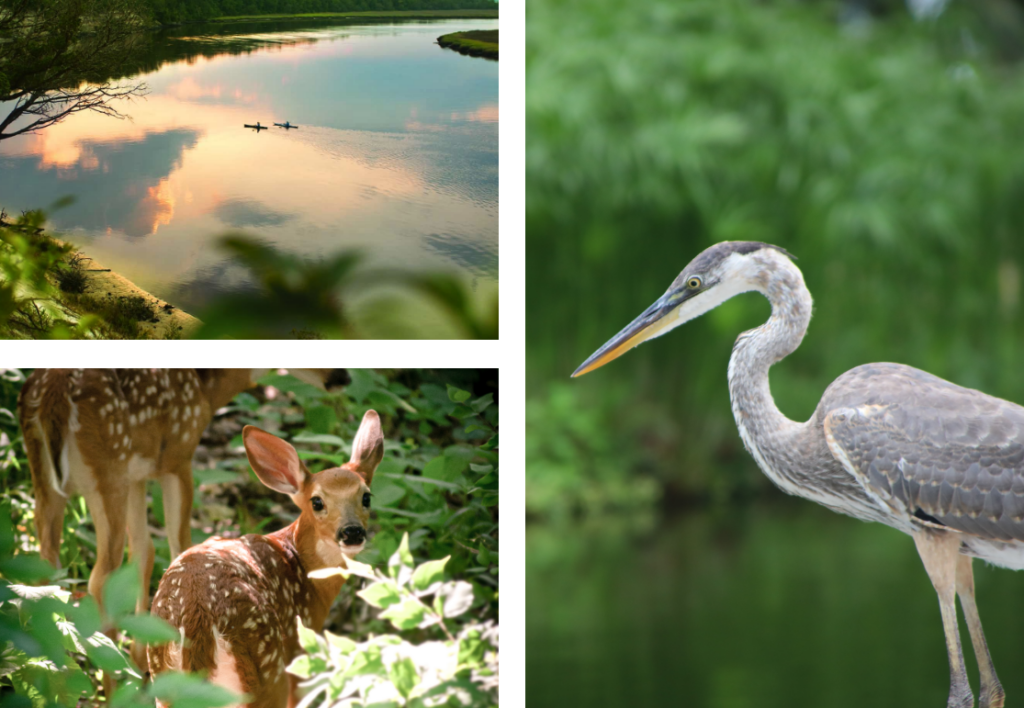 All-natural water management
Nature is more than beautiful. It's practical. It's really good at what it does. And one of its most important jobs is capturing and purifying water. With its extensive natural forest and wetland areas, Wildlight allows rainfall to seep into the ground, slowly being cleansed as it travels down into the soil, and eventually making its way to the underground aquifer that supplies the region's drinking water. Even the developed areas of Wildlight are designed to intelligently manage stormwater runoff and allow nature to do its thing.
Mixing it all together
It's one thing to conserve nature. It's another to make it readily accessible to people. The community plan for Wildlight lets us do both at the same time. Each homesite has easy connections to parks, trails and big swaths of nature for even more access to the outdoors. And by providing plenty of walking/biking paths and bringing the homes closer not only to nature but to restaurants, shops and offices, we create a community that lives more like a small town where everything is an easy stroll or bike ride away.
More nature, just around the corner
The Wildlight Conservation Network isn't the only important new nature area we're introducing in our next phase. We're also creating a 13-mile-long linear park that will stretch along the bluffs of the St. Marys River. We call it the Green Ribbon. And with its 8 miles of river frontage, the park will be anchored by a variety of experiences including a publicly accessible trail that ties the park together.
Also, we can't talk about nearby nature without mentioning the White Oak Conservation center. Located about 10 miles north of Wildlight, White Oak shares some of its heritage with our community since both places are built on land that was once part of Rayonier's sustainable timber-growing operation. On its 17,000 acres, White Oak helps to protect and advance the understanding of dozens of endangered species including the Florida panther, the Mississippi sandhill crane and three different types of rhinoceros.  
Get a little wild
If you visit Wildlight, you're welcome to take some time exploring our Wildlight Trailways. You might spot a fox or bobcat or one of the dozens of bird species that migrate along the Atlantic Flyway. You can even experience some of the wetlands using our boardwalk trails. And all along the way, you'll find fun, informative signs that inspire a deeper understanding and greater appreciation of all things wild and Floridian.
Download our trail map.
Northeast Florida is growing quickly. And since some of our new neighbors may be unfamiliar with how to prepare for hurricane season, we thought it might be helpful to pull together a few helpful facts and resources.
When is hurricane season?
The Atlantic hurricane season stretches from June 1 to November 30. But tropical storms and even a few hurricanes have formed in every month of the year.
How many storms occur during that time?
The National Oceanic and Atmospheric Administration (NOAA) offers an annual hurricane prediction for the Atlantic basin, which includes the Atlantic Ocean, the Caribbean Sea and the Gulf of Mexico. On average, Florida is affected by a tropical storm or hurricane once every three years.
What are some ways I can stay prepared?
Nassau County Emergency Management has a whole webpage dedicated to hurricane preparedness, including ways to prepare far ahead of time and what to do when a storm is approaching or has made landfall. And Wildlight's very own Home Owners Association has put together an extensive Disaster Preparedness Guide that covers everything from floods to fires. Another excellent resource is this disaster supply kit checklist from floridadisaster.org.

How can I stay up to date on hurricanes and tropical storms?
First, NOAA has a webpage that tracks every storm in the Atlantic. So you can see what's brewing days before it gets close to Florida. And Nassau County has set up the opt-in AlertNassau service that will send you the latest updates on storms and other emergency situations via text, voice or email.
Why does northeast Florida experience so few hurricanes?
Northeast Florida has had fewer hurricane strikes in the last century than many other places in Florida. In fact, since 1851 (when people began to keep track of storm data) the region has been affected by a hurricane only once every six or seven years, with only one Category 3 storm and no Category 4 or 5 storms. Why so few? It's a simple matter of geography. If you look at a map, you'll see that the Atlantic coastline dips northwest, forming a sort of protected bay around the Jacksonville region. Just another confirmation that your decision to move here was a good one.
Is Wildlight designed to withstand a hurricane?
Over the past decade, hurricane-resistant home design has advanced significantly. And Wildlight is one of the beneficiaries. All our homes are built to the latest standards for hurricane resiliency. And the community itself has been designed to manage large amounts of stormwater, greatly reducing the chance of flooding.
No community or homebuilder can guarantee absolute invulnerability to storm damage. But with the steps we and our builders have taken, combined with Wildlight's location on elevated land a few miles inland, you have a lot to feel good about.
One last piece of advice
Keep in mind that you live in one of the most beautiful places in the world. Like every other place, we sometimes have to contend with the extremes of nature. But just take some steps to prepare, take a deep breath, and go enjoy a sunny Florida day.
Let's get real here. We certainly understand why South Carolina would want to lay exclusive claim to the lowcountry. After all, it's one of the most naturally beautiful, culturally rich regions in all of North America. But sorry, Charleston, you're not the only place that has sea islands, long beaches and an inland geography characterized by lush forests and wetlands brimming over with wildlife.
The geographical fact is, the lowcountry extends from the Santee River north of Charleston down past Savannah, Georgia, all the way to the St. Johns River that runs through Jacksonville. In fact, all you have to do is hop on Google maps and look at that stretch of the Atlantic coastline, and you'll say to yourself, "Yep, that all looks pretty much the same."
Of course we also understand that the lowcountry is more than a certain kind of geography. It's a unique intersection of cultures and cuisines. And we happily acknowledge that as you travel from South Carolina to northeastern Florida, the cultural tone changes. It's still lowcountry, but it gets more relaxed. More beachy. Instead of the quaint formality of Charleston and Savannah, you find the laid-back vibe of Amelia Island. You could say that in Florida, the lowcountry trades in its bow tie and seersucker for board shorts and a pair of flip-flops.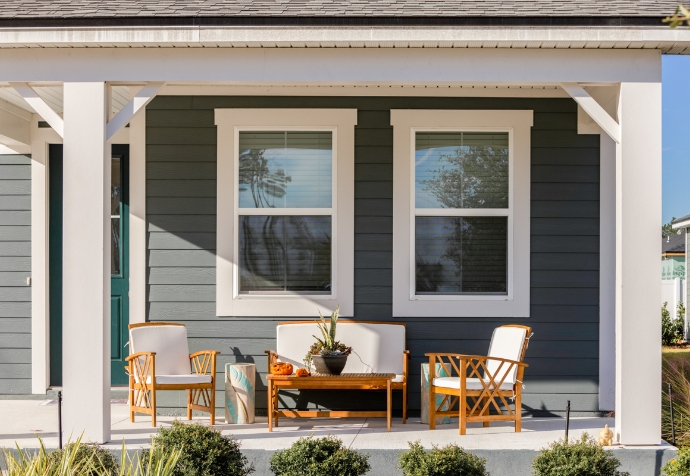 Then there are the homes. As with other places around the globe, classic lowcountry homes are a direct response to local weather. A raised first floor was a defense against high water. Tall ceilings helped to keep the indoors cooler. And a big front porch provided a shady place for everyone to come together and enjoy a cold drink and some neighborly conversation. In Wildlight, we've created a fresh interpretation of lowcountry style. Here you'll find plenty of porches and high ceilings. But the forms are simpler, more streamlined. With a contemporary flair that just feels … right.
Fortunately, what doesn't change with Florida's version of lowcountry is the yumminess of the food. The shrimp are just as fresh, the grits are just as creamy and the lowcountry boil is just as delicious and messy as anywhere else along this magnificent stretch of coastline. Maybe even a bit tastier. And around here, you can follow it up with a slice of made-from-scratch key lime pie.
Being a Good Neighbor to Nature
When building a community of new homes, it's important to remember the homes that were already there – the natural habitats of local plants and animals. With proper planning and policies for conservation, even a city-sized development can be eco-conscious and help the surrounding wilderness to thrive.
Let it be
Wildlight is committed to protecting the natural environment. As part of that commitment, roughly half of our community's 2,900 acres will be dedicated as a conservation habitat network upon build-out. This is land that will remain undeveloped so wildlife can live peacefully, and residents can enjoy the untouched beauty of natural wetlands, forests and more.
Not just for animals
Hiking and biking trails, water sports and other outdoor spaces and activities encourage residents to experience the surrounding wilderness. And as appreciation grows for the local flora and fauna, members of the community take it upon themselves to protect the environment as well. It's a true symbiotic relationship from which everyone, every animal and every plant can benefit.
Planting the future
Trees are critical to the natural beauty and sustainability of the environment. In Wildlight, when trees must be cut down to clear space, new trees continue to be planted so the surrounding space will benefit from the natural shade, air filtering and habitats they provide for generations to come.
The great outdoors of North Florida.
Northern Florida is one of the most biologically diverse and naturally captivating areas of the country, so it's no wonder residents like to get out and experience the surrounding wilderness. From hiking and biking to getting out on the water, there's so much to do, it can be helpful to have a jumping off point.
Walk and talk with the animals
Step onto a hiking trail or greenway and you're guaranteed to see and hear the variety of animals making their home among the trees and marshes of northern Florida. Blue herons, great egrets, osprey and eagles are just a few of the birds you might see overhead, along with squirrels, turtles and other creatures on the land. And it's easy to find a path that will take you directly from the woodlands to the expansive vistas of a beach-two incredible experiences in one trip.
Plenty of parks for recreation
Beyond the inland trails and bike paths, there are dozens of parks to choose from just a few miles east on the Atlantic coast. Amelia Island offers a wide assortment of beaches, paths and water sports. And to the south, there are 23 city, state and national parks in the Big Talbot Island area alone.
Pick your place to kayak.
Coastal islands offer a choice of water sports, including kayaking on either the river side or ocean side of the shore. River kayaking is a more relaxing experience, where you're likely to see a variety of marshland wildlife. Ocean kayaking puts you into more open waters, where you can experience the waves and breathe in the salt air. It can be a difficult choice, but the good news is there's no wrong answer.