We are excited to announce the groundbreaking of our newest neighborhood, Del Webb Wildlight! Land development is now underway as Del Webb prepares to bring their signature combination of quality homes, inspired designs and resort-style amenities to Wildlight for residents 55 and older.
The gated neighborhood will feature 660 homes with a variety of Lowcountry floorplans and welcoming front porches, plus exclusive clubhouse amenities including a pool, fitness center, sports courts and much more.
"Wildlight is the perfect place for Del Webb because both brands focus on a healthy and active lifestyle," said Justin Dudley, Vice President of Land Acquisition at Pultegroup, the builder behind Del Webb Active Adult Communities.
Interested in starting your next chapter at Del Webb Wildlight? Watch the video above to learn more!
The new YMCA at Wildlight has opened its doors and we're so excited to give you a look at some of the amazing programs and perks available for Wildlight residents!
"We're ready to welcome the community into our facility, support them as they reach their health and wellness goals, connect them to other resources and invite them to join our cause," said Melissa, Operations Director of YMCA at Wildlight.
One of the biggest benefits of the new YMCA is its convenient, walkable location.
"You can literally live and walk right across the street from the Y and then go out on our trails. Everything is just integrated," said Wes Hinton, Wildlight's VP of Community Development. "UF Health has been a great partner in bringing the Y here. It's just a huge benefit to our residents."
Check out the video to learn more!
Every Wildlight builder brings something special to our floco community. For Matt Roberts and Chris Wood, co-managing partners of Riverside Homes, it's a commitment to customer satisfaction and beautiful home designs with luxurious touches.
"We focus on our customers' experience, and also the process that we're building from start to finish, even after they move into the home," Wood said.
What can you expect when you step inside a Riverside home?
"When we design our product type and what amenities we want to have inside of it—the taller ceilings, the attention to detail, the crown molding—some of the finer appointments you don't see in most neighborhoods like this."
Why buy a Riverside home in Wildlight?
"Location, location, location. That's what real estate is about," Roberts said. "To me it's a no-brainer. I think this is an outstanding community and has a great future."
Interested in touring a Riverside home? Visit our Move-in-Soon inventory to see what's available!
This is the third post in our UF Health Wildlight series. Throughout this series, we'll be interviewing various UF Health professionals about services and wellness practices that can help our residents live their healthiest lives.
As we've learned from our previous two UF Health Series posts, The UF Health Rehabilitation – Wildlight team offers a unique tri-disciplinary approach to pediatric therapy services.
We've seen how Physical Therapist Jessie Walczak and her team work with children on movement. We talked with Speech-Language Pathologist Ashley Parker about how she and her team help children with speech delays learn to communicate. Today, we're pleased to introduce Shannon Taylor, an occupational therapist who helps children improve fine motor skills, sensory processing and daily life skills.
Could Occupational Therapy Help Your Child?
"Pure magic" is a term Shannon Taylor, an occupational therapist at UF Health Rehabilitation – Wildlight, has heard parents use to describe the gains their children make from therapy. Many children enter therapy unable to perform basic daily living tasks, such as getting dressed, self-feeding or brushing their teeth, and go on to master those skills and many more that facilitate independence of daily activities at home and school.
"Being an occupational therapist is a very rewarding career. I get to see children on a day-to-day basis make progress, whether big or small," Taylor said.
Behaviors related to sensory processing difficulties, self-care delays and fine motor deficits can leave parents with many questions and concerns. An occupational therapy evaluation may be warranted if a parent is noticing that their child is having difficulty with any of the following areas below. It is important to talk to your pediatrician if you have questions about your child's development.
o Difficulty dressing, fastening buttons and tying shoelaces
o Using silverware or straws at an age appropriate level
o Using zippers
Reaching developmental milestones
o Holding a bottle and moving toys from one hand to another by 5 months old
o Banging two objects together and holding a spoon by 9 months old
o Pointing with an index finger by 9 to 12 months old
o Using thumb and finger to pick up objects by 12 months old
o Coloring and tracing
o Difficulty holding a pencil
o Holding and manipulating toys
o Letter and number formation
o Poor handwriting
o Using scissors
Sensory processing difficulties
o Constantly moving, jumping and crashing
o Demonstrating sensitivities to touch, taste, sound or movement
o Difficulty coping with change
o Easily distracted
Pediatric occupational therapy can provide personalized services to children from birth to teenage years. They use age-appropriate, purposeful activities to minimize the effects of diseases, injuries, congenital defects, disabilities or developmental delays so the child can live and learn to his or her full potential.
In addition to occupational therapy, UF Health Rehabilitation – Wildlight offers physical and speech therapy. Many kids who have significant developmental delays benefit from two and sometimes all three disciplines. The specialists work together to give patients and families a customized treatment plan to help meet their needs.
To learn more about pediatric physical therapy services at UF Health Rehabilitation–Wildlight, please visit their website at wildlight.ufhealthjax.org or call 904.427.8300.
This is the second post in our UF Health Wildlight series. Throughout this series, we'll be interviewing various UF Health professionals about services and wellness practices that can help our residents live their healthiest lives.
In our last UF Health Series blog post, we learned from Pediatric Physical Therapist Jessie Walczak about how the UF Health Rehabilitation – Wildlight team helps children move more confidently. Today, we're introducing Ashley Parker, a pediatric speech-language pathologist whose focus is empowering children with speech delays to unlock their inner voice.
Does Your Child Need Speech Therapy?
Every night for the last three years, a local mom put her son to bed and said, "Love you, love you, love you." He was old enough to speak, but wasn't able to respond. After a month of speech therapy, he looked at his mom and said, "Love you, love you, love you" right back.
For Ashley Parker, a pediatric speech-language pathologist at UF Health Rehabilitation – Wildlight, stories such as these remind her that her career is more than science — it's work that comes from the heart.
"When I hear things like that, not just as a therapist, but also as a mom, it keeps me going," Parker said.
Parker works with children with speech difficulties. They might have trouble speaking, deciding which words to say or understanding the meaning of some words. Parker also helps children with feeding, swallowing and behavior difficulties.
One of the early signs of a speech disorder in children is not babbling by the time they are 6 months old. Examples of babble sounds are "bababa," "ahhh," "uhhh" and "ehhh." By the time a baby is 12 to 13 months old, they should have at least one word they use consistently for an item, even if it isn't the correct word, such as saying "baba" for bottle. They should also be able to understand a one-step direction and point to things they see or want.
By 18 months, toddlers should have a minimum of 10 words in their vocabulary, with the average child having around 50 words. Parents should look for their child to be learning new words consistently, both receptively and expressively, and talk to their pediatrician for a speech therapy referral if they have concerns about their child's development.
Children 3 years and older should have appropriate speech articulation, or how well their words are understood. Some speech sound errors are age appropriate at age 3, like saying /w/ for /r/ as in "wace" for "race." Consulting with a speech-language pathologist can give a parent a good idea of whether or not their child's speech clarity is appropriate for their age.
In addition to speech therapy, UF Health Rehabilitation – Wildlight offers occupational and physical therapy. Many kids who have significant developmental delays benefit from two, and sometimes all three, disciplines. The specialists work together to give patients and families a customized treatment plan to help meet their needs.
To learn more about pediatric physical therapy services at UF Health Rehabilitation–Wildlight, please visit their website at wildlight.ufhealthjax.org or call 904.427.8300.
Welcome to the first post in our UF Health Wildlight series! Throughout this series, we'll be interviewing various UF Health professionals about services and wellness practices that can help our residents live their healthiest lives.
Today, we're excited to introduce Jessie Walczak, a pediatric physical therapist at UF Health Rehabilitation–Wildlight. See how she and her team are working alongside Wildlight families to help their children move around with more confidence.
Could Your Child Benefit from Physical Therapy?
Children need to feel comfortable and confident moving about their homes, at school and in social settings. Physical therapy techniques help children with gross motor skill challenges gain more independence through movement.
Pediatric physical therapy can help families and children with a variety of concerns, such as delays in development, muscle weakness, poor coordination or balance, genetic disorders and other conditions such as cerebral palsy. In physical therapy, children are engaged with fun and age-appropriate activities to keep them motivated, while assisting them with reaching their goals.
Signs that indicate physical therapy could be beneficial:
Your child has a strong preference for turning their head to one side or using only one side of their body
Your child is not meeting the expected developmental milestones during their first year, including:
2 months: holding their head up during tummy time
4 months: holding their head up in supported sitting, bringing hands to mouth and pushing up on elbows when in tummy time
6 months: rolling from tummy to back and back to tummy consistently, sitting up without support and reaching for toys/items and bringing them to their mouth
8–10 months: crawling on all fours—any variation in crawling or pulling up to stand at support surfaces are reasons to seek physical therapy intervention
12–15 months: taking independent steps
Your child is walking on their tip toes for the majority of the time after 2 years old
Your child is tripping and falling more than their peers when walking or is having trouble keeping up with other children their age
Your child has difficulty with using opposite sides of their body at the same time
To learn more about pediatric physical therapy services at UF Health Rehabilitation–Wildlight, please visit their website at wildlight.ufhealthjax.org or call 904.427.8300.
Jonathan and Crystal Boswell knew just where to find the perfect neighborhood to raise their two daughters and enjoy being part of a close-knit community: Floco!
"Floco, to us, means Lowcountry living. More front porch living, community involvement, and the style of homes also represents that same feel," Jonathan said.
Between the convenient commute to work, the short walk to Wildlight Elementary School and the miles of nature trails, the couple felt that Wildlight's location couldn't be beat. But there's one thing that really stood out to them the most.
"Front porch living is one of the biggest differences within this community that we've seen," Crystal said.
"Growing up, I had grandparents that always had [a front porch] but we never did," Jonathan said. "Now on Sunday mornings, we'll get our cup of coffee, go out on the front porch and enjoy the sunrise or in the evenings we'll enjoy the sunset."
Coming from a neighborhood where Jonathan described the community space as "non-existent," the Boswells couldn't be happier with their decision to move to Wildlight.
"The community feel is just bar none better than any place we've been before.'
These two simple words are the driving force behind what makes Wildlight the unique Florida Lowcountry community we love to call home. But what does it mean to be thoughtfully designed and how does it set Wildlight apart from other master-planned communities?
One of the most common things we hear from prospective homeowners about what drew them to Wildlight is its connection to nature. With over a thousand acres of conserved forest land, miles of hiking and biking trails and plenty of open green space, there are endless opportunities to enjoy the outdoors without having to leave the neighborhood.
This deep bond with the natural Northeast Florida environment is intentional and one of the main facets of Wildlight's design. And it doesn't stop at the doorstep of our homes. Each single-family home and townhome is built with a variety of green features including sustainable materials and landscapes, energy-saving natural gas and more.
Wildlight's walkability furthers this connection with nature by reducing carbon emissions and also promotes healthy living, another key component of the community's thoughtful design. Interconnected pathways join nature, neighborhoods, amenities, Wildlight Elementary School, local businesses and health facilities.
Our strategic collaboration with the University of Florida and UF Health gives residents convenient access to health services at UF Health's Medical Office Complex, Urgent Care and Rehabilitation facilities. The new First Coast YMCA, scheduled to open in October, will offer residents even more ways to stay healthy with fitness equipment, group exercise classes, sports programs and health education.
Such a physically interconnected community naturally fosters yet another important connection—the human one.
Even with social distancing guidelines in effect, you'll find neighbors chatting from their front porches, small groups of friends enjoying socially-distanced backyard barbecues and joggers waving as they pass by. And once life goes back to normal, residents will once again enjoy neighborhood potlucks, community events in the heart of town and fun nights out in nearby Fernandina Beach and Jacksonville.
All of this—interconnectedness between people, places, nature and health—is part of the thoughtful design that makes Wildlight a wonderful place to live, work and play.
These days, getting outdoors is a rare retreat, and hiking is a great way to enjoy the best of nature while getting some exercise in as well. You can take in the sights, discover local plants and animals, and soak up the sun. Plus, you'll knock out your daily steps goal and get a healthy dose of cardio in for the day.
Wildlight is proud to announce its first set of hiking trails has opened, part of a larger plan for more than 10 miles of hiking throughout its community. With a variety of options including paved and natural paths, with routes of varying lengths, anyone can find the perfect route for an outdoor excursion. It's one more way nature meets the neighborhood in this Floco community.
But wherever you hike, it's important to be prepared to make sure you have a fun and safe experience on the trails. Here are a few tips for a healthy, happy hike:
Think feet first. Get a comfortable pair of hiking boots or walking shoes. After a few miles, a little cushioning will make a world of difference.
Stick to the trail. Unless you're a seasoned outdoorsman or experienced with a map and compass, you don't want to get lost. Maintained trails are the best way to know where you're going.
Consider a hiking backpack for small children. Young ones love to get outdoors, but may need to rest sooner than you'd like. A hiking backpack with a child seat avoids the issues of a stroller on the rough terrain, and protects your back by distributing the weight appropriately.
Stay hydrated. Even a leisurely hike can use up your body's water, so be sure to bring a bottle of water or other hydrating beverage to avoid cramps and heat afflictions.
Plan to eat. In addition to hydrating, refueling is critical to finishing that hike without feeling miserable. If it's an all-day hike, be sure to have a lunch that will provide some protein and carbohydrates to keep you going. For shorter hikes, snacks like nuts, trail mix or cereal bars will keep you going.
Be a good trail neighbor. When you come upon other hikers, be courteous and make room for others to pass; it only takes a few seconds and makes everyone's day easier.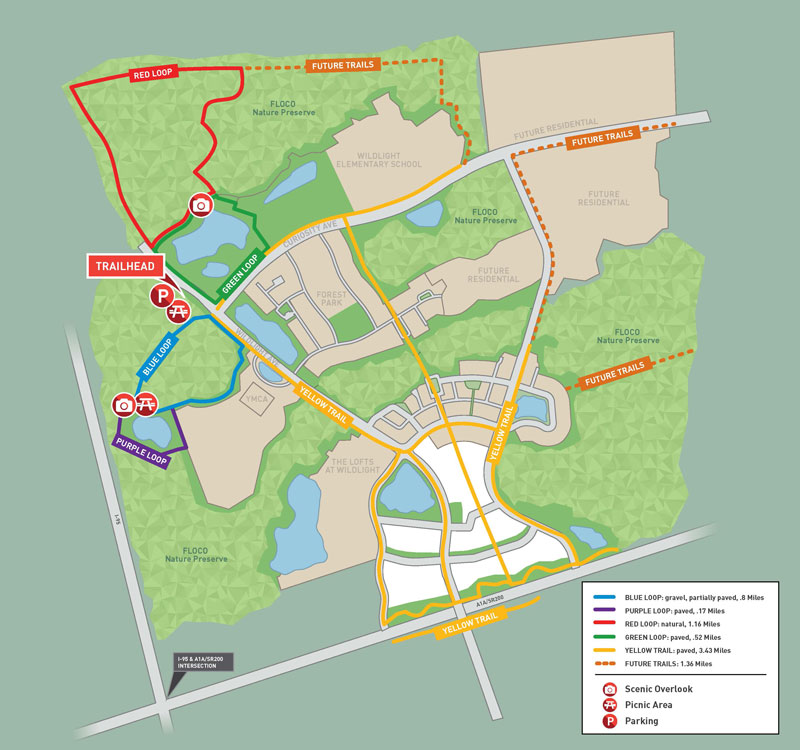 Home is where the heart is but after spending so much time there, it may be feeling a little less sweet. Even though things are starting to transition back to normal here in floco, it's more important than ever that your home is a space you love. Here are a few tips to make at-home spaces more accommodating.
Keep up with cleaning. Taking a few minutes to tidy up each day can go a long way toward improving your mood. Knowing where things are, seeing everything in order, and a sense of accomplishment will help your mood and your space. And it will save you from having to spend hours or days on a deep clean later.
Make WFH work better for you. If you're still working from home, it's important to maintain consistency. It helps to have a place where you know you can get work done. Even if you don't have a home office or desk, you can pick out a counter, table or even a spot on the couch, and know that when you're there, you're on the job. It's a small decision that can keep you extra productive at home.
Clear things out. Believe it or not, now is a better time than ever to get rid of excess stuff around the house. If there's an item you haven't been using while you've been home every day, chances are you aren't going to be using it. Channel your inner Marie Kondo and go room by room to find furniture, appliances, décor and more that you can live without. You'll open up more space in your house and as an added benefit, it can be the perfect opportunity to do some rearranging, too!
Rearrange and redecorate. Whether you do #3 or not, consider taking some time to rearrange the layout of a room or your whole house. Is your current setup conducive to your normal everyday lifestyle? If something's getting in the way, or there's something you don't need immediate access to (sorry, ironing board!), take this opportunity to change things up. It could be just the refresher you need to give your house a new feel, and make the everyday feel less ho-hum.