In the interest of efficiency, we'll let you know you can skip this entire article if you simply go tour the nine new model homes that Del Webb recently unveiled in Wildlight. We'll do our best to briefly describe the homes and the whole wonderful place that Del Webb is creating here in Wildlight. But as always, the real thing is so much better than words.
Ok, now that we've gotten the disclaimer out of the way, let's dive in.
When it comes to creating beautiful homes designed to make life easy and comfortable, nobody has more experience than Del Webb. And in Wildlight, Del Webb is offering four home collections, which include 16 of Del Webb's most popular floor plans. From the surprisingly attainable Villa Series, with prices starting in the $300s, all the way up to the open, flowing spaces and elegant finishes of the Estates Series, priced from the $500s. Altogether, the homes offer anywhere from 1,343 square feet and two bedrooms to more than 3,300 square feet and five bedrooms.
The primary takeaway here is that with this kind of variety, you're sure to find a home plan that fits your life plan.
Here's something else to know about these homes, something that's pretty special. In Wildlight, Del Webb is offering a lowcountry-inspired architectural style that's available nowhere else. With raised front porches and other charming details, this exclusive style honors the Florida lowcountry spirit that is at the heart of Wildlight. After all, this is a place where you can get out on a trail and explore parks and wetlands and Florida lowcountry nature in all its unfiltered glory.
But suppose you're looking for fun that's a little closer to home. Del Webb has you luxuriously covered. Construction has already begun on what will be a 16,000-square-foot resort-style clubhouse amenity. Think onsite bar and grill. Pickleball and tennis courts. An event lawn and community event room. A huge menu of interesting classes: yoga, cooking, wine-tasting and so forth. Oh, and a swimming pool that feels like your own private neighborhood lagoon. All planned to open in 2023.
So now that you've read a little about the new homes and soon-to-be amenities of Del Webb Wildlight, ready for a tour? Feel free to drop by any day of the week from 9:30am to 5:30pm except for Wednesdays and Sundays, which are open noon to 5:30pm.
Then again, if you just can't wait to explore the homes, click directly over to the new Wildlight.com.
Let's get real here. We certainly understand why South Carolina would want to lay exclusive claim to the lowcountry. After all, it's one of the most naturally beautiful, culturally rich regions in all of North America. But sorry, Charleston, you're not the only place that has sea islands, long beaches and an inland geography characterized by lush forests and wetlands brimming over with wildlife.
The geographical fact is, the lowcountry extends from the Santee River north of Charleston down past Savannah, Georgia, all the way to the St. Johns River that runs through Jacksonville. In fact, all you have to do is hop on Google maps and look at that stretch of the Atlantic coastline, and you'll say to yourself, "Yep, that all looks pretty much the same."
Of course we also understand that the lowcountry is more than a certain kind of geography. It's a unique intersection of cultures and cuisines. And we happily acknowledge that as you travel from South Carolina to northeastern Florida, the cultural tone changes. It's still lowcountry, but it gets more relaxed. More beachy. Instead of the quaint formality of Charleston and Savannah, you find the laid-back vibe of Amelia Island. You could say that in Florida, the lowcountry trades in its bow tie and seersucker for board shorts and a pair of flip-flops.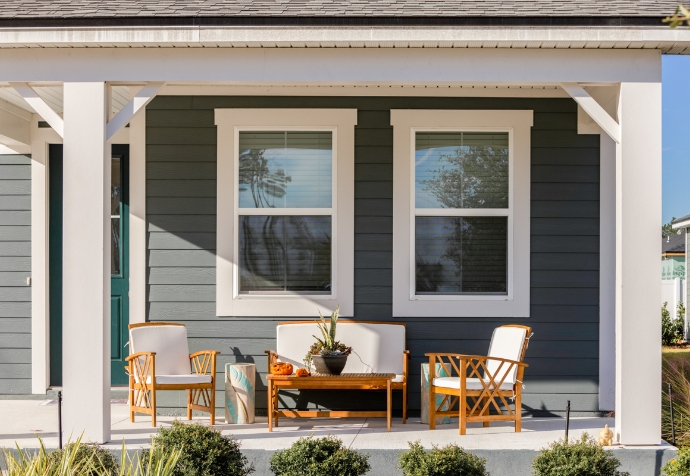 Then there are the homes. As with other places around the globe, classic lowcountry homes are a direct response to local weather. A raised first floor was a defense against high water. Tall ceilings helped to keep the indoors cooler. And a big front porch provided a shady place for everyone to come together and enjoy a cold drink and some neighborly conversation. In Wildlight, we've created a fresh interpretation of lowcountry style. Here you'll find plenty of porches and high ceilings. But the forms are simpler, more streamlined. With a contemporary flair that just feels … right.
Fortunately, what doesn't change with Florida's version of lowcountry is the yumminess of the food. The shrimp are just as fresh, the grits are just as creamy and the lowcountry boil is just as delicious and messy as anywhere else along this magnificent stretch of coastline. Maybe even a bit tastier. And around here, you can follow it up with a slice of made-from-scratch key lime pie.
Wilmington, NC – ideal-LIVING magazine is pleased to announce the Best Places to Live issue that features the Top 100 Planned Communities. The honorees are also revealed on www.ideal-LIVING.com/bestplaces.
Ideal-LIVING researched communities from our readers' most-desired areas based on survey results. Each year we survey our readers to determine the most popular destinations and amenities. The destinations featured in this special issue are representative of those desires.
Most of our readers are looking to escape high taxes and find a better climate and quality of life. Whether you would like to move to the mountains or the coast or even internationally, the communities in this issue should help give you ideas of where you might like to live.For more than 25 years, ideal-LIVING magazine has been a leading national publication for readers who are nearing retirement age or who are interested in the benefits of relocating their families or businesses. From its headquarters in Wilmington, North Carolina, each edition of the quarterly publication is curre
ntly delivered to more than 80,000 homes. The magazine's parent company, RPI Media, also distributes other publications like the comprehensive ideal-LIVING Relocation Guide and sponsors the company's signature ideal-LIVING Real Estate Shows each year. For more information, go to the website at www.ideal-LIVING.com.
CONTACT:
Kelly Godbey
Publix at The Crossings at Wildlight opens in Yulee
The grocery store anchors a shopping center developed by Sleiman Enterprises.
by: Monty Zickuhr Managing Editor
Link to article in Jacksonville Daily Record: https://www.jaxdailyrecord.com/photo-gallery/publix-at-the-crossings-at-wildlight-opens-in-yulee
Publix at The Crossings at Wildlight shopping center opened June 2 in Nassau County.
Sleiman Enterprises and Raydient Places + Properties announced the opening in a news release.
The Crossings at Wildlight is at 76010 William Burgess Blvd. in Yulee, east of Interstate 95 off of Florida 200.
Store hours are 7 a.m. to 10 p.m. daily. The pharmacy is open 9 a.m. to 9 p.m. Monday-Friday, 9 a.m. to 7 p.m. Saturday and 11 a.m. to 6 p.m. Sunday.
Sleiman Enterprises developed the more than 80,000-square-foot shopping center. Raydient Places + Properties, a subsidiary of Rayonier Inc., is the developer of the Wildlight master-planned community.
"Publix is set to be the foundation for this shopping center creating a vibrant center which will include both needed goods and services for the area along with dining and lifestyle opportunities this community desires," Sleiman Enterprises Chief Operating Officer Michael McNaughton said in the release.
He said the company soon will announce additional tenants.
"We enjoyed working with Publix, Raydient Places + Properties, and the Wildlight team." Sleiman Enterprises President Toney Sleiman said in the release.
"We look forward to developing more properties together in the future."
The Crossings at Wildlight sits on just under 17 acres. The site includes three multitenant retail buildings, two single- or multitenant buildings and up to three outparcels. Construction began in July 2021.
Grumpy's Restaurant says on its website it will open there in mid-2022.
Sleiman said more than 10,000 residential units are planned within 3 miles of the shopping center.
It is the second Publix in Yulee. The chain has a store about 6 miles west in the Villages of Amelia shopping center.
The company says it operates 1,297 stores in Florida, Georgia, Alabama, Tennessee, South Carolina, North Carolina and Virginia.
"The much-anticipated opening of this exceptional store with quality products and legendary customer service is an amazing addition to Wildlight's overall commercial offerings," said Wes Hinton, vice president of Wildlight, in the release.
Our Porchfest Model Home Tour was a fun-filled couple of weeks, and a celebration of community—from the fresh homes to the fresh food and the fresh air. We gathered together to celebrate neighbors, nature and all the things that make Wildlight so special.
For those who couldn't make it, here's what you missed: live music from local artists (a feast for the ears), six beautiful model homes to tour (a feast for the eyes) and delicious fare from local eateries (a feast for … well, a literal feast).
It was our way of showcasing the wonderful way that Wildlight lives. We like to say we're a new kind of Florida lowcountry. A town in nature, where your new home is an easy walk or ride (bike or golf cart) from a town center full of shops, restaurants, a YMCA, parks and trails. A place where, whether you prefer coastal or Craftsman, you can find a home that fits your flavor. And a spot where, without a doubt, the porch is the perfect place to spend time with family and friends.
We already can't wait for next time.
https://wildlight.com/wp-content/uploads/2022/05/April-Blog-06-800×419.jpghttps://wildlight.com/wp-content/uploads/2022/05/April-Blog-04-800×419.jpghttps://wildlight.com/wp-content/uploads/2022/05/April-Blog-08-800×419.jpghttps://wildlight.com/wp-content/uploads/2022/05/April-Blog-09-800×419.jpghttps://wildlight.com/wp-content/uploads/2022/05/April-Blog-07-800×419.jpg
There's a reason why, after over 70 years, Pulte Homes is still one of the nation's preeminent builders. Actually, make that many reasons. Like the fact that they offer innovative floorplans that help you…
Saturday, March 23rd
5k | 8:00am
Fun Run | 9:00 am
Festival | 2:00pm-9:00pm
123 Tinker St.
Wildlight, FL 32097
The area's newest spring festival is here! Get ready for a jam-packed day of lowcountry food, fun and entertainment. Enjoy live music with the area's raddest bands, browse goods from your favorite local merchants and chow down on fabulous food truck bites from Hot Diggity Dawgs, Indulge, Coldstone and more. Plus, enjoy tons of all-day activities including wall climbing and face painting. There will be plenty of fun activities for the whole family.
Sign up for the 5k and fun run here.
Band Lineup
| | |
| --- | --- |
| 2:00-3:00pm | The Mix Band |
| 3:15-4:15pm | Fire Water Tent Revival |
| 4:30-5:30pm | Sam Williams |
| 6:00-7:00pm | Jimmy Parrish and the Waves |
| 7:30-9:00pm | North of 40 |