We're proud to have Mattamy Homes as one of our builder partners at Wildlight. They approach home design a little differently — creating new homes that still have character. Mattamy designs forward-thinking communities with lots of green space and attractive, pedestrian-friendly streetscapes. That's why Wildlight is the perfect fit for this builder.
You'll find Mattamy Homes in Forest Park, a short walk from the town center at Wildlight — perfect for weekend burger runs, after-dinner ice cream cones and more. Of course, that's providing you ever feel the need to leave such a thoughtfully designed home.
With two models and one- and two-story floorplans left in our Forest Park neighborhood, you'll be able to experience an inspiring space perfectly suited to your personal tastes. Mattamy offers a selection of Quick Move-In Homes, which means you can get in early and significantly shorten the typical homebuying journey. And they partner with some of the best brands in the industry, from Moen to Ecobee to Whirlpool, so you can be assured you're not sacrificing quality for style.
But you don't have to take our word for it. Mattamy Homes has built over 100,000 homes for happy homeowners in hundreds of communities throughout Florida, North Carolina and beyond. Just think — your home could be next.
Mattamy Homes at Wildlight start in the $300s and range from 1,740 to 2,260 square feet, with three to four bedrooms and two to three bathrooms.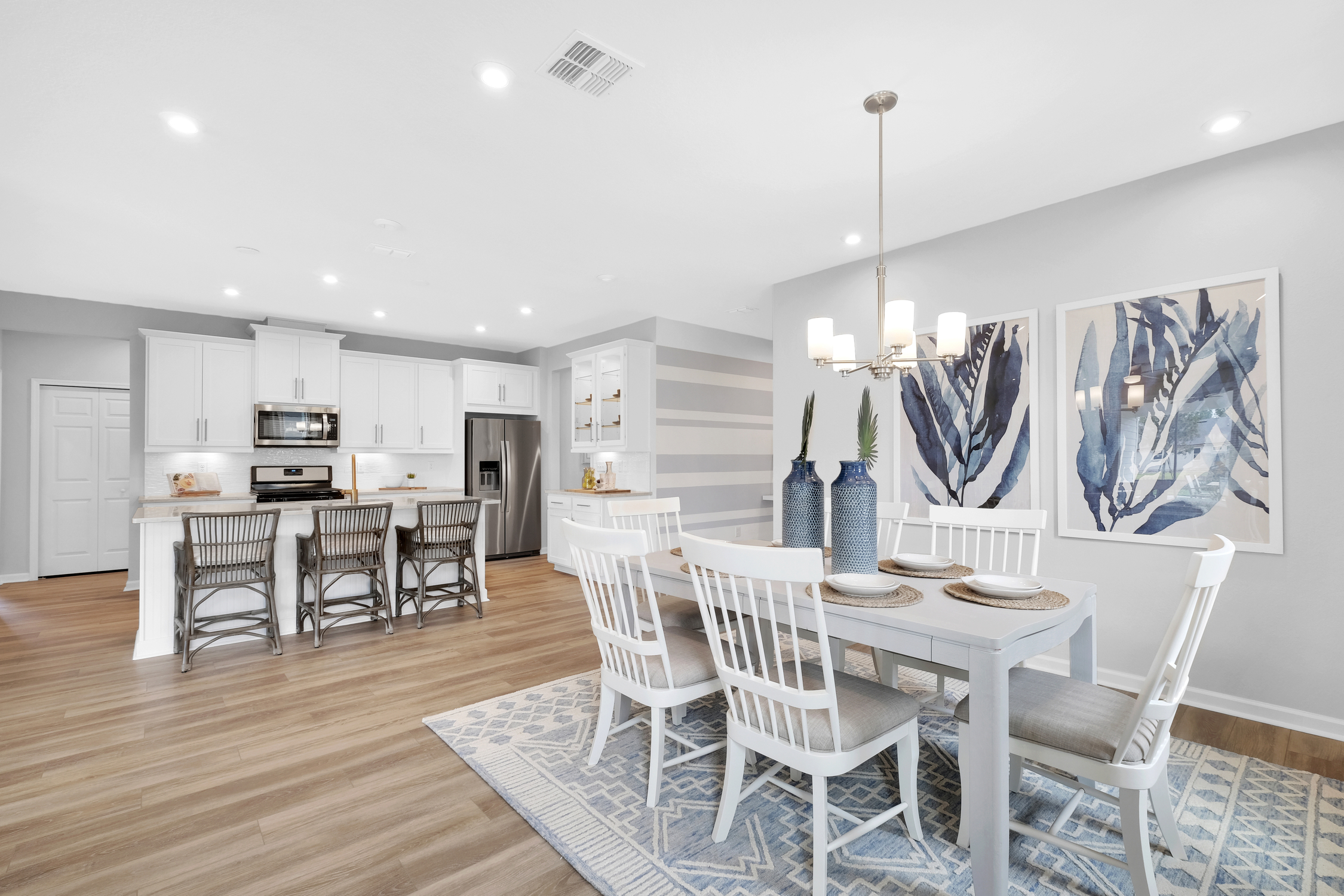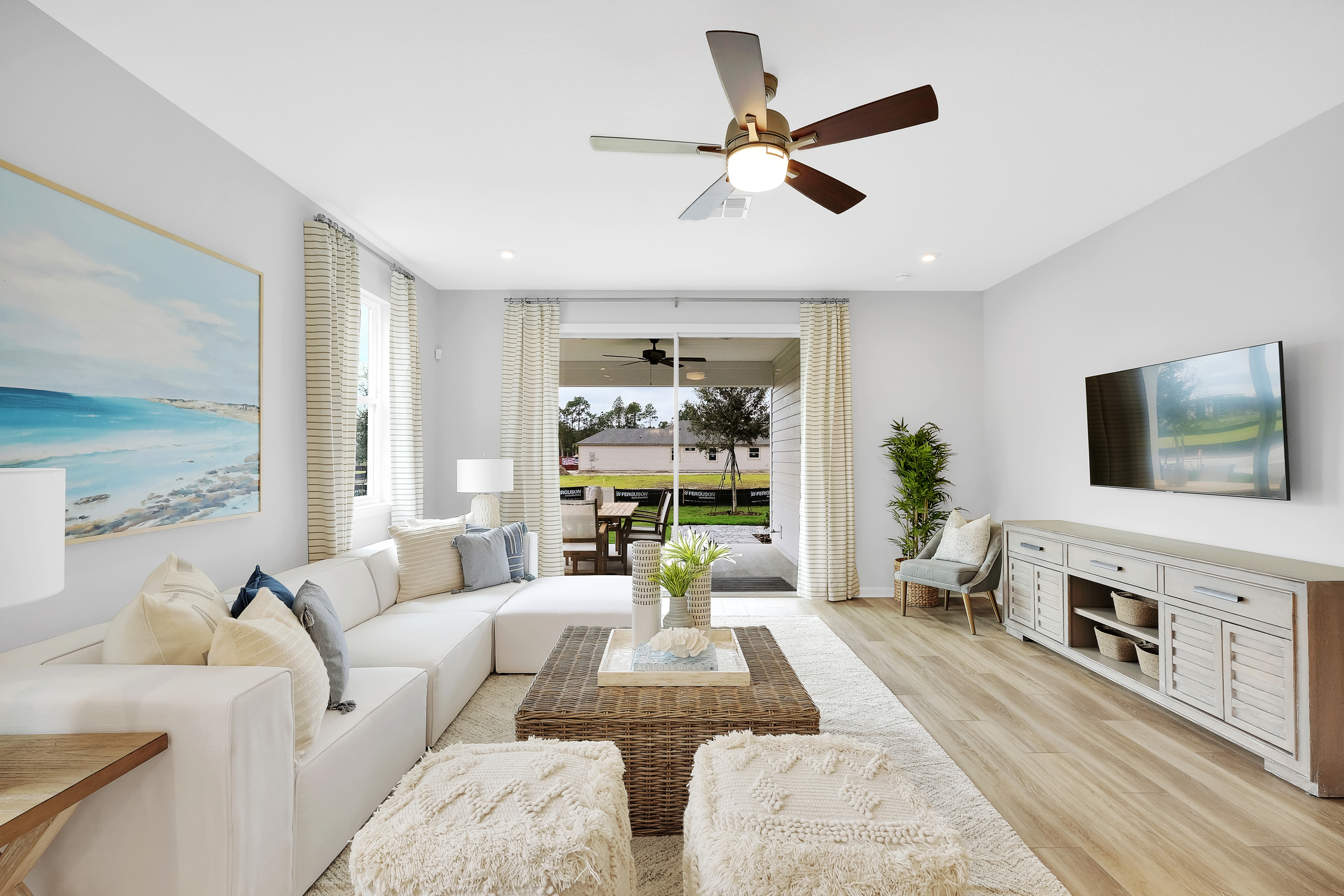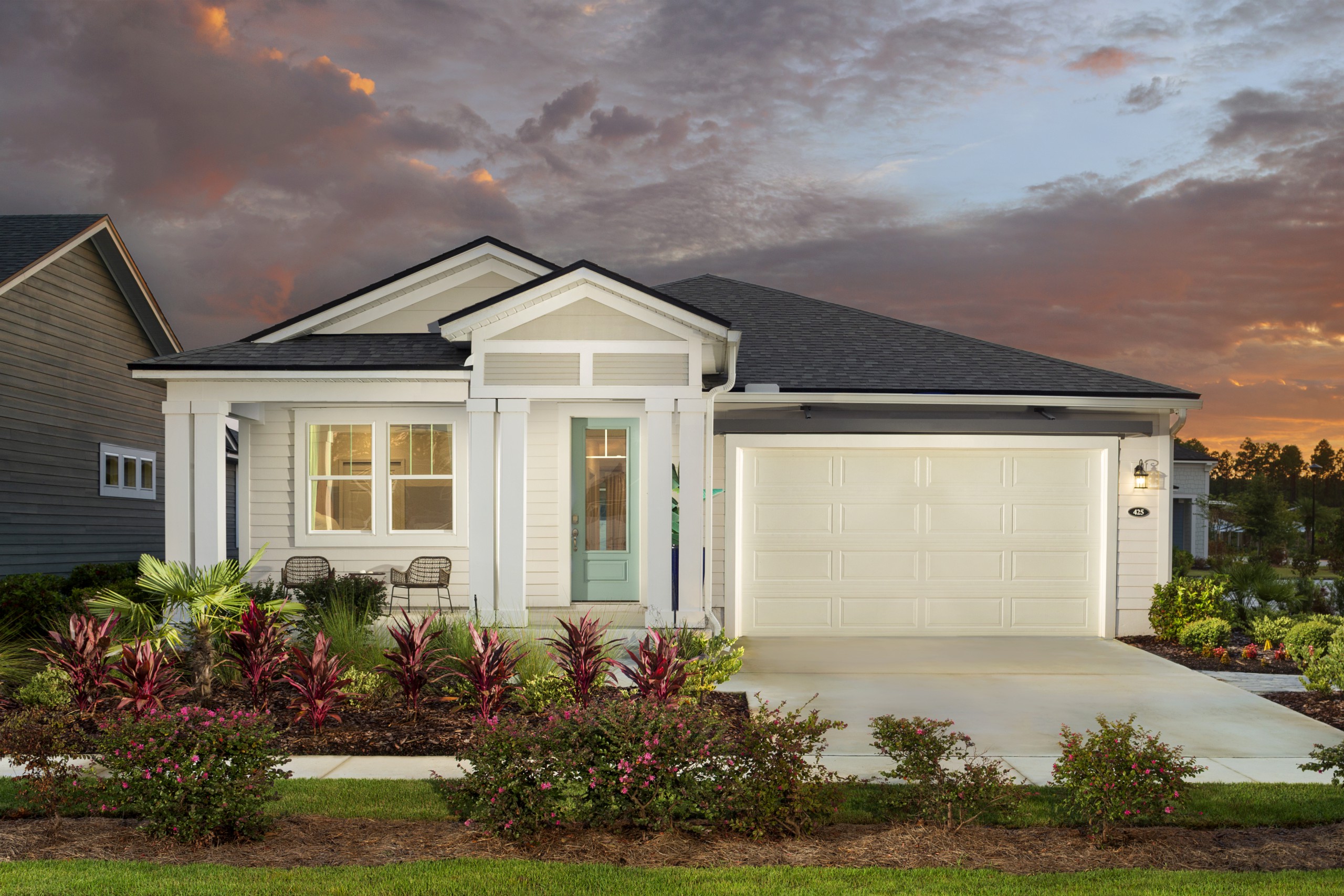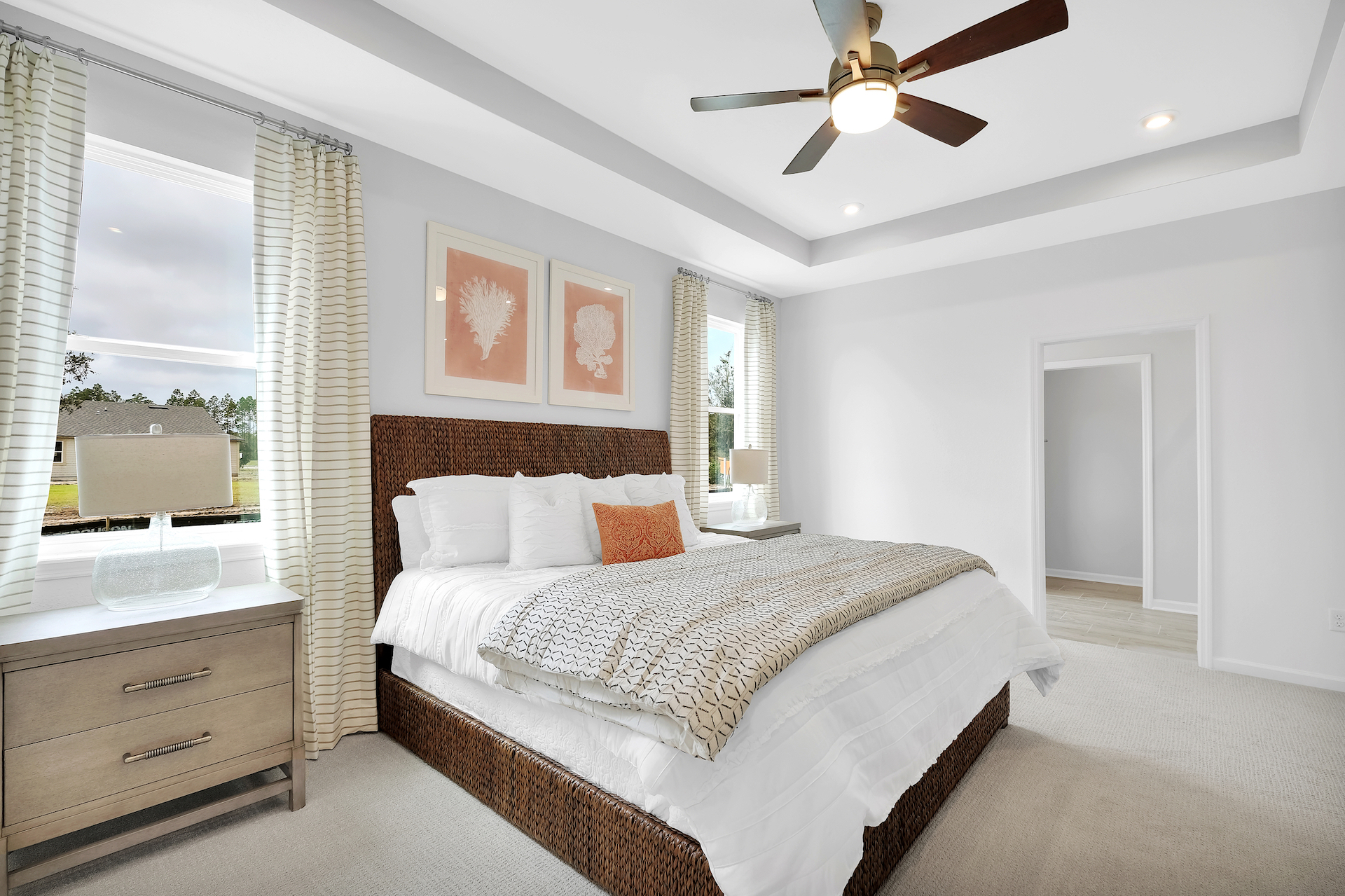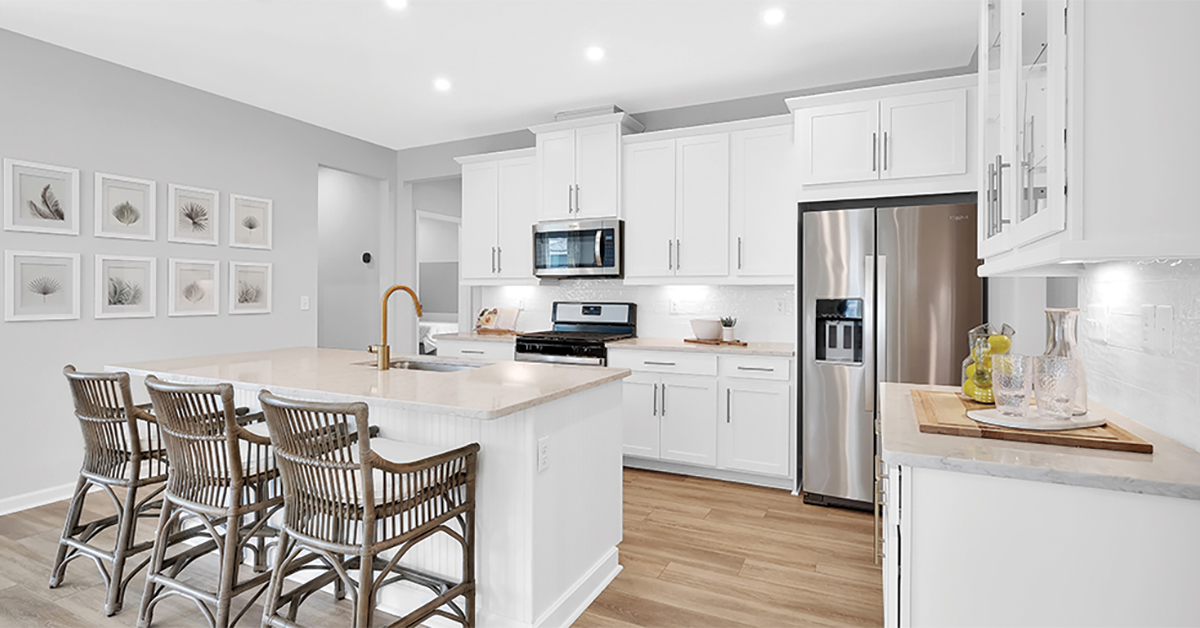 Mattamy Homes Floorplans
There's a reason why, after over 70 years, Pulte Homes is still one of the nation's preeminent builders. Actually, make that many reasons. Like the fact that they offer innovative floorplans that help you live the life you've imagined. Or their industry-leading 10-year warranty. Or their commitment to using premium materials and best-in-class building practices.
With two models and five flexible floorplans in Forest Park, Pulte Homes makes it easy to find the home of your dreams at Wildlight—whether you want inviting entertaining spaces, or family-friendly gathering places. (Of course, with design details like oversized kitchen islands, you'll find that you can do both.) And that's just the start. The real fun begins when you head to their design center to choose the finishes that reflect your personal taste. And you can get inspired at the Spruce and Whitestone models right here in our community.
These two homes feature on-trend, but still timeless modern-rustic touches, like wood beams, shiplap walls, crisp white interiors and more. (Pulte also lets you start visualizing your home online, right down to the paint color—and where you're going to put the furniture.) The single-family Pulte Homes at Wildlight range from 1,775 to 3,459 square feet with three to five bedrooms, two to four bathrooms and start in the $300s.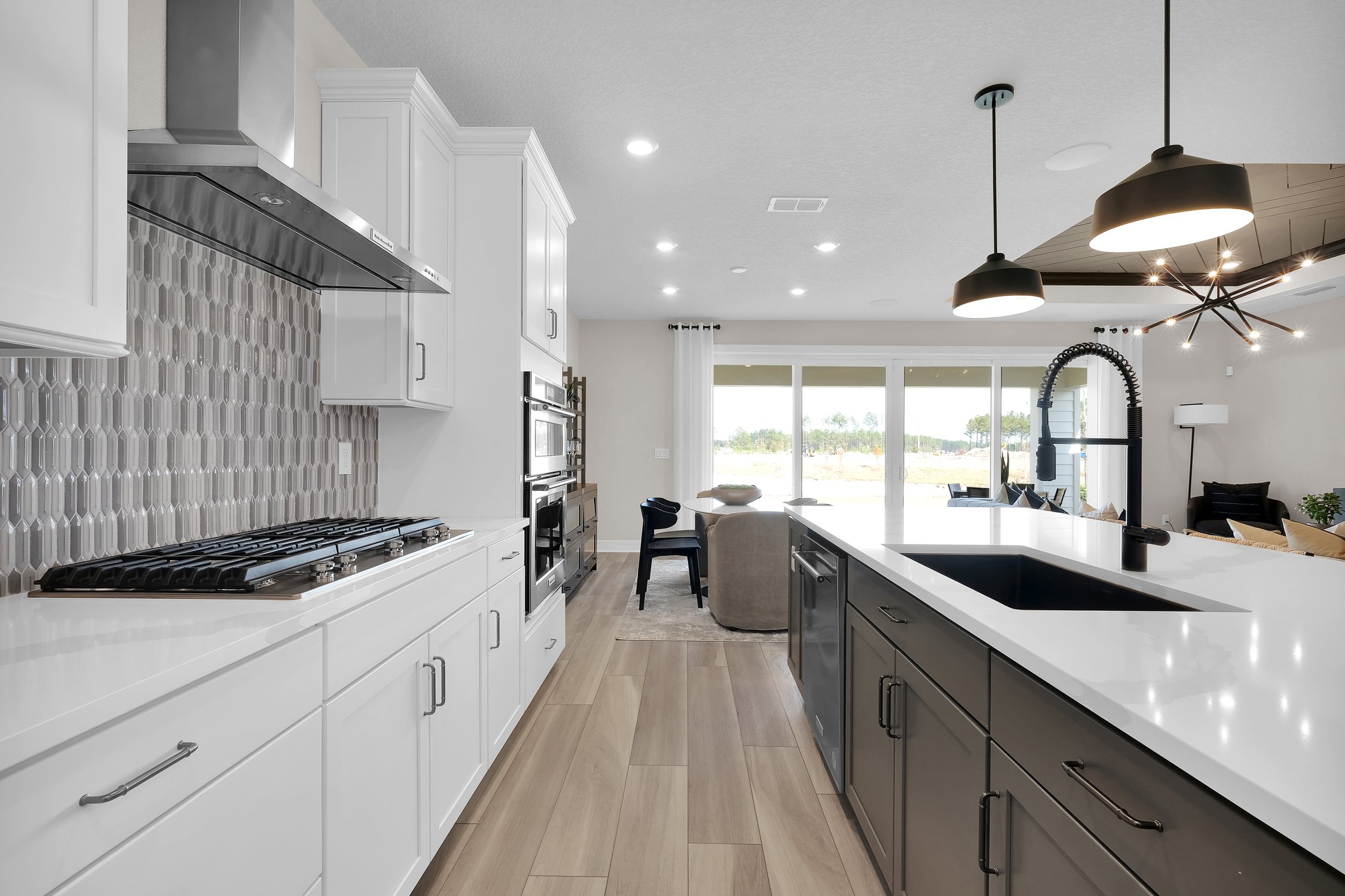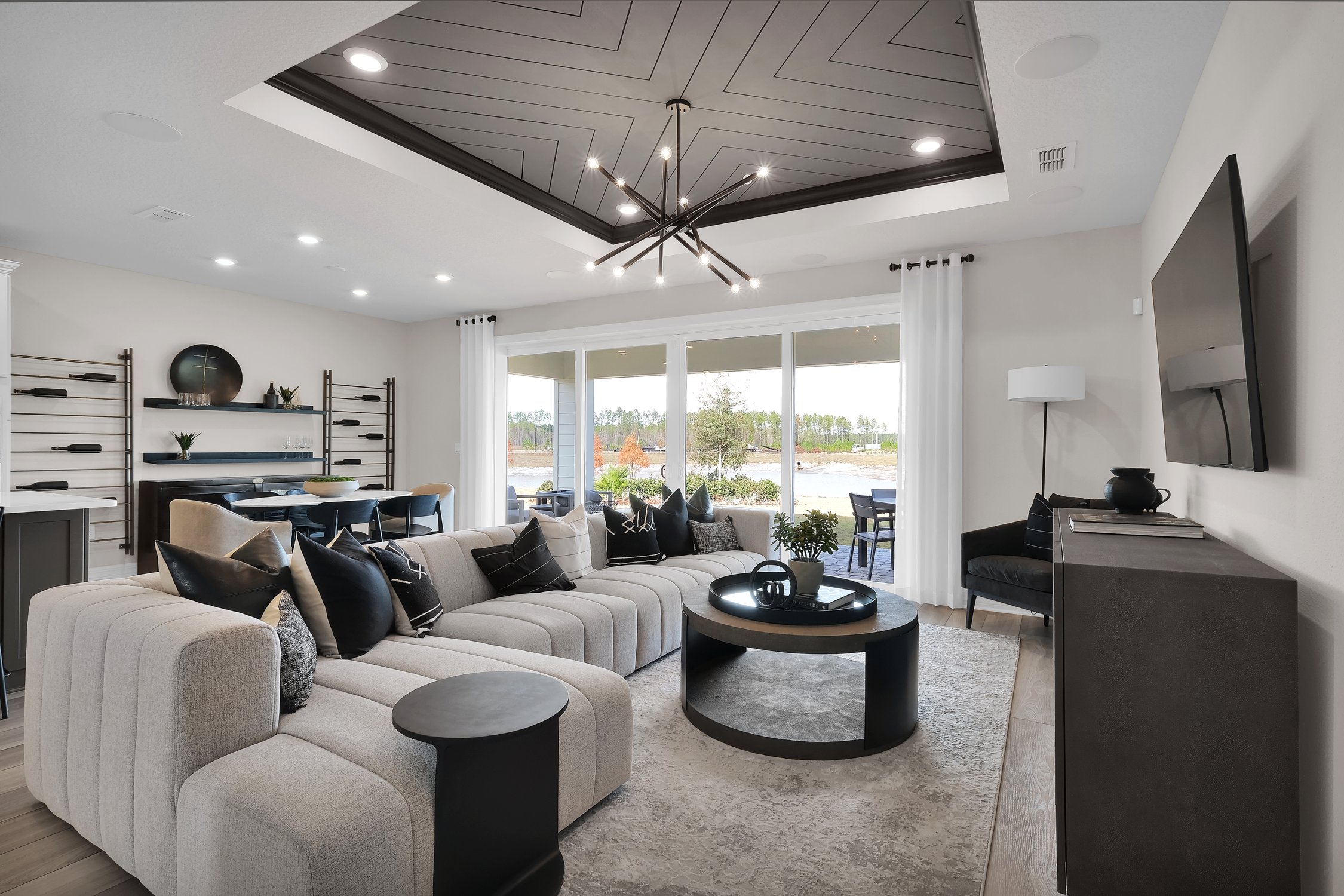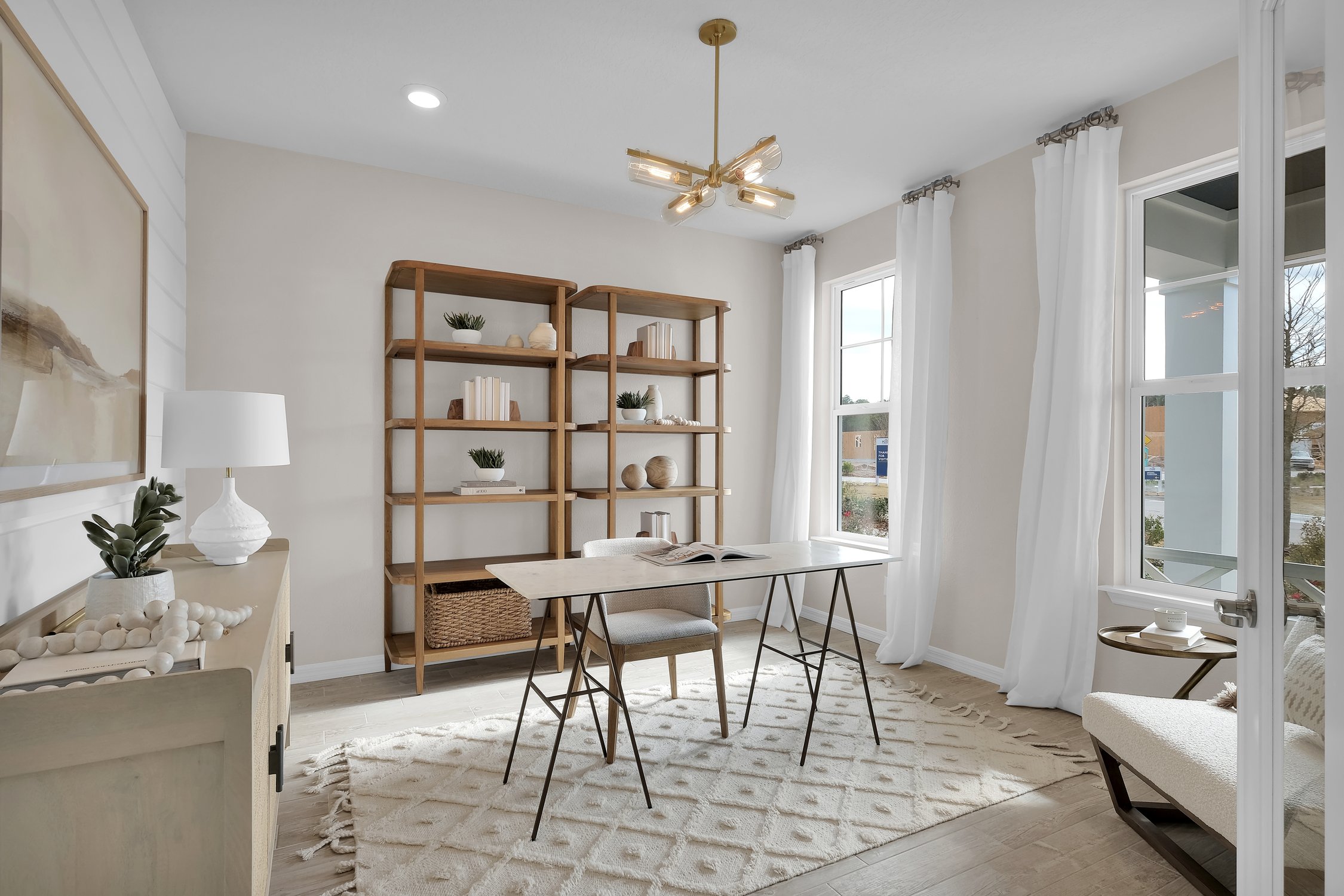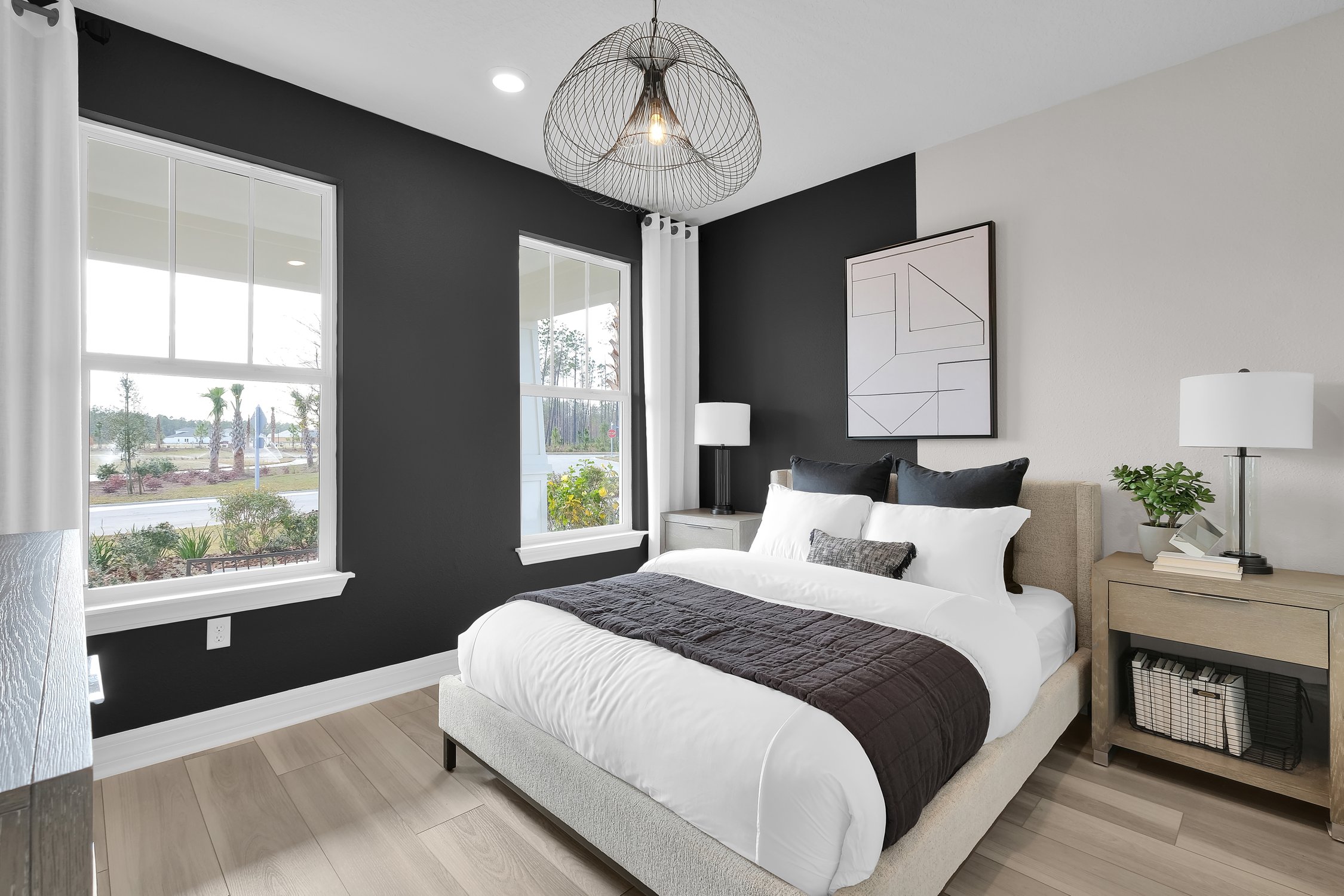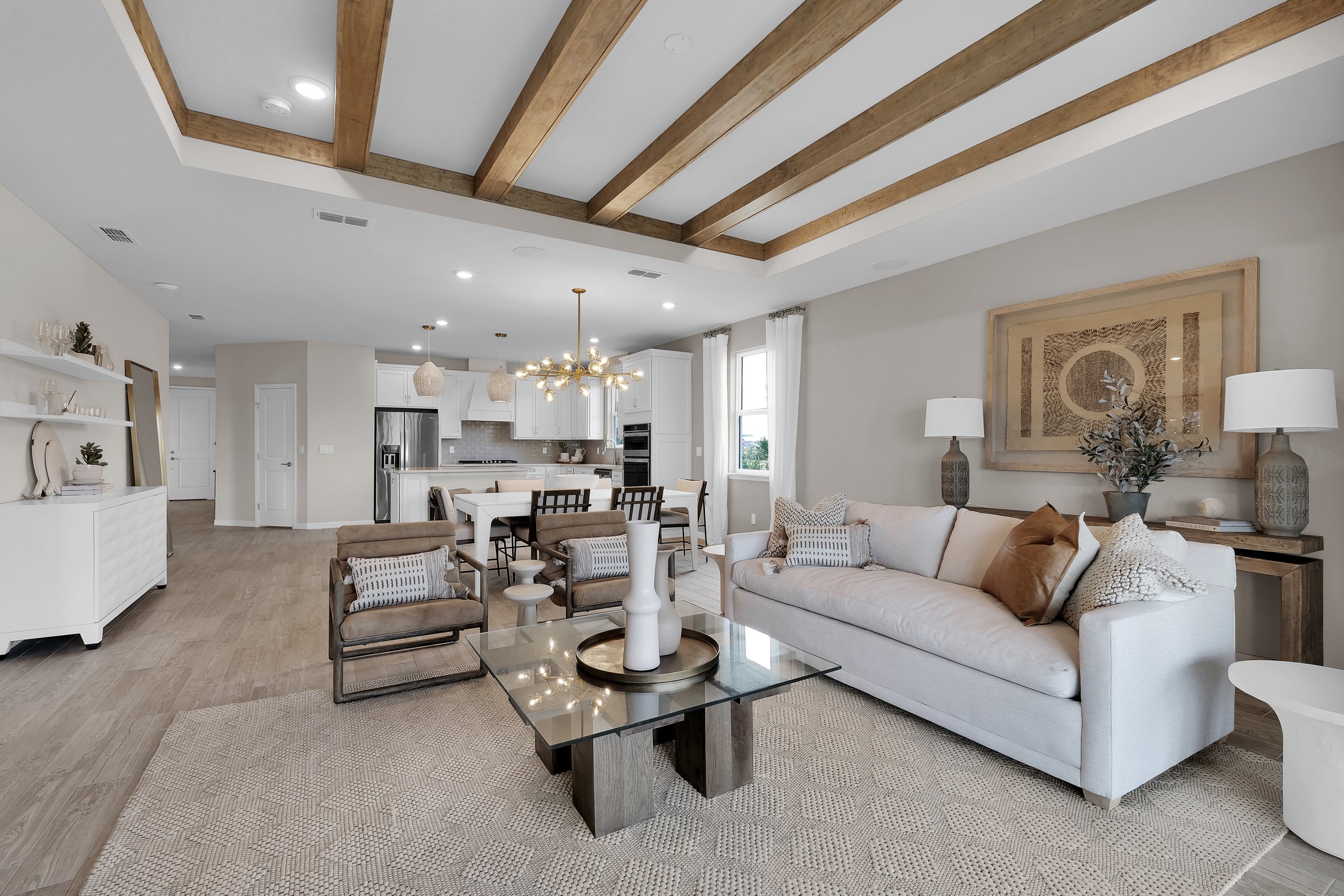 Every Wildlight builder brings something special to our floco community. For Matt Roberts and Chris Wood, co-managing partners of Riverside Homes, it's a commitment to customer satisfaction and beautiful home designs with luxurious touches.
"We focus on our customers' experience, and also the process that we're building from start to finish, even after they move into the home," Wood said.
What can you expect when you step inside a Riverside home?
"When we design our product type and what amenities we want to have inside of it—the taller ceilings, the attention to detail, the crown molding—some of the finer appointments you don't see in most neighborhoods like this."
Why buy a Riverside home in Wildlight?
"Location, location, location. That's what real estate is about," Roberts said. "To me it's a no-brainer. I think this is an outstanding community and has a great future."
Interested in touring a Riverside home? Visit our Move-in-Soon inventory to see what's available!
WILDLIGHT, FL – Jan. 23, 2019 – Wildlight, the new town being developed in Nassau County, is taking shape with residents moving in, commercial buildings under construction and exciting events going on for the greater community. The community's distinctive Florida Lowcountry aesthetic is coming to life through its residential architecture.
Raydient Places & Properties, the developer of Wildlight, is working with three home builders, D.S Ware Homes, Dream Finders Homes and Dostie Homes, to design and build single family homes and townhomes inspired by the Florida Lowcountry's character, culture and pattern of living. All three homebuilders are following Wildlight's Pattern Book to build homes inspired by 19th century, southern architecture, but with a forward-leaning, more-contemporary perspective. Florida Lowcountry's timeless design is characterized by large front porches, simple lines, native Florida landscaping and exterior color palettes that tie directly to the community's natural surroundings.
Wildlight's first homebuilder, D.S. Ware Homes, recently opened its second model home, the Willow. The new model is 1,866 sq. ft. with three bedrooms, two baths, and a covered patio. Much like D.S. Ware's first model home in Wildlight, the River Birch, the Willow features high ceilings, large windows and a front porch, perfect for Lowcountry living. Base price for the Willow is $309,900.
Dream Finders Homes will hold a grand opening for its first two model homes on Wednesday, Jan. 23, for interested individuals to tour the Augusta II and Anderson models. The Augusta II model is a two-story plan with 2,776 sq. ft. of indoor/outdoor living space. This home features four bedrooms, three bathrooms with grand double porches on the front of the home that capture the essence of Florida Lowcountry living. Base price for the Augusta II model is $344,990. The Anderson model is also a two-story plan, but with 2,862 sq. ft. and four bedrooms, three and a half bathrooms. Base price for the Anderson model is $367,990.
Dostie Homes has broken ground on its first townhome model in Wildlight called the Charleston featuring one of the renowned builder's all-new floor plans with 2,015 sq. ft., four bedrooms and two and a half bathrooms. Small, fenced rear yards with covered lanais also provide a sense of privacy, which is not typical of townhome living. Pricing for the townhomes start at $230,000. Dostie will also be building single family homes on 70-foot wide manor homesites with square footage ranging from 2,500 to 3,000 sq. ft.
###
About Wildlight
Wildlight is envisioned as a new town inspired by a character, culture and pattern of living that we call "Florida Lowcountry," where play is a part of every day and the natural world is a natural part of life. The plan for Wildlight includes a mix of homes, townhomes and rental apartments together with businesses, shops and restaurants, a new elementary school and a system of connecting trails and pathways intended to promote a walkable community and healthy lifestyle. Our Phase 1 plan is flexible and currently designed for about 1,000 homes throughout 260 acres, approximately. In addition, the community will have approximately 350 acres of permanently preserved open space. Wildlight offers comfortable and friendly Florida Lowcountry living located 20 miles north of Jacksonville and just east of Interstate-95 on A1A. There is easy access to both Amelia Island and the Jacksonville International Airport. Wildlight is being created by Raydient Places + Properties, a taxable subsidiary of Rayonier Inc., a real estate investment trust. For more information please visit Wildlight.com.
# # #