Northeast Florida is booming and making room for new arrivals. New York's Long Island is frozen in the 20th century.
Read Full article on Bloomberg News here.
A well-known and highly respected amphibian once said, "It's not easy being green." And he was right. Figuring out how to build a community that lives in balance and in close relationship with nature is a complicated, work-intensive undertaking. But is it ever worth it.
When a community is oriented around nature — protecting it and connecting to it — day-to-day life takes on a different complexion. It becomes richer. Healthier. Filled with more activity, more fresh air and more moments of quiet awe.
So that's the kind of community we're creating in Wildlight. Here's how …
Sustainable by design
Long before construction began, a team of engineers and scientists worked together on a plan that would allow community and nature to thrive together. What resulted was a new pattern of community, in which neighborhoods and business districts are carefully interwoven with each other and with parks, trails and conservation land. Creating a place that both preserves nature and inspires everyone to get out and enjoy it.
Conservation gone wild
We've set aside roughly half of Wildlight's overall acreage as dedicated conservation land, much of it in the 7,000-acre Wildlight Conservation Network located in the next phase of Wildlight. In Wildlight's permanently protected wetlands and forests, native species can continue to thrive. And the expanding Wildlight Trailways network (already 10+ miles long) lets you explore these pristine expanses of Northeast Florida lowcountry nature.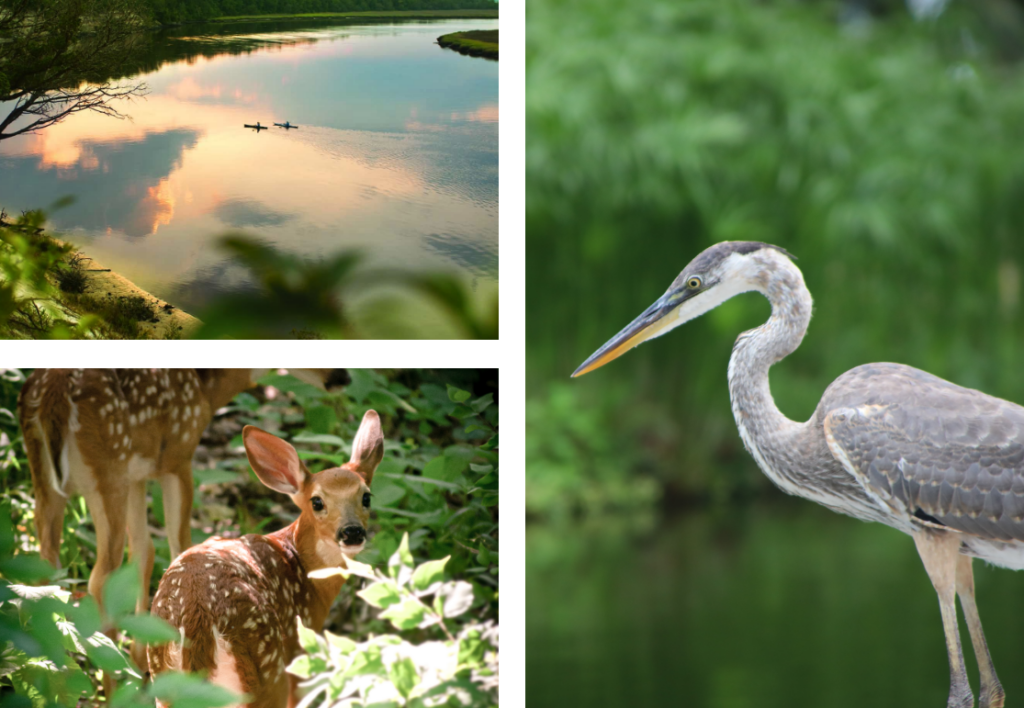 All-natural water management
Nature is more than beautiful. It's practical. It's really good at what it does. And one of its most important jobs is capturing and purifying water. With its extensive natural forest and wetland areas, Wildlight allows rainfall to seep into the ground, slowly being cleansed as it travels down into the soil, and eventually making its way to the underground aquifer that supplies the region's drinking water. Even the developed areas of Wildlight are designed to intelligently manage stormwater runoff and allow nature to do its thing.
Mixing it all together
It's one thing to conserve nature. It's another to make it readily accessible to people. The community plan for Wildlight lets us do both at the same time. Each homesite has easy connections to parks, trails and big swaths of nature for even more access to the outdoors. And by providing plenty of walking/biking paths and bringing the homes closer not only to nature but to restaurants, shops and offices, we create a community that lives more like a small town where everything is an easy stroll or bike ride away.
More nature, just around the corner
The Wildlight Conservation Network isn't the only important new nature area we're introducing in our next phase. We're also creating a 13-mile-long linear park that will stretch along the bluffs of the St. Marys River. We call it the Green Ribbon. And with its 8 miles of river frontage, the park will be anchored by a variety of experiences including a publicly accessible trail that ties the park together.
Also, we can't talk about nearby nature without mentioning the White Oak Conservation center. Located about 10 miles north of Wildlight, White Oak shares some of its heritage with our community since both places are built on land that was once part of Rayonier's sustainable timber-growing operation. On its 17,000 acres, White Oak helps to protect and advance the understanding of dozens of endangered species including the Florida panther, the Mississippi sandhill crane and three different types of rhinoceros.  
Get a little wild
If you visit Wildlight, you're welcome to take some time exploring our Wildlight Trailways. You might spot a fox or bobcat or one of the dozens of bird species that migrate along the Atlantic Flyway. You can even experience some of the wetlands using our boardwalk trails. And all along the way, you'll find fun, informative signs that inspire a deeper understanding and greater appreciation of all things wild and Floridian.
Download our trail map.
Northeast Florida is growing quickly. And since some of our new neighbors may be unfamiliar with how to prepare for hurricane season, we thought it might be helpful to pull together a few helpful facts and resources.
When is hurricane season?
The Atlantic hurricane season stretches from June 1 to November 30. But tropical storms and even a few hurricanes have formed in every month of the year.
How many storms occur during that time?
The National Oceanic and Atmospheric Administration (NOAA) offers an annual hurricane prediction for the Atlantic basin, which includes the Atlantic Ocean, the Caribbean Sea and the Gulf of Mexico. On average, Florida is affected by a tropical storm or hurricane once every three years.
What are some ways I can stay prepared?
Nassau County Emergency Management has a whole webpage dedicated to hurricane preparedness, including ways to prepare far ahead of time and what to do when a storm is approaching or has made landfall. And Wildlight's very own Home Owners Association has put together an extensive Disaster Preparedness Guide that covers everything from floods to fires. Another excellent resource is this disaster supply kit checklist from floridadisaster.org.

How can I stay up to date on hurricanes and tropical storms?
First, NOAA has a webpage that tracks every storm in the Atlantic. So you can see what's brewing days before it gets close to Florida. And Nassau County has set up the opt-in AlertNassau service that will send you the latest updates on storms and other emergency situations via text, voice or email.
Why does northeast Florida experience so few hurricanes?
Northeast Florida has had fewer hurricane strikes in the last century than many other places in Florida. In fact, since 1851 (when people began to keep track of storm data) the region has been affected by a hurricane only once every six or seven years, with only one Category 3 storm and no Category 4 or 5 storms. Why so few? It's a simple matter of geography. If you look at a map, you'll see that the Atlantic coastline dips northwest, forming a sort of protected bay around the Jacksonville region. Just another confirmation that your decision to move here was a good one.
Is Wildlight designed to withstand a hurricane?
Over the past decade, hurricane-resistant home design has advanced significantly. And Wildlight is one of the beneficiaries. All our homes are built to the latest standards for hurricane resiliency. And the community itself has been designed to manage large amounts of stormwater, greatly reducing the chance of flooding.
No community or homebuilder can guarantee absolute invulnerability to storm damage. But with the steps we and our builders have taken, combined with Wildlight's location on elevated land a few miles inland, you have a lot to feel good about.
One last piece of advice
Keep in mind that you live in one of the most beautiful places in the world. Like every other place, we sometimes have to contend with the extremes of nature. But just take some steps to prepare, take a deep breath, and go enjoy a sunny Florida day.
WILDLIGHT, Fla. (Dec. 6, 2022) – PulteGroup, one of the nation's leading homebuilders, has announced plans for its newest neighborhood, Hawthorn Park, coming soon to the Wildlight community, a master-planned mixed-use development in Nassau County.

The new construction single-family home community will consist of 25 50-foot homesites and 49 bungalow-style homes with rear-loading garages. Hawthorn Park at Wildlight will embody the community's overall Florida Lowcountry and coastal aesthetic. Development is underway and sales are anticipated to open in mid-2023.
"We are thrilled to be building on our success at Forest Park and proud to announce our next community at Wildlight, Hawthorn Park," said Tony Nason, PulteGroup's Northeast Florida Division President. "With Wildlight's superb location, excellent local schools and outstanding recreation offerings combined with the value Pulte offers, we expect strong home buyer interest at Hawthorn Park." As Wildlight's newest neighborhood, Hawthorn Park is truly unique. Surrounded by three ponds in close proximity to the trail system, residents will have plenty of opportunities to bike, kayak and birdwatch. And although it may feel like a private sanctuary, it's still a short bike or golf cart ride away to Wildlight's village center with a variety of restaurants and services, including a new Publix.

"We really value our partnership with PulteGroup and are excited about the future." said Wes Hinton, vice
president, Wildlight. "Hawthorn Park will be a unique addition to their existing Forest Park and Del Webb communities that have been so instrumental in shaping the residential landscape here at Wildlight."
Hawthorn Park is a welcomed addition to Wildlight's initial phase, consisting of 2,900 acres with a mix of residential homesites, multi-family apartments, an expansive town center including a new Publix, top rated schools, and UF Health and YMCA facilities already in place. Miles of trails, creative parks and amenities, and almost half of the community dedicated to green space create a healthy and vibrant environment for residents.

For information on the two additional communities at Wildlight – Forest Park at Wildlight and the popular age-restrictedDel Webb Wildlight visit www.Pulte.com/Jacksonville or call (904) 595-9180.
Jax Daily Record: https://www.jaxdailyrecord.com/article/wildlight-announces-plans-for-senior-housing-community
WILDLIGHT, FLA. – November 29, 2022 – Wildlight announced today that The Fellowship Family and Ambling Property Investments will develop a senior housing community within its mixed-use master planned development in Nassau County.
Fellowship at Wildlight will be a highly amenitized senior housing community consisting of 24 memory care units, 48 assisted living units, 125 independent living units and six cottages on nearly 16 acres of land within the first phase of the Wildlight development. Sitework is slated to begin in 2023 with anticipated completion in 2025. Fellowship at Wildlight pre-leasing will begin in 2024.
"Our goal at Wildlight is to create an extraordinary sense of place for community residents and families in every life phase," said Wes Hinton, vice president of Wildlight. "The addition of Fellowship at Wildlight will bring a new sanctuary for seniors with a range of living options and support services available, and we couldn't be more excited to partner with the family-owned Fellowship Family to offer this level of care."
The Fellowship Family is a welcomed addition to Wildlight's initial phase, consisting of 2,900 acres with a mix of residential homesites, multi-family apartments, an expansive town center, schools, and UF Health and YMCA health & wellness facilities already in place, as well as the recently announced Wildlight Commerce Park.
"Fellowship at Wildlight will bring premier quality senior living accommodations with personalized service for every resident, delivered by an experienced team in an inviting, warm atmosphere," said The Fellowship Family's President and CEO John LaHood. "Each of our Fellowship communities are designed among a unique landscape, offering a tranquil place to connect with God and nature. The beautiful scenery of Nassau County makes this a perfect fit."
In addition to the community's thoughtfully planned amenities, residents and their families can take advantage of the greater Wildlight community offering miles of trails, creative parks, open green space and access to healthy living systems and facilities.
"Ambling believes in building generational relationships," added Kevin King, Ambling Property Investment's president of development. "We are excited to further our partnership with Fellowship while supporting the vision and purpose of Wildlight."
To ensure masterful integration of Wildlight's Florida Lowcountry aesthetic, ETM, Stewart & Conners Architects, Niles Bolton Interiors and Elkins Construction have been selected for project design and construction.
Follow this link for renderings and a conceptual site plan of Fellowship at Wildlight.
If you're interested in townhome living at Wildlight, we have one word for you: hurry. Because Dostie Homes is down to their final five floorplans. Located near our village center, these townhomes are the perfect blend of craftsmanship and convenience (not to mention space and style and flexibility and indoor/outdoor living). We're talking covered lanais, private owners' suites, upstairs lofts and more. And we can spend all day writing about the five remaining floorplans (see below), but a picture is worth a thousand words. A virtual tour? Well that's worth even more.
About the Floorplans
TYBEE
You know that whole notion of "form and function"? The Tybee covers off on both. Design details like smooth walls, custom wood window sills and more add style and elevated detail. And features like a second-floor laundry room add functionality (say hello to not dragging laundry baskets up and down stairs). You could say less work is sort of a thing here, because you won't have to do any home maintenance, either. In all your newfound downtime (!), enjoy the breathing room that the open floor plan provides. Or breathe in the fresh air on the covered lanai — breeze, courtesy of a thoughtfully added ceiling fan. (We suggest bringing a good book out with you.)
DORCHESTER
Looking for space? The Dorchester has you covered. With lots of living space — including a Great Room with airy vaulted ceiling, a perfectly sized kitchen island, an outdoor lanai and more. And much-welcome personal space, like a recharge-inducing main-floor owners' suite (complete with a huge walk-in closet that could very well be a room of its own). Upstairs, two other bedrooms provide private getaways for the other members of your household, and a flex room means you can have that movie room/game room/workout room/office you've always wanted. (Lucky you!)
PIEDMONT
Walk into the Piedmont and you're walking into the heart of the home: the Great Room and kitchen. Make a quick stop by to grab a snack or glass of sweet tea before you head down the hallway to the lanai. Or if you'd rather unwind elsewhere, consider the owners' suite, which might be more accurately called a retreat. It's tucked away in its very own corner at the back of the home, right next to the door to the lanai, for some well-deserved peace and quiet, and no shortage of sunlight. Bonus: even the stairs are at the front of the house. (In other words, no foot traffic to disturb you).
THE CHARLESTON
One of the biggest choices you'll have to make when you live in the Charleston? Where to eat breakfast. Around the spacious island? In the eat-in kitchen? Or out on the covered lanai? (Our suggestion: take your coffee outside, then come in for the rest.) Of course, the rest of the day will have you appreciating the rest of the livable space in this two-story home. Like the welcoming owners' suite that's all about main-floor ease and comfort — and maybe a little peace and quiet while the kids do their homework/watch TV/play video games in the loft upstairs.
THE BERKLEY
It's quite a perk when part of your living space is outdoors. And the covered lanai in the Berkley provides just that. A place to enjoy the Florida weather, while staying comfortably out of the sun. Of course, once you do decide to head indoors, the Great Room will welcome you with open arms (or should we say open space)? With an airy living area-meets dining area-meets kitchen helps the whole family stay connected, even if they're technically not in the 'same room.' Of course, should you want a little space to yourself, the main-floor flex room can be used as an office or craft room. Enjoy.
In the interest of efficiency, we'll let you know you can skip this entire article if you simply go tour the nine new model homes that Del Webb recently unveiled in Wildlight. We'll do our best to briefly describe the homes and the whole wonderful place that Del Webb is creating here in Wildlight. But as always, the real thing is so much better than words.
Ok, now that we've gotten the disclaimer out of the way, let's dive in.
When it comes to creating beautiful homes designed to make life easy and comfortable, nobody has more experience than Del Webb. And in Wildlight, Del Webb is offering four home collections, which include 16 of Del Webb's most popular floor plans. From the surprisingly attainable Villa Series, with prices starting in the $300s, all the way up to the open, flowing spaces and elegant finishes of the Estates Series, priced from the $500s. Altogether, the homes offer anywhere from 1,343 square feet and two bedrooms to more than 3,300 square feet and five bedrooms.
The primary takeaway here is that with this kind of variety, you're sure to find a home plan that fits your life plan.
Here's something else to know about these homes, something that's pretty special. In Wildlight, Del Webb is offering a lowcountry-inspired architectural style that's available nowhere else. With raised front porches and other charming details, this exclusive style honors the Florida lowcountry spirit that is at the heart of Wildlight. After all, this is a place where you can get out on a trail and explore parks and wetlands and Florida lowcountry nature in all its unfiltered glory.
But suppose you're looking for fun that's a little closer to home. Del Webb has you luxuriously covered. Construction has already begun on what will be a 16,000-square-foot resort-style clubhouse amenity. Think onsite bar and grill. Pickleball and tennis courts. An event lawn and community event room. A huge menu of interesting classes: yoga, cooking, wine-tasting and so forth. Oh, and a swimming pool that feels like your own private neighborhood lagoon. All planned to open in 2023.
So now that you've read a little about the new homes and soon-to-be amenities of Del Webb Wildlight, ready for a tour? Feel free to drop by any day of the week from 9:30am to 5:30pm except for Wednesdays and Sundays, which are open noon to 5:30pm.
Then again, if you just can't wait to explore the homes, click directly over to the new Wildlight.com.
The Hamlet at Wildlight, a 250-unit single family rental community, is coming soon to Wildlight.  The Hamlet at Wildlight will include cottages, townhomes and duplexes.
Read more about it here: https://www.citybiz.co/article/251950/middleburg-communities-starts-construction-on-250-unit-single-family-rental-community-near-jacksonville-fl/
With over 60 years as a family-owned builder, local Dostie Homes has a quality reputation for building quality homes. And at Wildlight, you'll see their commitment and professionalism at work. Because Dostie Homes makes building your home all about you (imagine that).
From the moment you pick your floorplan (they have 8 to choose from in Founder's Park) to the day you move in, they will help you craft a home that you'll cherish for years to come.
Of course, Dostie Homes live as stylishly as they do flexibly. With details like welcoming front porches, architectural details that reflect the region's heritage and history, and living spaces that take advantage of Wildlight's natural surroundings.
If all this sounds ideal, you have to hurry. Dostie Homes is down to their remaining townhomes—the last opportunity to live in Founder's Park. With 8 floorplans ranging from 1,365–2,015 square feet, these homes offer features like main floor owners' retreats, 3–4 bedrooms and 2–2.5 baths—plus optional bonus rooms for workdays and movie nights.
The question now is, which one is right for you?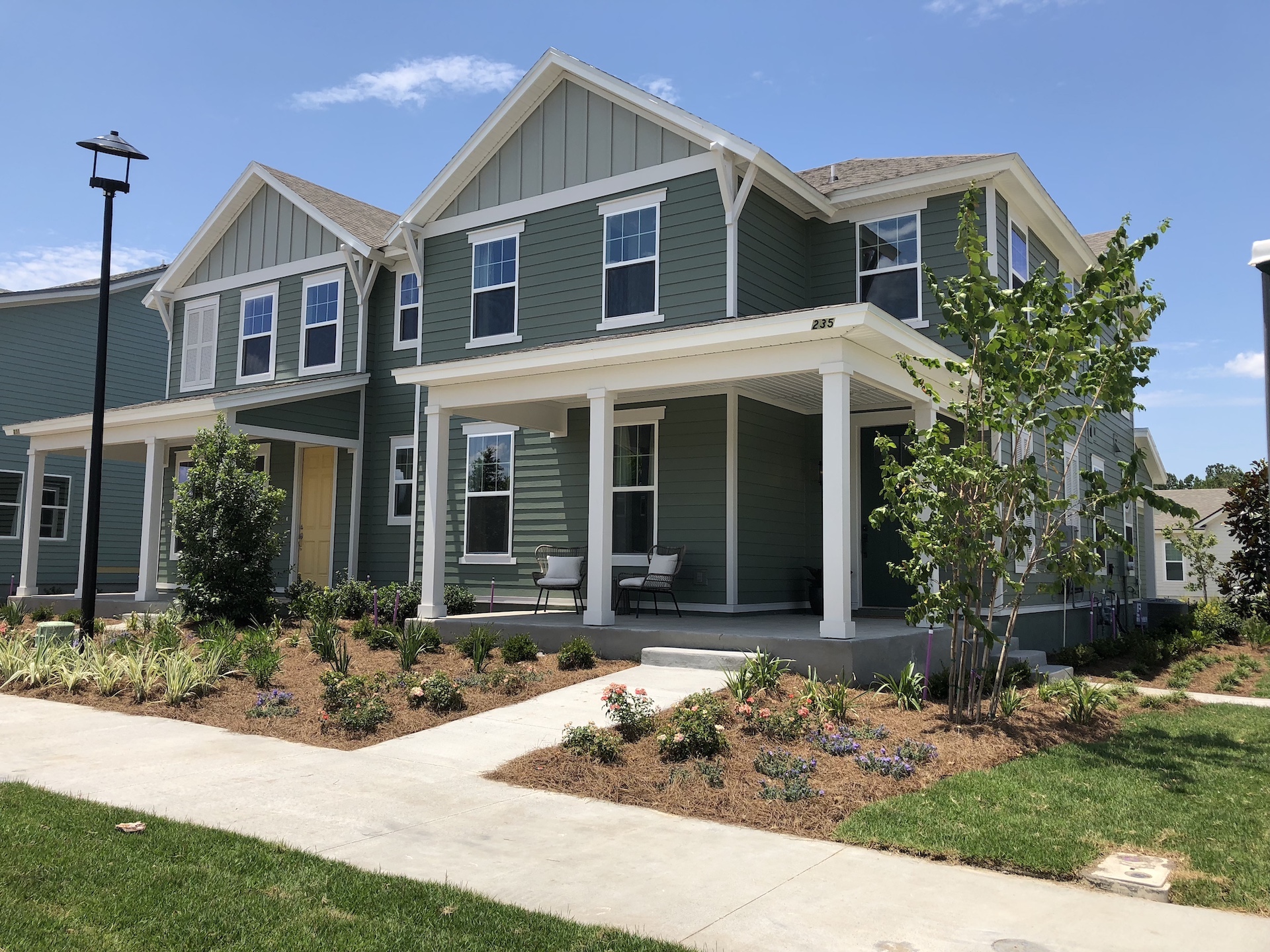 Dostie Homes Floorplans
https://wildlight.com/wp-content/uploads/2022/02/floorplan-berkley.jpghttps://wildlight.com/wp-content/uploads/2022/02/floorplan-tybee-1.jpghttps://wildlight.com/wp-content/uploads/2022/02/floorplan-savannah-1.jpghttps://wildlight.com/wp-content/uploads/2022/02/floorplan-carolina.jpghttps://wildlight.com/wp-content/uploads/2022/02/floorplan-charleston.jpghttps://wildlight.com/wp-content/uploads/2022/02/floorplan-dorchester.jpghttps://wildlight.com/wp-content/uploads/2022/02/floorplan-jasper.jpghttps://wildlight.com/wp-content/uploads/2022/02/floorplan-piedmont.jpg
At Wildlight, we like to say we're "town in nature." And our distinct neighborhoods let you experience exactly that. Whether you choose to make your home nearer the "town" part, or the "nature," you'll get to experience a new kind of lowcountry living. One where trails and wetland preserves are right out your door. And an ice cream shop (and more) is just down the street.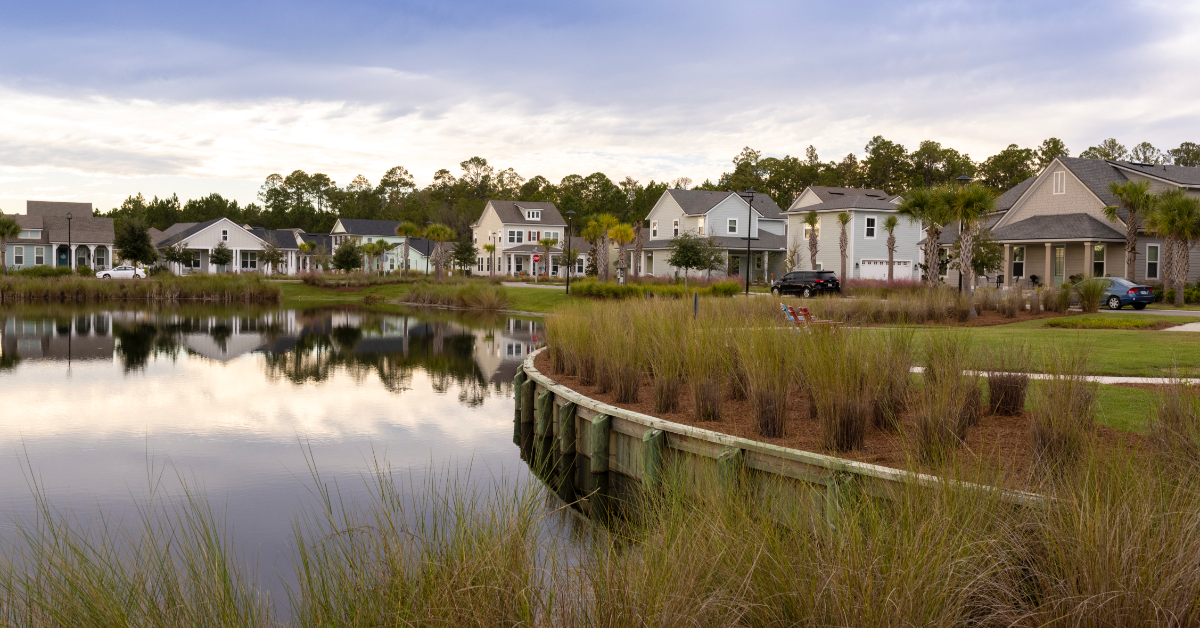 Founder's Park
Wildlight's first (and most centrally located) neighborhood, Founder's Park puts you closest to the center of town. Which means you'll be a short walk away from shops, restaurants and local businesses.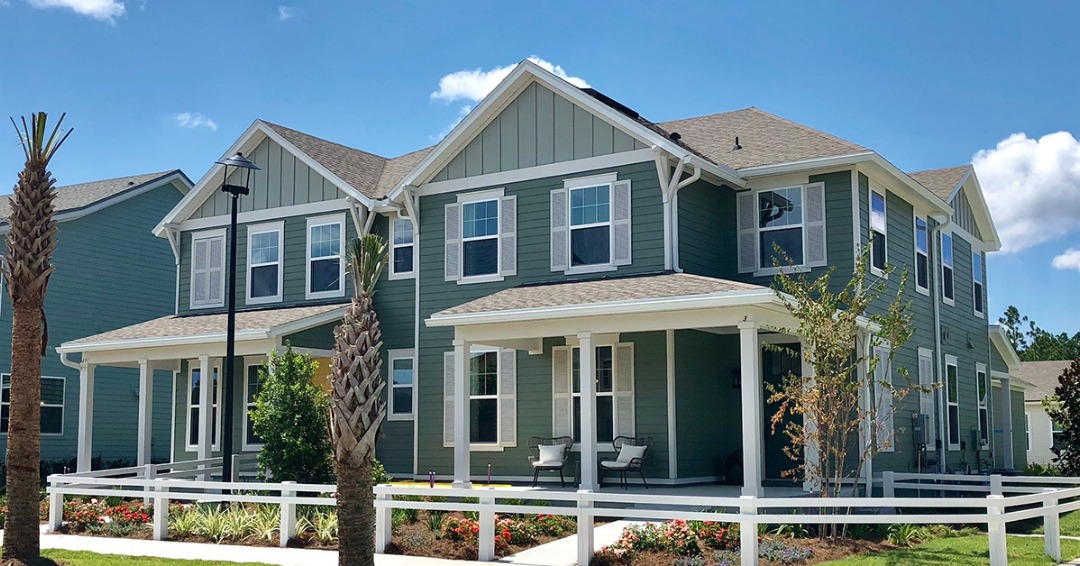 Founder's park is home to local North Florida builder Dostie. There are still a few townhome plans by Dostie available—the last opportunities in the neighborhood.
Forest Park
Surrounded by parks and walking trails, Forest Park is nearest to nature (and the YMCA that's right in the community). And those with kids, take note: it's also home to Wildlight Elementary and Waterbug Park pool.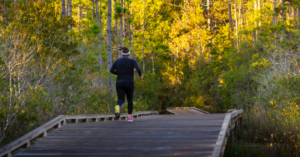 Forest Park features 19 floorplans (yes, 19) between Mattamy Homes and Riverside Homes. And Pulte Homes just introduced 5 new single-family plans (and opened two brand-new models).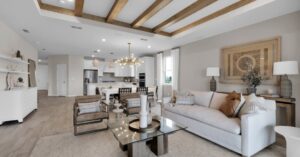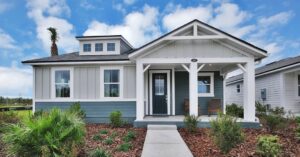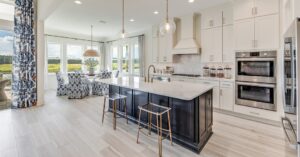 Del Webb Wildlight
This gated 55+ neighborhood is coming in spring 2022, and is equal parts luxury and low-maintenance. The one-story homes put everything you need on one level—and resort-style amenities like an exclusive clubhouse, pool, fitness center, social events and more will provide leisure opportunities just for Del Webb Wildlight residents.
Stay up to date on Del Webb Wildlight >
The Lofts at Wildlight
While these for-rent apartments aren't necessarily a 'neighborhood,' they certainly live like one. One-, two- and three-bedroom apartment homes – from 662 – 1,368 square feet – offer the latest in convenience and comfort. These pet-friendly buildings also include a swimming pool, outdoor kitchen, fitness center and more.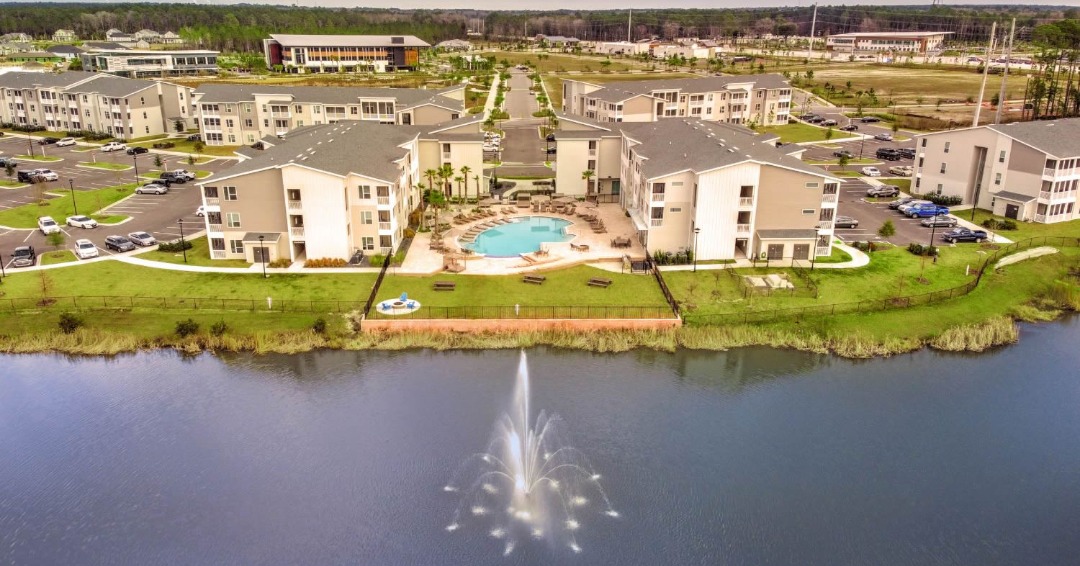 So, which will you choose? (Spoiler alert: you can't go wrong.)
And if there isn't something available that fits your needs right now, stay tuned. We'll be announcing more options this spring.