A well-known and highly respected amphibian once said, "It's not easy being green." And he was right. Figuring out how to build a community that lives in balance and in close relationship with nature is a complicated, work-intensive undertaking. But is it ever worth it.
When a community is oriented around nature — protecting it and connecting to it — day-to-day life takes on a different complexion. It becomes richer. Healthier. Filled with more activity, more fresh air and more moments of quiet awe.
So that's the kind of community we're creating in Wildlight. Here's how …
Sustainable by design
Long before construction began, a team of engineers and scientists worked together on a plan that would allow community and nature to thrive together. What resulted was a new pattern of community, in which neighborhoods and business districts are carefully interwoven with each other and with parks, trails and conservation land. Creating a place that both preserves nature and inspires everyone to get out and enjoy it.
Conservation gone wild
We've set aside roughly half of Wildlight's overall acreage as dedicated conservation land, much of it in the 7,000-acre Wildlight Conservation Network located in the next phase of Wildlight. In Wildlight's permanently protected wetlands and forests, native species can continue to thrive. And the expanding Wildlight Trailways network (already 10+ miles long) lets you explore these pristine expanses of Northeast Florida lowcountry nature.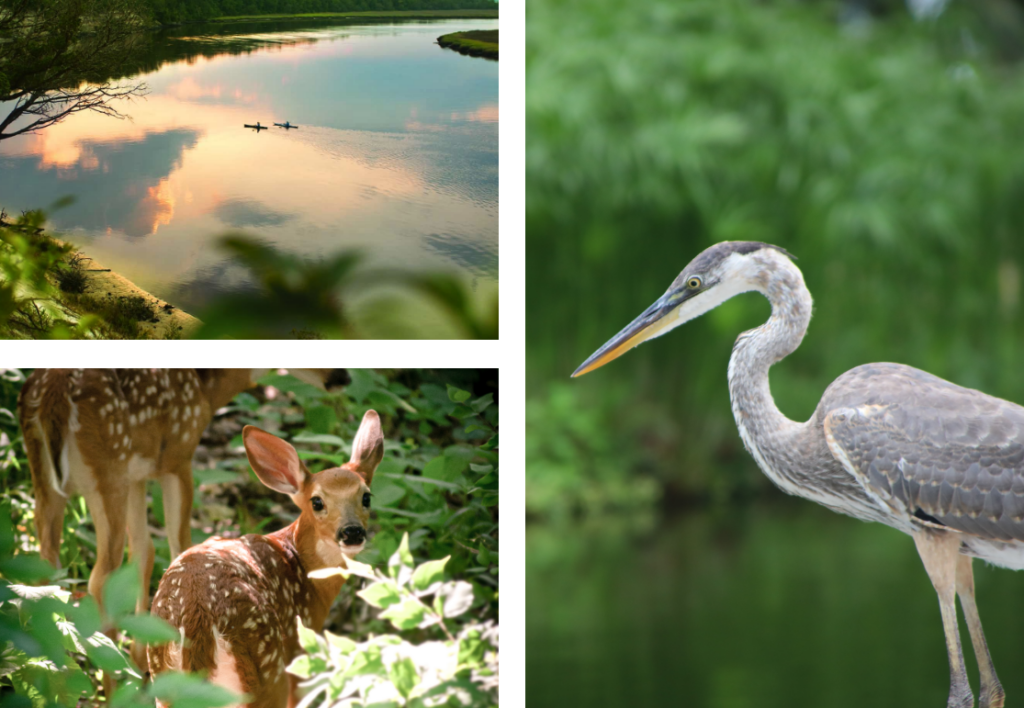 All-natural water management
Nature is more than beautiful. It's practical. It's really good at what it does. And one of its most important jobs is capturing and purifying water. With its extensive natural forest and wetland areas, Wildlight allows rainfall to seep into the ground, slowly being cleansed as it travels down into the soil, and eventually making its way to the underground aquifer that supplies the region's drinking water. Even the developed areas of Wildlight are designed to intelligently manage stormwater runoff and allow nature to do its thing.
Mixing it all together
It's one thing to conserve nature. It's another to make it readily accessible to people. The community plan for Wildlight lets us do both at the same time. Each homesite has easy connections to parks, trails and big swaths of nature for even more access to the outdoors. And by providing plenty of walking/biking paths and bringing the homes closer not only to nature but to restaurants, shops and offices, we create a community that lives more like a small town where everything is an easy stroll or bike ride away.
More nature, just around the corner
The Wildlight Conservation Network isn't the only important new nature area we're introducing in our next phase. We're also creating a 13-mile-long linear park that will stretch along the bluffs of the St. Marys River. We call it the Green Ribbon. And with its 8 miles of river frontage, the park will be anchored by a variety of experiences including a publicly accessible trail that ties the park together.
Also, we can't talk about nearby nature without mentioning the White Oak Conservation center. Located about 10 miles north of Wildlight, White Oak shares some of its heritage with our community since both places are built on land that was once part of Rayonier's sustainable timber-growing operation. On its 17,000 acres, White Oak helps to protect and advance the understanding of dozens of endangered species including the Florida panther, the Mississippi sandhill crane and three different types of rhinoceros.  
Get a little wild
If you visit Wildlight, you're welcome to take some time exploring our Wildlight Trailways. You might spot a fox or bobcat or one of the dozens of bird species that migrate along the Atlantic Flyway. You can even experience some of the wetlands using our boardwalk trails. And all along the way, you'll find fun, informative signs that inspire a deeper understanding and greater appreciation of all things wild and Floridian.
Download our trail map.
On March 11th, over 500 runners took their marks and got set to run in the first Run Wild 5K and Family Fun Run. Participants of all ages (from 2 to 83!) found themselves enjoying a morning of events that included everything from an exciting race course to an awesome Kids' Zone.
Running through our trails and neighborhoods — on asphalt, gravel and boardwalks, and over wetlands and natural grass, we think it's safe to say our racers had a great time. (Speaking of times, we want to give a shout-out to Kathryn Ches and Connor Etheridge, our top female and male finishers who finished in 21:43 and 19:26, respectively.)

Of course it wasn't "run and done." Racers (and spectators) also got to enjoy the food trucks, beers from SJ Brewing, and the local vendor marketplace. As for the kids? They lined up (balloon animals in hand) to ride the rides in the Kids' Zone.
It was a good day, and we did some good, too — awarding Girls on the Run of Northeast Florida with a check for $3,000 from the race proceeds.
So, what do you say? Let's do it again next year.
P.S. Whether you missed the Run Wild 5K (or just want to relive the memories) you can view some highlights in the video.
Actually, make that good things at The Horizon. Because Del Webb's newest amenity, Horizon Club, is going to have everything you need to make your days even more delightful. Exclusively for use by residents of our gated Del Webb 55+ neighborhood, Horizon Club is where relaxation meets activation — and this 16,000-square-foot space has room for it all. (Even dogs get their very own park.)
Start your day with yoga on the event lawn, or soak in the sun by the resort-style pool. (Want to get a few laps in? There will be lanes for that, too.) For the fitness-minded, a fully equipped workout center will feature top-of-the-line machines, weights and equipment. And outside, pickleball and tennis courts will serve up some fun for beginners and more seasoned players alike. Green thumbs (or those striving to be) can hone their skills in the community garden. And an arts & crafts room will provide an outlet for creativity — whether your passion is painting or pottery.
There will be plenty of other spaces to gather as well — like an event ballroom for bigger get-togethers and an outdoor firepit for impromptu happy hours. Speaking of happy hours … the onsite bar and grill just might become your new favorite hangout (if, of course, you don't want to head to Wildlight's Village Center for a burger, tacos or sushi). And the best part? This is just the start of what Horizon Club will have.
With all this space to play, relax and meet new friends and neighbors, don't be surprised if you feel like every day feels like a little vacation — there's even plenty of golf cart parking.
Homes in Del Webb Wildlight start in the $300s. Located conveniently between Amelia Island and Jacksonville, the architecture captures the charm of the Florida Lowcountry. Del Webb model homes are open daily. 
Mocama Wildlight to open in community's former StoryCenter

WILDLIGHT, Fla. – January 31, 2023 – Wildlight is pleased to announce that Mocama
Beer Company will open a new satellite taproom in its mixed-use community. Occupying
2,000 square feet of space with beer taps and wine selections, the new location will
serve as a gathering place for residents of both Wildlight and greater Nassau County.

Reflecting the sophisticated, mid-century design of the historic Fernandina Beach
location, the taproom will offer ample parking along with additional outdoor space for
community events, activities and games. It is expected to open in the summer of 2023.
"From the beginning, Wildlight was created to encourage community connections
through a vibrant mix of neighborhoods, walkable trails, and dining and retail options,"
said Wes Hinton, Vice President, Wildlight. "We're excited to offer residents a social hub
that embodies the authentic Nassau County spirit with the addition of Mocama's
thoughtfully-designed concept."

Mocama plans to serve its distinctive products through 12 taps, along with a curated
selection of craft beers from around the world, in a large custom bar and lounge room.
Unique to this location, an enhanced wine program offers an expanded collection from
varying regions available by the glass, bottle or to go. Outdoor seating areas will play
host to festivals, culinary events and live music ideal for families and guests of all ages.
Future plans for the taproom include the addition of Mocama Coffee.

"We hope to create a welcoming space for friends to gather and drink great beer," said
Dan McCranie, Mocama Beer Company's operations manager. "Our vision perfectly
aligns with the goals of Wildlight, and our new partnership allows us to serve even more
residents as we expand our Northeast Florida presence."

About Wildlight
Wildlight is a mixed-use master-planned community inspired by a character, culture and
way of living called "Florida Lowcountry". Approximately half of this 2,900-acre
community is devoted to green space, including parks and nature trails. The other half
features a mix of unique homes, townhomes and rental properties, as well as
businesses, shops, restaurants, schools and medical facilities, connected by trails and
walkable pathways. It is located 20 minutes from Downtown Jacksonville and Amelia
Island, just east of I-95 on A1A with easy access to Jacksonville International Airport.
Wildlight is being developed by Raydient Places + Properties, a taxable subsidiary of
Rayonier Inc., a real estate investment trust. For more information please visit
www.wildlight.com.

About Mocama Beer Company
Mocama Beer Company offers an experience curated for seekers, blending classic
design, future vision, and expert attention to detail. Finding beauty in the pursuit of
perfection, the goal is to engage the senses while creating opportunities for connection.
Founded in historic Fernandina Beach, Mocama Beer Company offers a range of beers
from lagers, stouts, and "not your average" IPAs. Mocama was designed from the
ground up to have a meaningful positive impact on our communities and the
environment.
WILDLIGHT, Fla. (Dec. 6, 2022) – PulteGroup, one of the nation's leading homebuilders, has announced plans for its newest neighborhood, Hawthorn Park, coming soon to the Wildlight community, a master-planned mixed-use development in Nassau County.

The new construction single-family home community will consist of 25 50-foot homesites and 49 bungalow-style homes with rear-loading garages. Hawthorn Park at Wildlight will embody the community's overall Florida Lowcountry and coastal aesthetic. Development is underway and sales are anticipated to open in mid-2023.
"We are thrilled to be building on our success at Forest Park and proud to announce our next community at Wildlight, Hawthorn Park," said Tony Nason, PulteGroup's Northeast Florida Division President. "With Wildlight's superb location, excellent local schools and outstanding recreation offerings combined with the value Pulte offers, we expect strong home buyer interest at Hawthorn Park." As Wildlight's newest neighborhood, Hawthorn Park is truly unique. Surrounded by three ponds in close proximity to the trail system, residents will have plenty of opportunities to bike, kayak and birdwatch. And although it may feel like a private sanctuary, it's still a short bike or golf cart ride away to Wildlight's village center with a variety of restaurants and services, including a new Publix.

"We really value our partnership with PulteGroup and are excited about the future." said Wes Hinton, vice
president, Wildlight. "Hawthorn Park will be a unique addition to their existing Forest Park and Del Webb communities that have been so instrumental in shaping the residential landscape here at Wildlight."
Hawthorn Park is a welcomed addition to Wildlight's initial phase, consisting of 2,900 acres with a mix of residential homesites, multi-family apartments, an expansive town center including a new Publix, top rated schools, and UF Health and YMCA facilities already in place. Miles of trails, creative parks and amenities, and almost half of the community dedicated to green space create a healthy and vibrant environment for residents.

For information on the two additional communities at Wildlight – Forest Park at Wildlight and the popular age-restrictedDel Webb Wildlight visit www.Pulte.com/Jacksonville or call (904) 595-9180.
Let's get real here. We certainly understand why South Carolina would want to lay exclusive claim to the lowcountry. After all, it's one of the most naturally beautiful, culturally rich regions in all of North America. But sorry, Charleston, you're not the only place that has sea islands, long beaches and an inland geography characterized by lush forests and wetlands brimming over with wildlife.
The geographical fact is, the lowcountry extends from the Santee River north of Charleston down past Savannah, Georgia, all the way to the St. Johns River that runs through Jacksonville. In fact, all you have to do is hop on Google maps and look at that stretch of the Atlantic coastline, and you'll say to yourself, "Yep, that all looks pretty much the same."
Of course we also understand that the lowcountry is more than a certain kind of geography. It's a unique intersection of cultures and cuisines. And we happily acknowledge that as you travel from South Carolina to northeastern Florida, the cultural tone changes. It's still lowcountry, but it gets more relaxed. More beachy. Instead of the quaint formality of Charleston and Savannah, you find the laid-back vibe of Amelia Island. You could say that in Florida, the lowcountry trades in its bow tie and seersucker for board shorts and a pair of flip-flops.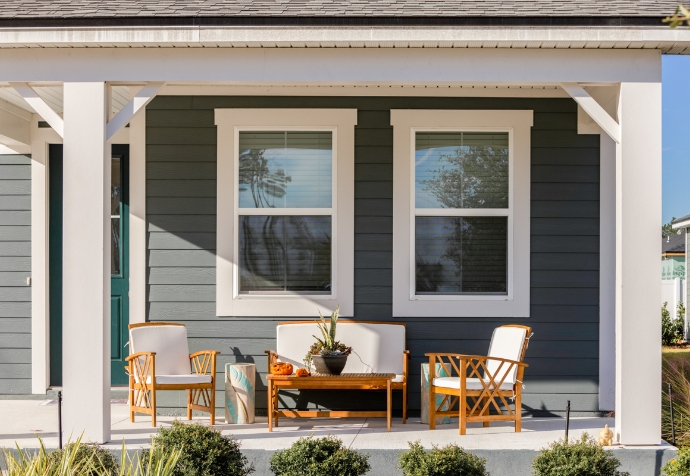 Then there are the homes. As with other places around the globe, classic lowcountry homes are a direct response to local weather. A raised first floor was a defense against high water. Tall ceilings helped to keep the indoors cooler. And a big front porch provided a shady place for everyone to come together and enjoy a cold drink and some neighborly conversation. In Wildlight, we've created a fresh interpretation of lowcountry style. Here you'll find plenty of porches and high ceilings. But the forms are simpler, more streamlined. With a contemporary flair that just feels … right.
Fortunately, what doesn't change with Florida's version of lowcountry is the yumminess of the food. The shrimp are just as fresh, the grits are just as creamy and the lowcountry boil is just as delicious and messy as anywhere else along this magnificent stretch of coastline. Maybe even a bit tastier. And around here, you can follow it up with a slice of made-from-scratch key lime pie.
Our Porchfest Model Home Tour was a fun-filled couple of weeks, and a celebration of community—from the fresh homes to the fresh food and the fresh air. We gathered together to celebrate neighbors, nature and all the things that make Wildlight so special.
For those who couldn't make it, here's what you missed: live music from local artists (a feast for the ears), six beautiful model homes to tour (a feast for the eyes) and delicious fare from local eateries (a feast for … well, a literal feast).
It was our way of showcasing the wonderful way that Wildlight lives. We like to say we're a new kind of Florida lowcountry. A town in nature, where your new home is an easy walk or ride (bike or golf cart) from a town center full of shops, restaurants, a YMCA, parks and trails. A place where, whether you prefer coastal or Craftsman, you can find a home that fits your flavor. And a spot where, without a doubt, the porch is the perfect place to spend time with family and friends.
We already can't wait for next time.
https://wildlight.com/wp-content/uploads/2022/05/April-Blog-06-800×419.jpghttps://wildlight.com/wp-content/uploads/2022/05/April-Blog-04-800×419.jpghttps://wildlight.com/wp-content/uploads/2022/05/April-Blog-08-800×419.jpghttps://wildlight.com/wp-content/uploads/2022/05/April-Blog-09-800×419.jpghttps://wildlight.com/wp-content/uploads/2022/05/April-Blog-07-800×419.jpg
If you've been looking at 55+ communities, you might be familiar with Del Webb—a builder of luxury age-restricted communities across the nation. And they're coming to Wildlight this spring.
Del Webb Wildlight will be a gated neighborhood within our community. And oh, what a neighborhood it will be. With a host of luxury, resort-style amenities (exclusive clubhouse, anyone?), residents will be able to relax by the pool, play a little pickleball, and socialize with neighbors at various events planned by our dedicated Lifestyle Director. Want to head over to one of the restaurants in the Town Center? Just hop in your golf cart and take a short drive.
You can see why living here will be unlike anything else. And that goes for the homes, too, with nothing cookie-cutter about them. The fifteen floorplans and variety of exterior elevations by Del Webb will provide all the space (and style) you need, and none of the maintenance you don't. And the opportunity to add your own personal touches will make your home even more uniquely yours. Del Webb Wildlight homes will range from 1,343 to 3,339 square feet, with prices starting in the $300s.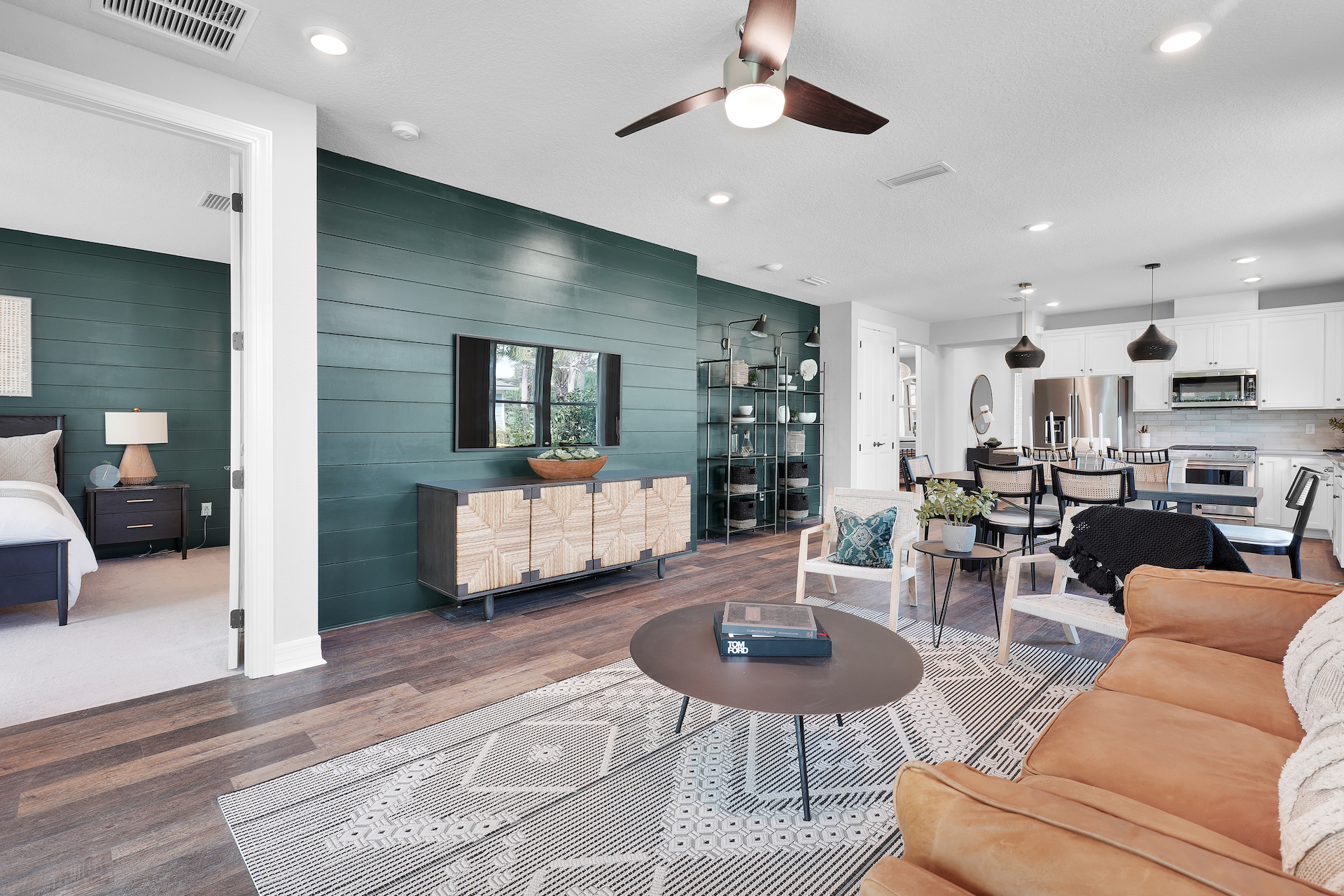 With over 60 years as a family-owned builder, local Dostie Homes has a quality reputation for building quality homes. And at Wildlight, you'll see their commitment and professionalism at work. Because Dostie Homes makes building your home all about you (imagine that).
From the moment you pick your floorplan (they have 8 to choose from in Founder's Park) to the day you move in, they will help you craft a home that you'll cherish for years to come.
Of course, Dostie Homes live as stylishly as they do flexibly. With details like welcoming front porches, architectural details that reflect the region's heritage and history, and living spaces that take advantage of Wildlight's natural surroundings.
If all this sounds ideal, you have to hurry. Dostie Homes is down to their remaining townhomes—the last opportunity to live in Founder's Park. With 8 floorplans ranging from 1,365–2,015 square feet, these homes offer features like main floor owners' retreats, 3–4 bedrooms and 2–2.5 baths—plus optional bonus rooms for workdays and movie nights.
The question now is, which one is right for you?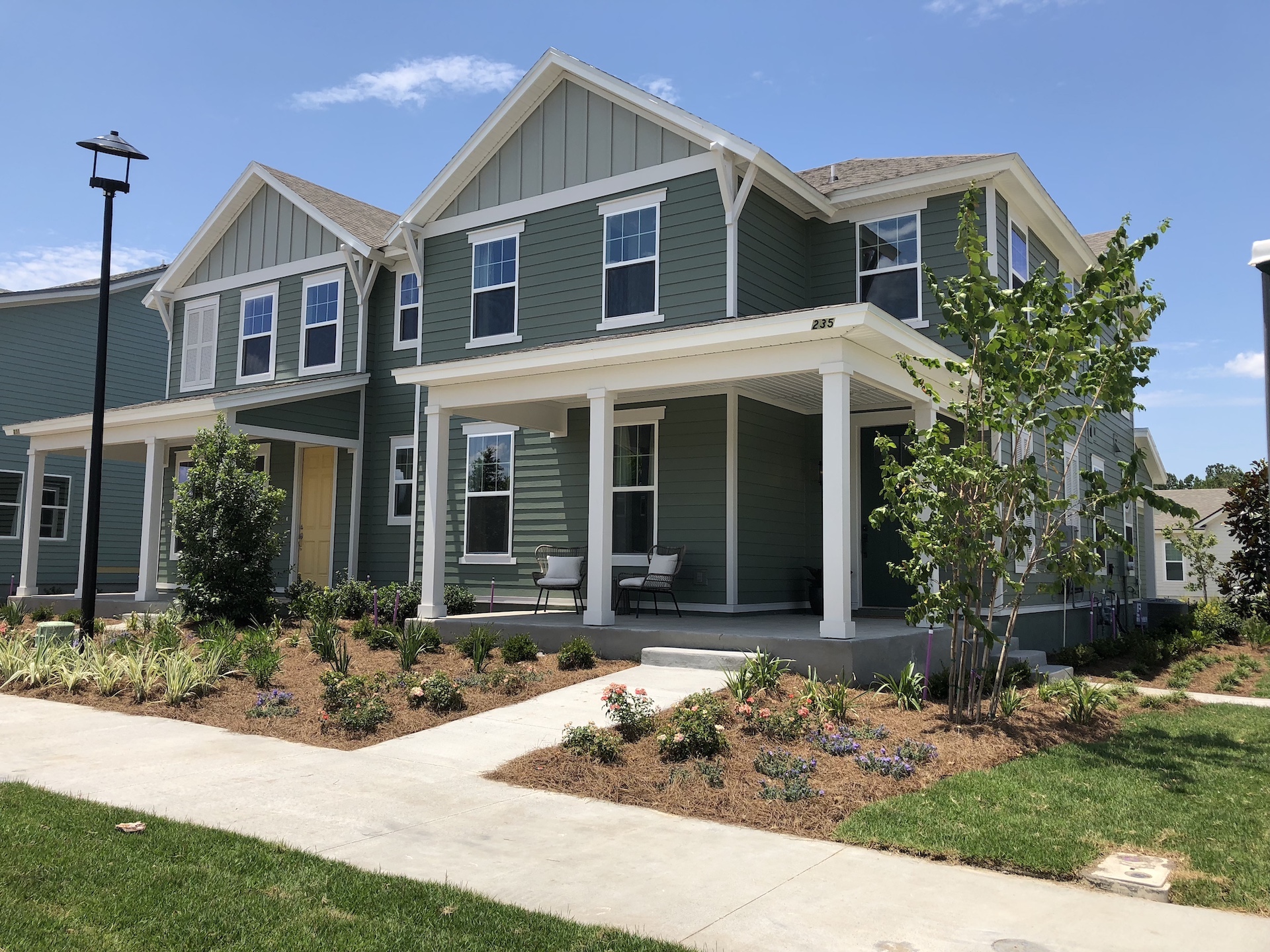 Dostie Homes Floorplans
https://wildlight.com/wp-content/uploads/2022/02/floorplan-berkley.jpghttps://wildlight.com/wp-content/uploads/2022/02/floorplan-tybee-1.jpghttps://wildlight.com/wp-content/uploads/2022/02/floorplan-savannah-1.jpghttps://wildlight.com/wp-content/uploads/2022/02/floorplan-carolina.jpghttps://wildlight.com/wp-content/uploads/2022/02/floorplan-charleston.jpghttps://wildlight.com/wp-content/uploads/2022/02/floorplan-dorchester.jpghttps://wildlight.com/wp-content/uploads/2022/02/floorplan-jasper.jpghttps://wildlight.com/wp-content/uploads/2022/02/floorplan-piedmont.jpg
We're proud to have Mattamy Homes as one of our builder partners at Wildlight. They approach home design a little differently — creating new homes that still have character. Mattamy designs forward-thinking communities with lots of green space and attractive, pedestrian-friendly streetscapes. That's why Wildlight is the perfect fit for this builder.
You'll find Mattamy Homes in Forest Park, a short walk from the town center at Wildlight — perfect for weekend burger runs, after-dinner ice cream cones and more. Of course, that's providing you ever feel the need to leave such a thoughtfully designed home.
With two models and one- and two-story floorplans left in our Forest Park neighborhood, you'll be able to experience an inspiring space perfectly suited to your personal tastes. Mattamy offers a selection of Quick Move-In Homes, which means you can get in early and significantly shorten the typical homebuying journey. And they partner with some of the best brands in the industry, from Moen to Ecobee to Whirlpool, so you can be assured you're not sacrificing quality for style.
But you don't have to take our word for it. Mattamy Homes has built over 100,000 homes for happy homeowners in hundreds of communities throughout Florida, North Carolina and beyond. Just think — your home could be next.
Mattamy Homes at Wildlight start in the $300s and range from 1,740 to 2,260 square feet, with three to four bedrooms and two to three bathrooms.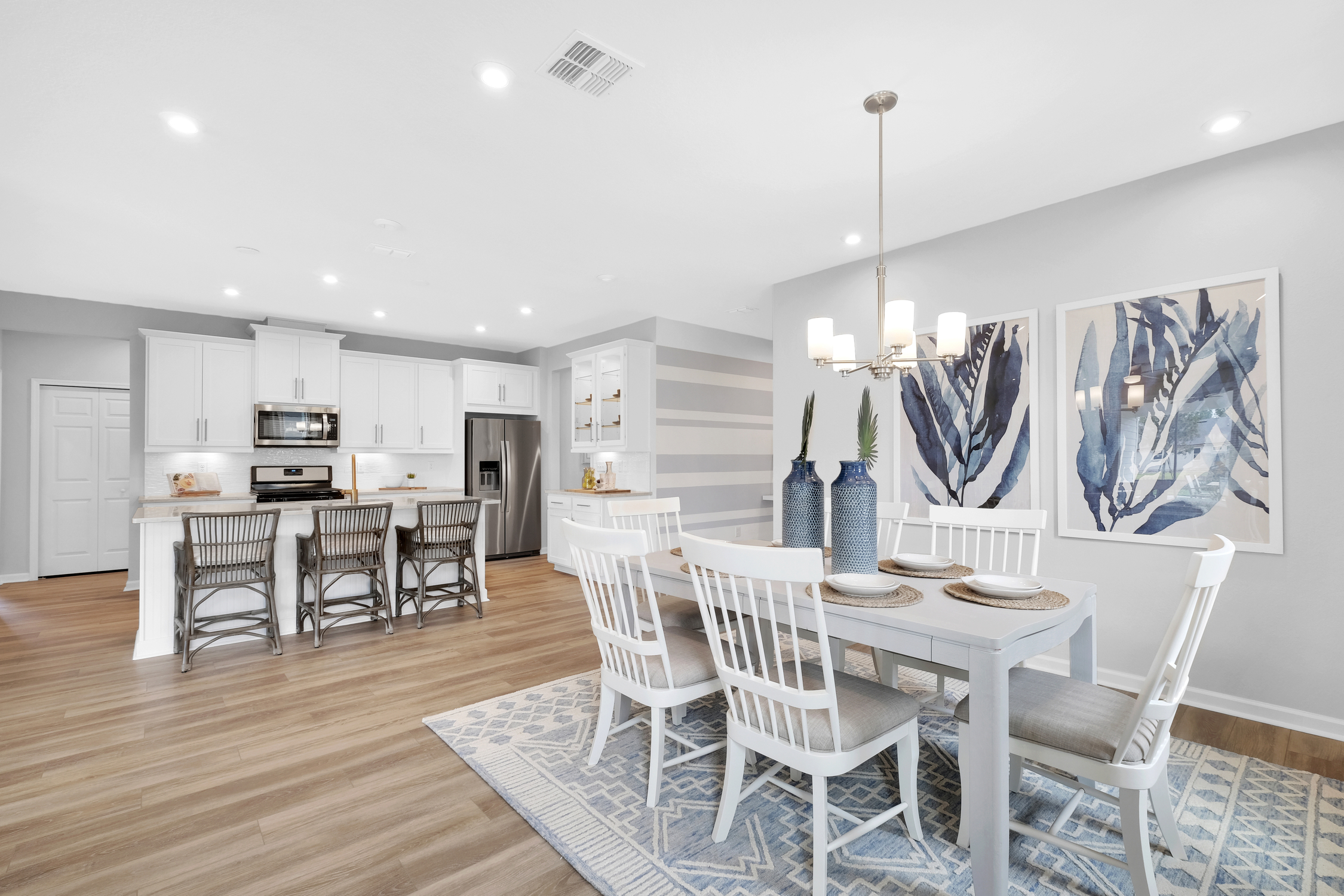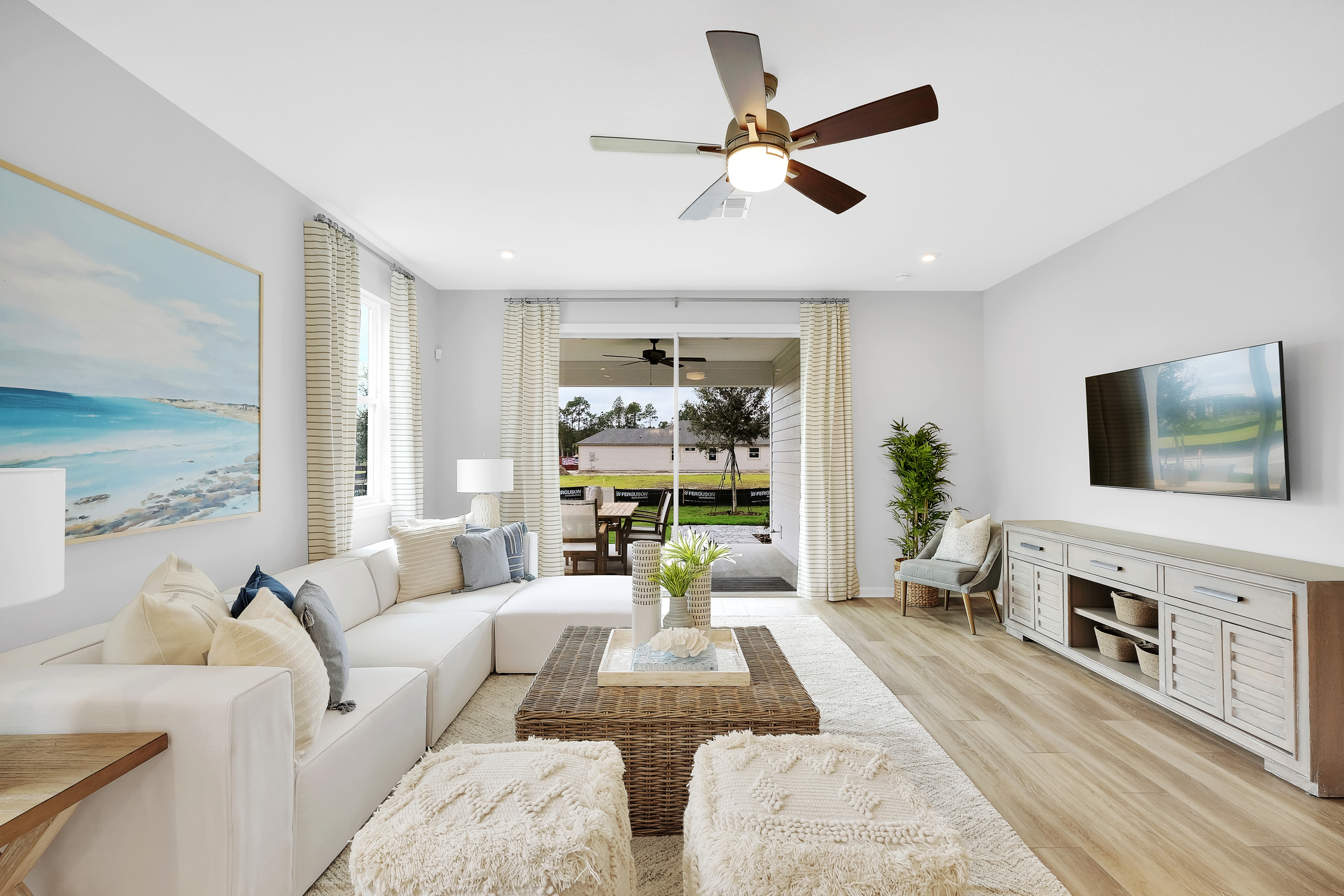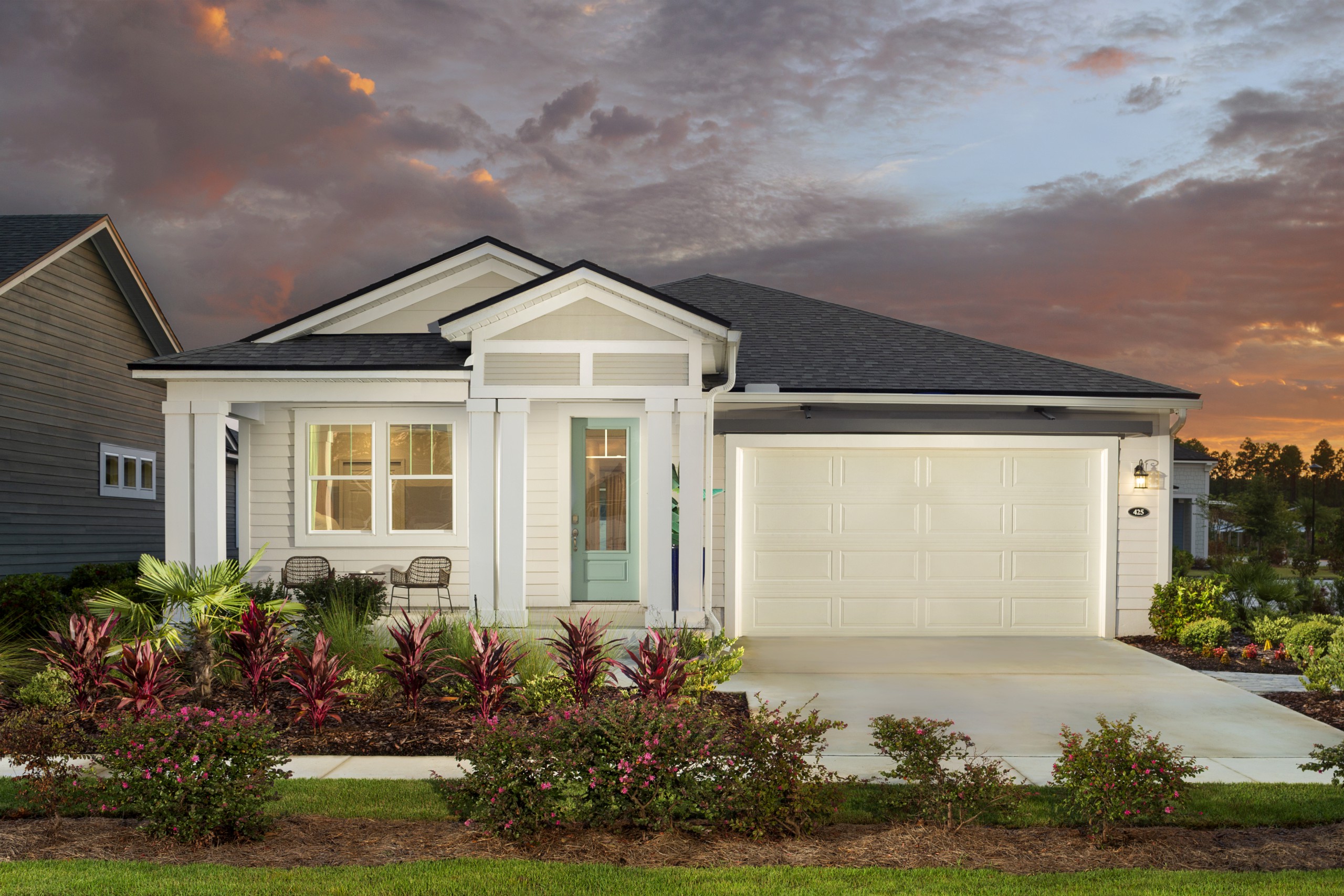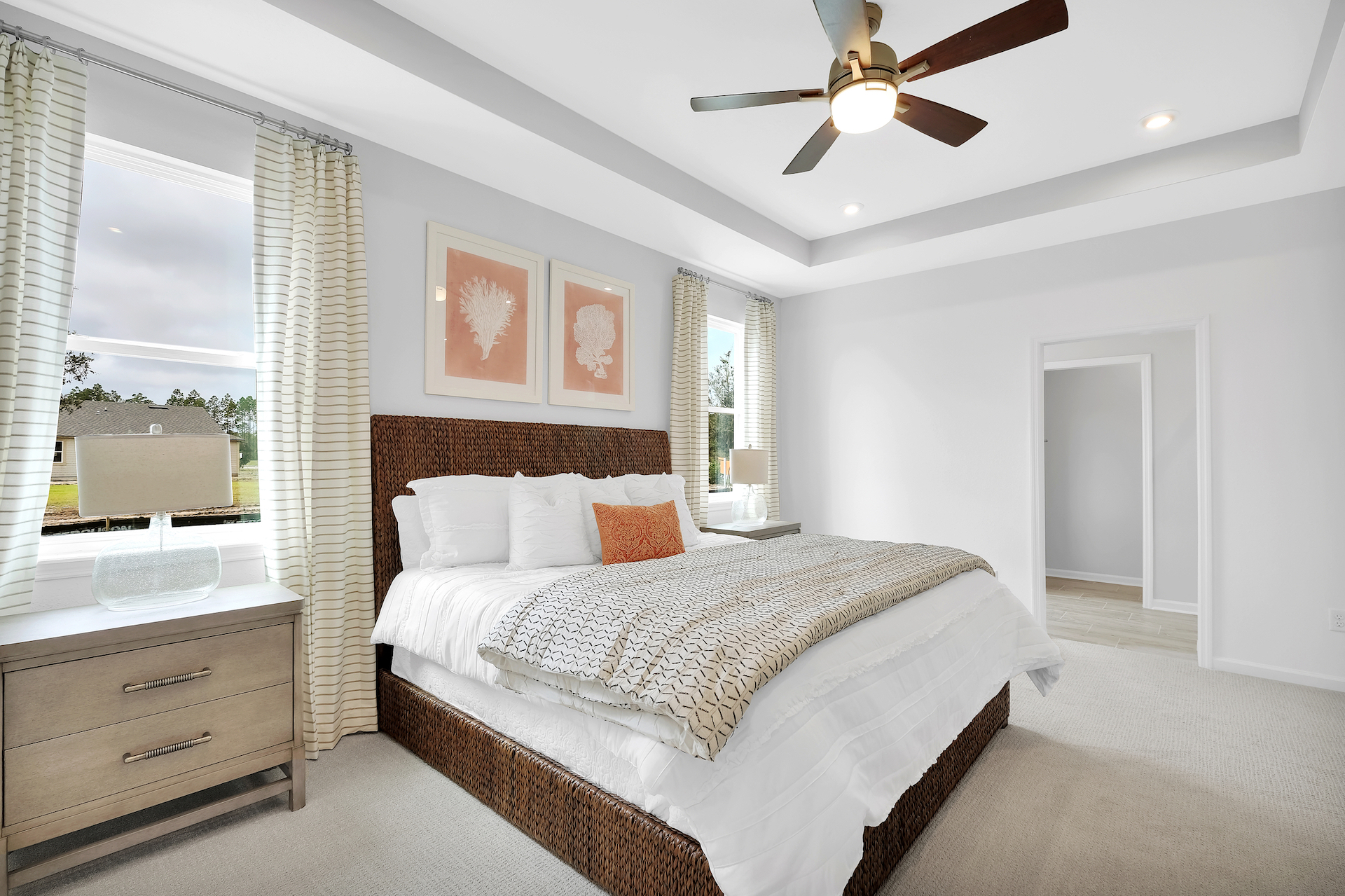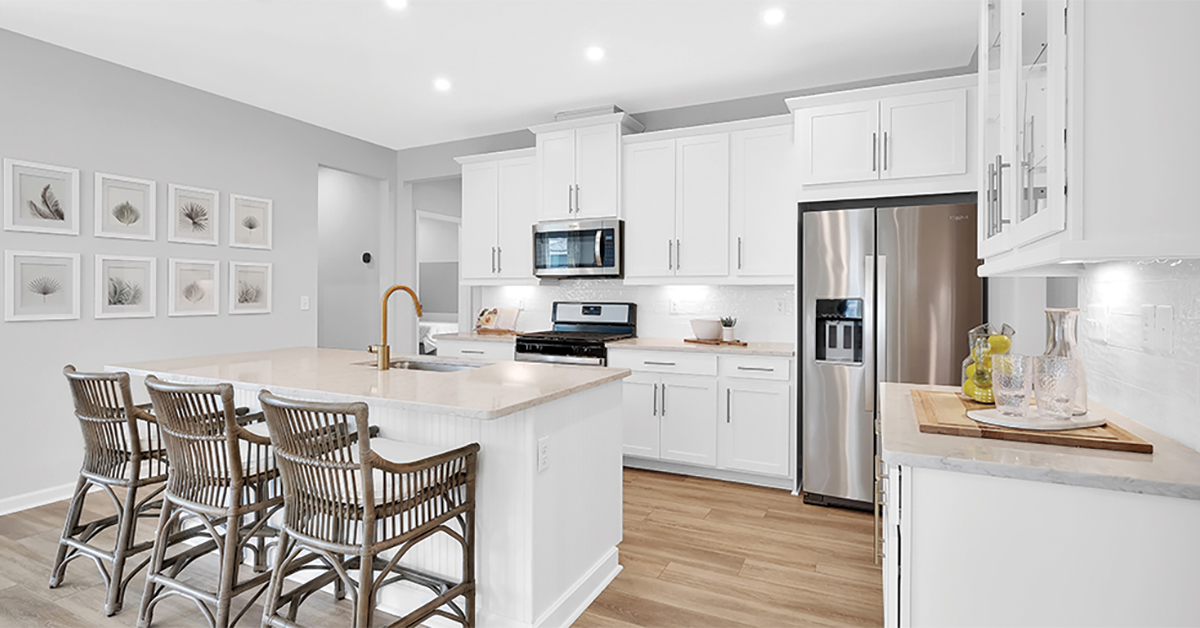 Mattamy Homes Floorplans