Let's get real here. We certainly understand why South Carolina would want to lay exclusive claim to the lowcountry. After all, it's one of the most naturally beautiful, culturally rich regions in all of North America. But sorry, Charleston, you're not the only place that has sea islands, long beaches and an inland geography characterized by lush forests and wetlands brimming over with wildlife.
The geographical fact is, the lowcountry extends from the Santee River north of Charleston down past Savannah, Georgia, all the way to the St. Johns River that runs through Jacksonville. In fact, all you have to do is hop on Google maps and look at that stretch of the Atlantic coastline, and you'll say to yourself, "Yep, that all looks pretty much the same."
Of course we also understand that the lowcountry is more than a certain kind of geography. It's a unique intersection of cultures and cuisines. And we happily acknowledge that as you travel from South Carolina to northeastern Florida, the cultural tone changes. It's still lowcountry, but it gets more relaxed. More beachy. Instead of the quaint formality of Charleston and Savannah, you find the laid-back vibe of Amelia Island. You could say that in Florida, the lowcountry trades in its bow tie and seersucker for board shorts and a pair of flip-flops.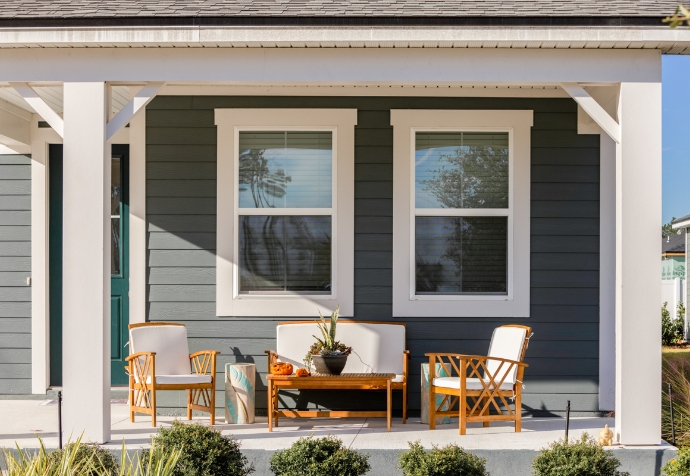 Then there are the homes. As with other places around the globe, classic lowcountry homes are a direct response to local weather. A raised first floor was a defense against high water. Tall ceilings helped to keep the indoors cooler. And a big front porch provided a shady place for everyone to come together and enjoy a cold drink and some neighborly conversation. In Wildlight, we've created a fresh interpretation of lowcountry style. Here you'll find plenty of porches and high ceilings. But the forms are simpler, more streamlined. With a contemporary flair that just feels … right.
Fortunately, what doesn't change with Florida's version of lowcountry is the yumminess of the food. The shrimp are just as fresh, the grits are just as creamy and the lowcountry boil is just as delicious and messy as anywhere else along this magnificent stretch of coastline. Maybe even a bit tastier. And around here, you can follow it up with a slice of made-from-scratch key lime pie.
Our Porchfest Model Home Tour was a fun-filled couple of weeks, and a celebration of community—from the fresh homes to the fresh food and the fresh air. We gathered together to celebrate neighbors, nature and all the things that make Wildlight so special.
For those who couldn't make it, here's what you missed: live music from local artists (a feast for the ears), six beautiful model homes to tour (a feast for the eyes) and delicious fare from local eateries (a feast for … well, a literal feast).
It was our way of showcasing the wonderful way that Wildlight lives. We like to say we're a new kind of Florida lowcountry. A town in nature, where your new home is an easy walk or ride (bike or golf cart) from a town center full of shops, restaurants, a YMCA, parks and trails. A place where, whether you prefer coastal or Craftsman, you can find a home that fits your flavor. And a spot where, without a doubt, the porch is the perfect place to spend time with family and friends.
We already can't wait for next time.
https://wildlight.com/wp-content/uploads/2022/05/April-Blog-06-800×419.jpghttps://wildlight.com/wp-content/uploads/2022/05/April-Blog-04-800×419.jpghttps://wildlight.com/wp-content/uploads/2022/05/April-Blog-08-800×419.jpghttps://wildlight.com/wp-content/uploads/2022/05/April-Blog-09-800×419.jpghttps://wildlight.com/wp-content/uploads/2022/05/April-Blog-07-800×419.jpg
If you've been looking at 55+ communities, you might be familiar with Del Webb—a builder of luxury age-restricted communities across the nation. And they're coming to Wildlight this spring.
Del Webb Wildlight will be a gated neighborhood within our community. And oh, what a neighborhood it will be. With a host of luxury, resort-style amenities (exclusive clubhouse, anyone?), residents will be able to relax by the pool, play a little pickleball, and socialize with neighbors at various events planned by our dedicated Lifestyle Director. Want to head over to one of the restaurants in the Town Center? Just hop in your golf cart and take a short drive.
You can see why living here will be unlike anything else. And that goes for the homes, too, with nothing cookie-cutter about them. The fifteen floorplans and variety of exterior elevations by Del Webb will provide all the space (and style) you need, and none of the maintenance you don't. And the opportunity to add your own personal touches will make your home even more uniquely yours. Del Webb Wildlight homes will range from 1,343 to 3,339 square feet, with prices starting in the $300s.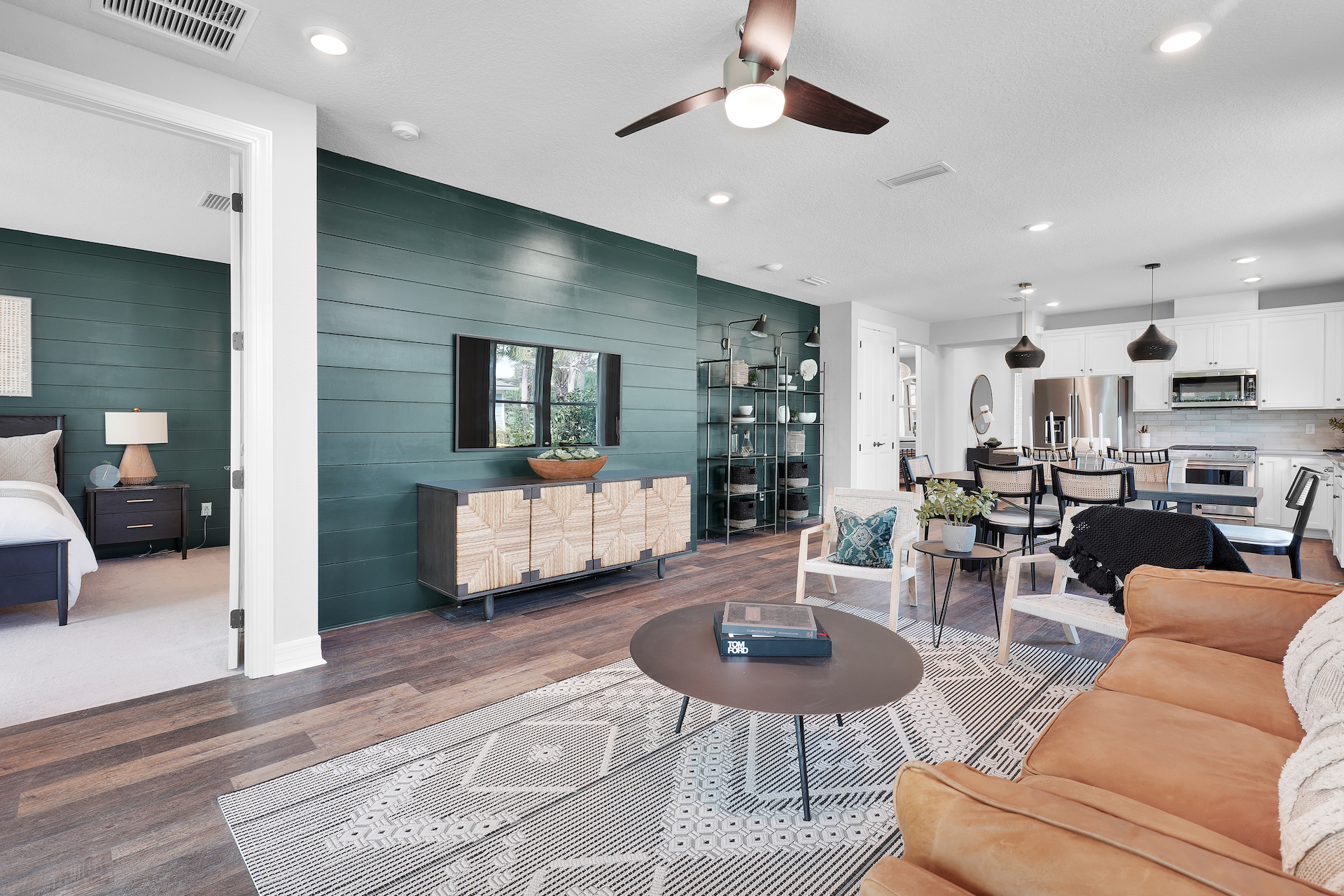 With over 60 years as a family-owned builder, local Dostie Homes has a quality reputation for building quality homes. And at Wildlight, you'll see their commitment and professionalism at work. Because Dostie Homes makes building your home all about you (imagine that).
From the moment you pick your floorplan (they have 8 to choose from in Founder's Park) to the day you move in, they will help you craft a home that you'll cherish for years to come.
Of course, Dostie Homes live as stylishly as they do flexibly. With details like welcoming front porches, architectural details that reflect the region's heritage and history, and living spaces that take advantage of Wildlight's natural surroundings.
If all this sounds ideal, you have to hurry. Dostie Homes is down to their remaining townhomes—the last opportunity to live in Founder's Park. With 8 floorplans ranging from 1,365–2,015 square feet, these homes offer features like main floor owners' retreats, 3–4 bedrooms and 2–2.5 baths—plus optional bonus rooms for workdays and movie nights.
The question now is, which one is right for you?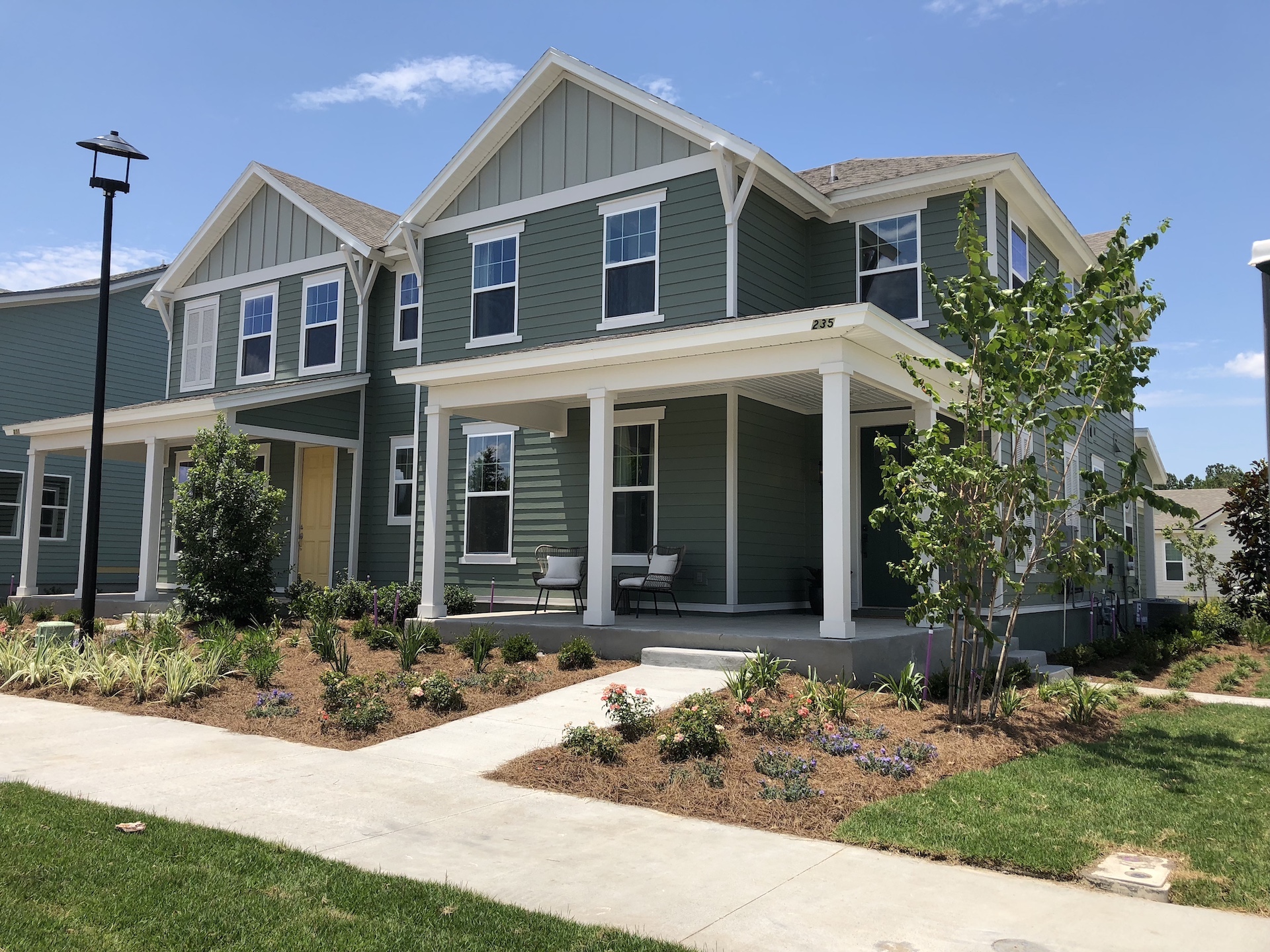 Dostie Homes Floorplans
https://wildlight.com/wp-content/uploads/2022/02/floorplan-berkley.jpghttps://wildlight.com/wp-content/uploads/2022/02/floorplan-tybee-1.jpghttps://wildlight.com/wp-content/uploads/2022/02/floorplan-savannah-1.jpghttps://wildlight.com/wp-content/uploads/2022/02/floorplan-carolina.jpghttps://wildlight.com/wp-content/uploads/2022/02/floorplan-charleston.jpghttps://wildlight.com/wp-content/uploads/2022/02/floorplan-dorchester.jpghttps://wildlight.com/wp-content/uploads/2022/02/floorplan-jasper.jpghttps://wildlight.com/wp-content/uploads/2022/02/floorplan-piedmont.jpg
We're proud to have Mattamy Homes as one of our builder partners at Wildlight. They approach home design a little differently — creating new homes that still have character. Mattamy designs forward-thinking communities with lots of green space and attractive, pedestrian-friendly streetscapes. That's why Wildlight is the perfect fit for this builder.
You'll find Mattamy Homes in Forest Park, a short walk from the town center at Wildlight — perfect for weekend burger runs, after-dinner ice cream cones and more. Of course, that's providing you ever feel the need to leave such a thoughtfully designed home.
With two models and one- and two-story floorplans left in our Forest Park neighborhood, you'll be able to experience an inspiring space perfectly suited to your personal tastes. Mattamy offers a selection of Quick Move-In Homes, which means you can get in early and significantly shorten the typical homebuying journey. And they partner with some of the best brands in the industry, from Moen to Ecobee to Whirlpool, so you can be assured you're not sacrificing quality for style.
But you don't have to take our word for it. Mattamy Homes has built over 100,000 homes for happy homeowners in hundreds of communities throughout Florida, North Carolina and beyond. Just think — your home could be next.
Mattamy Homes at Wildlight start in the $300s and range from 1,740 to 2,260 square feet, with three to four bedrooms and two to three bathrooms.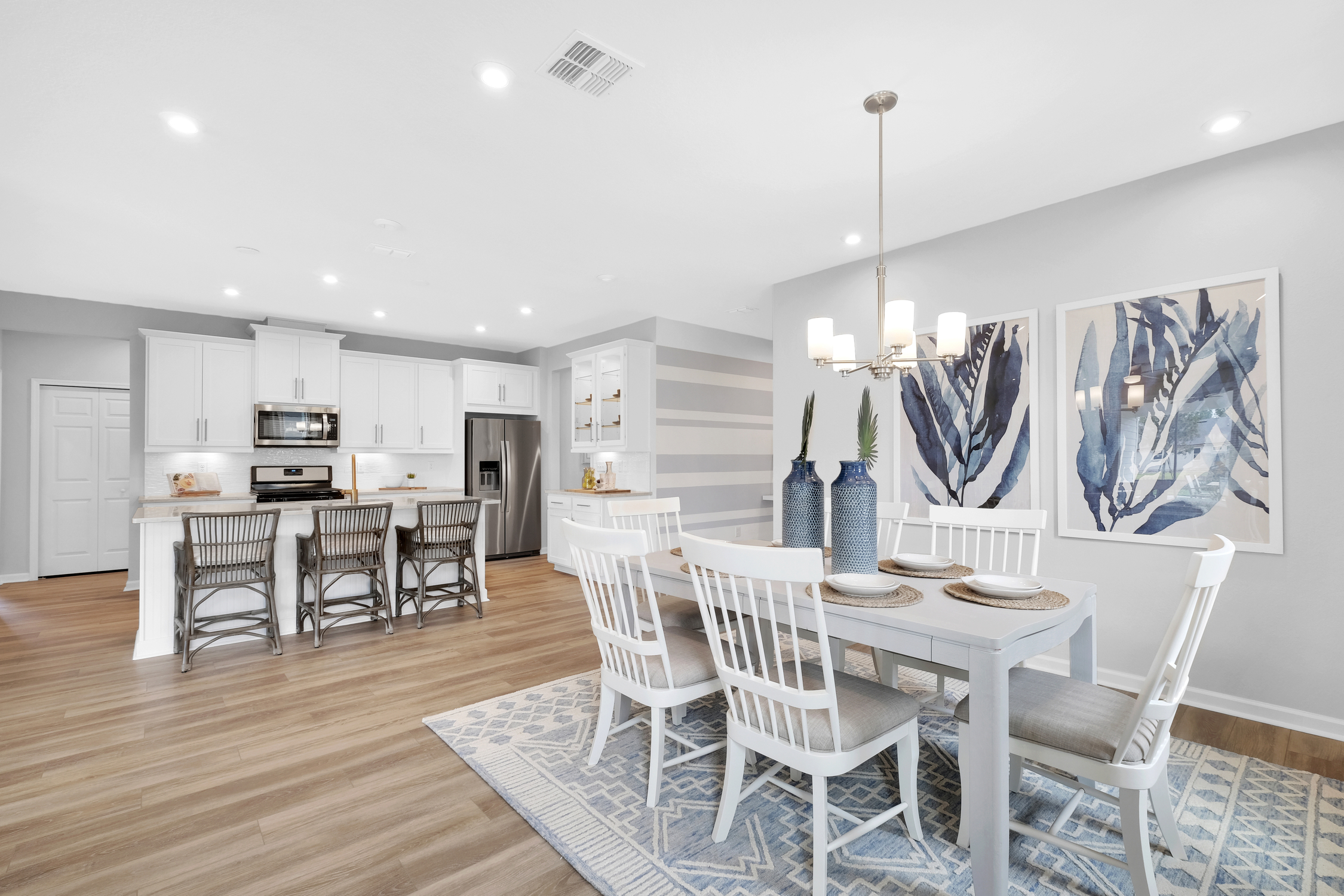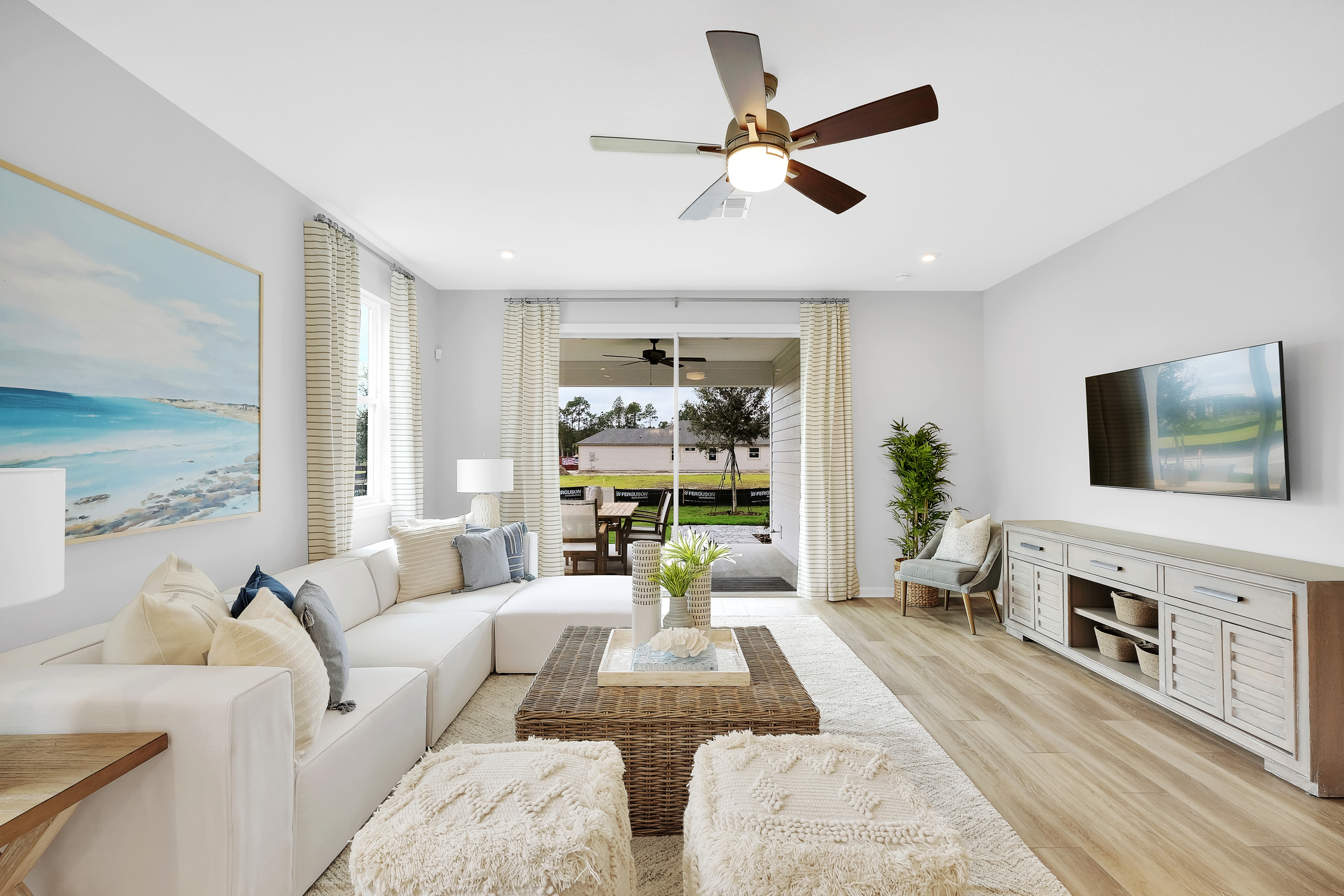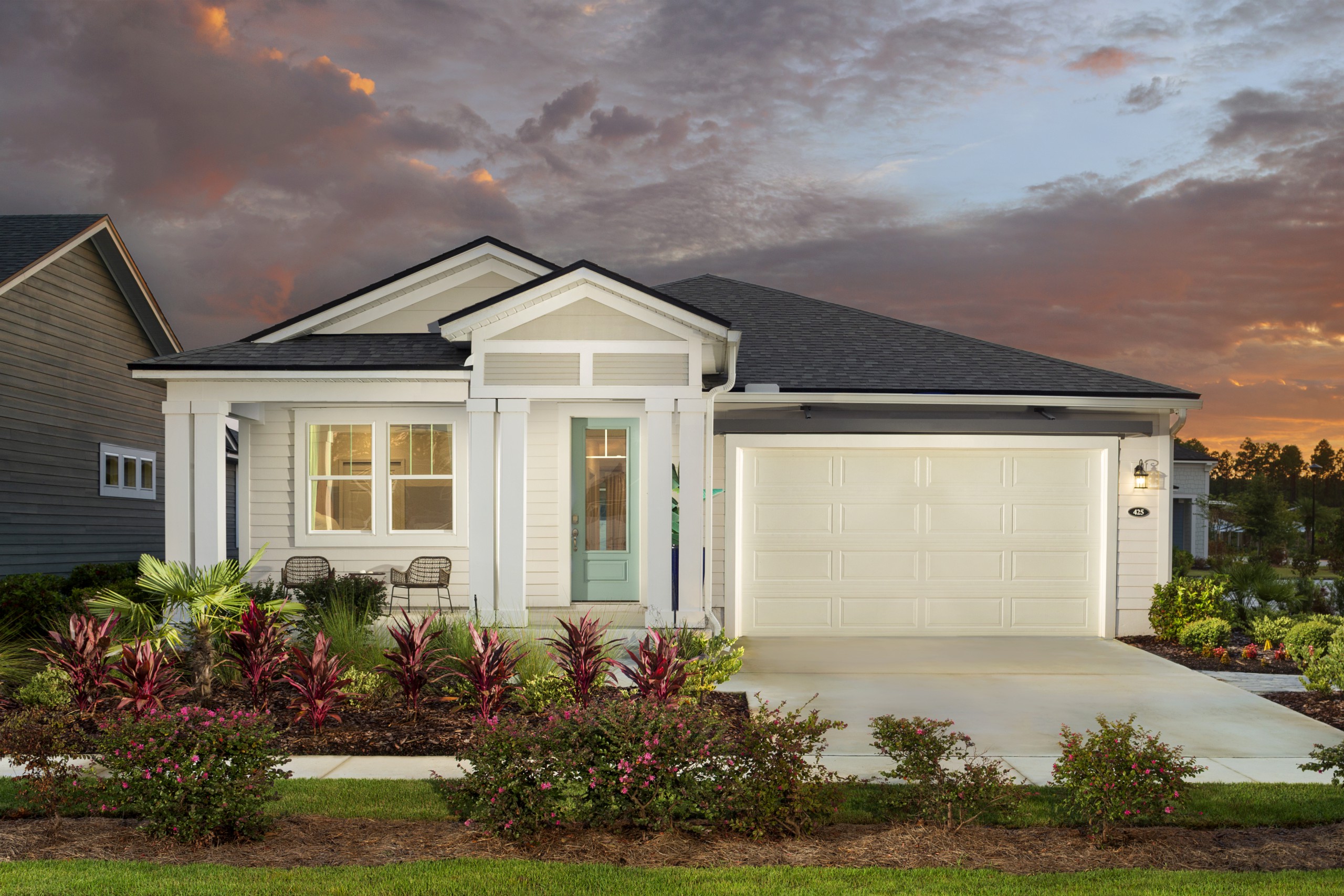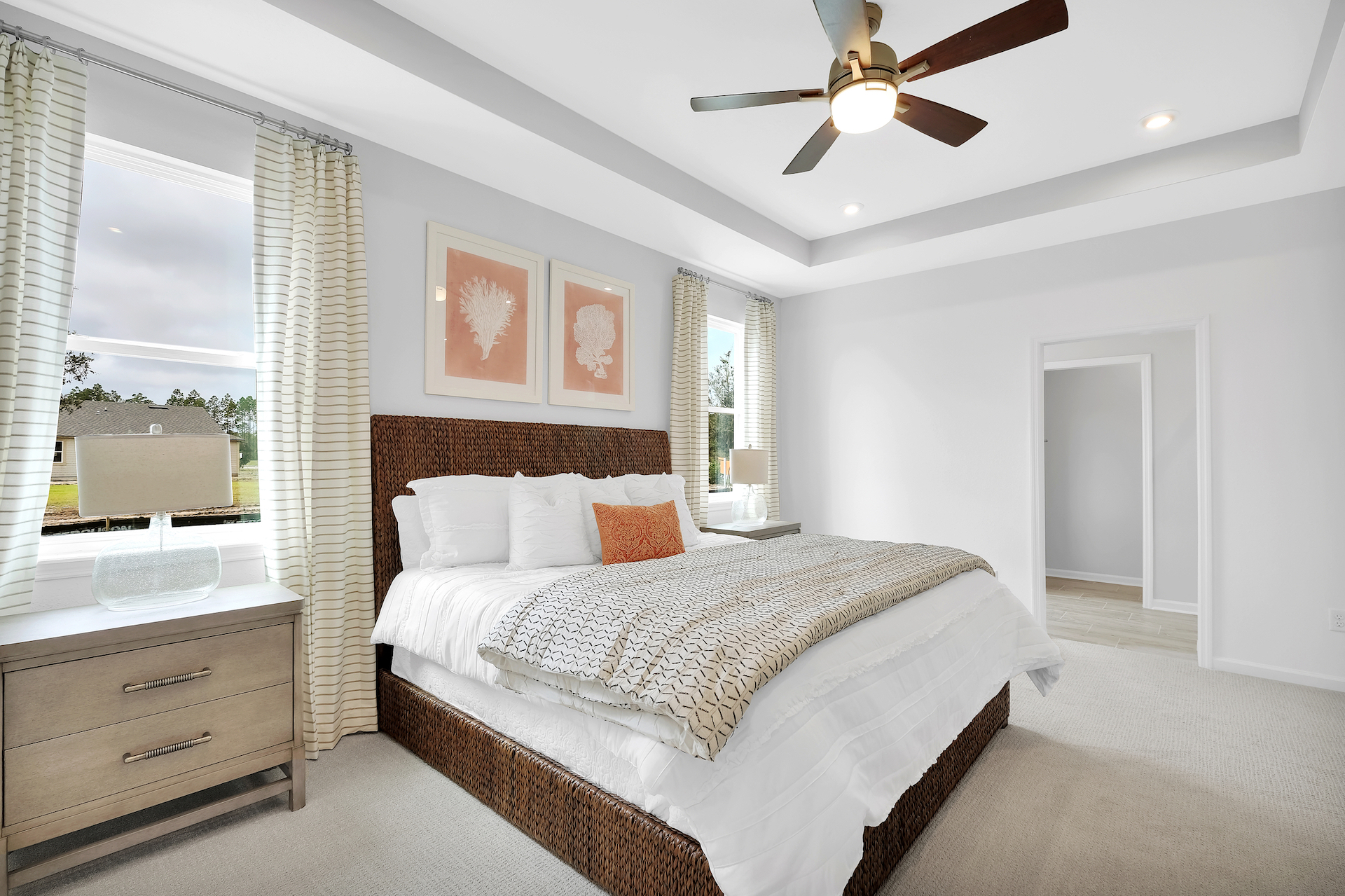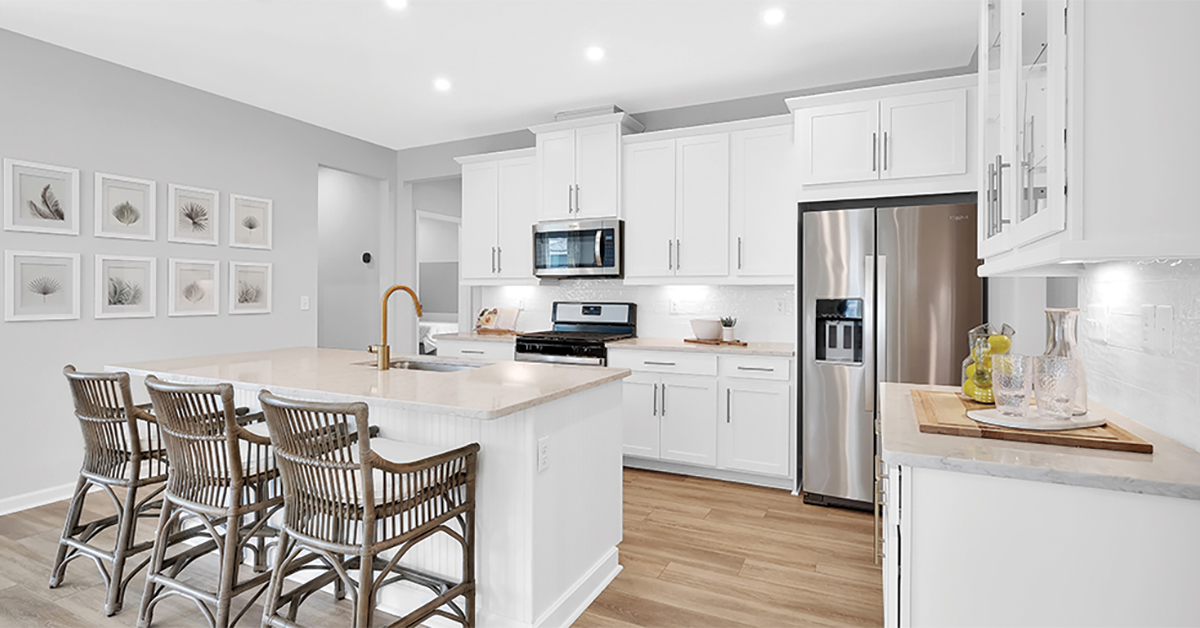 Mattamy Homes Floorplans
There's a reason why, after over 70 years, Pulte Homes is still one of the nation's preeminent builders. Actually, make that many reasons. Like the fact that they offer innovative floorplans that help you live the life you've imagined. Or their industry-leading 10-year warranty. Or their commitment to using premium materials and best-in-class building practices.
With two models and five flexible floorplans in Forest Park, Pulte Homes makes it easy to find the home of your dreams at Wildlight—whether you want inviting entertaining spaces, or family-friendly gathering places. (Of course, with design details like oversized kitchen islands, you'll find that you can do both.) And that's just the start. The real fun begins when you head to their design center to choose the finishes that reflect your personal taste. And you can get inspired at the Spruce and Whitestone models right here in our community.
These two homes feature on-trend, but still timeless modern-rustic touches, like wood beams, shiplap walls, crisp white interiors and more. (Pulte also lets you start visualizing your home online, right down to the paint color—and where you're going to put the furniture.) The single-family Pulte Homes at Wildlight range from 1,775 to 3,459 square feet with three to five bedrooms, two to four bathrooms and start in the $300s.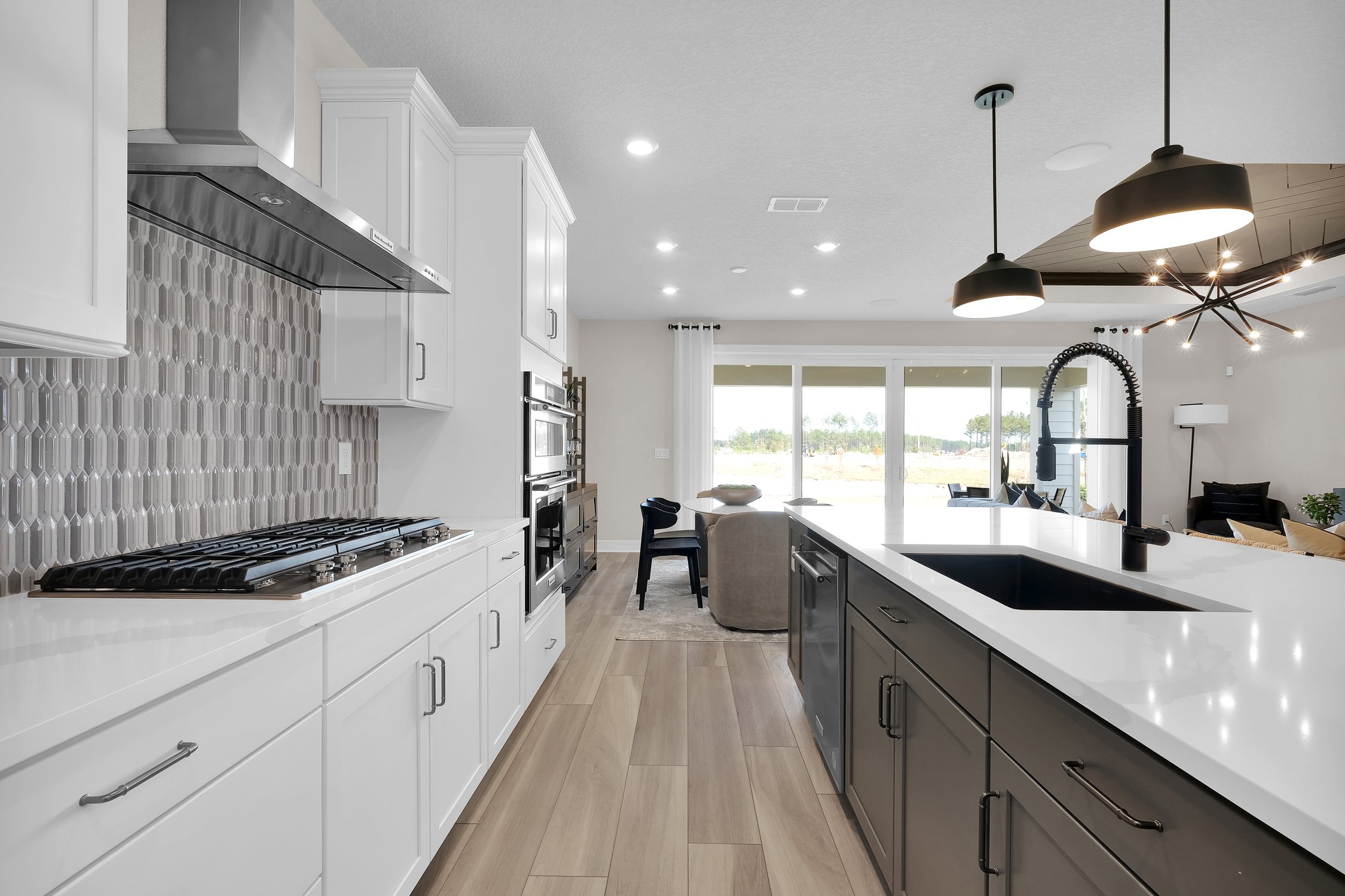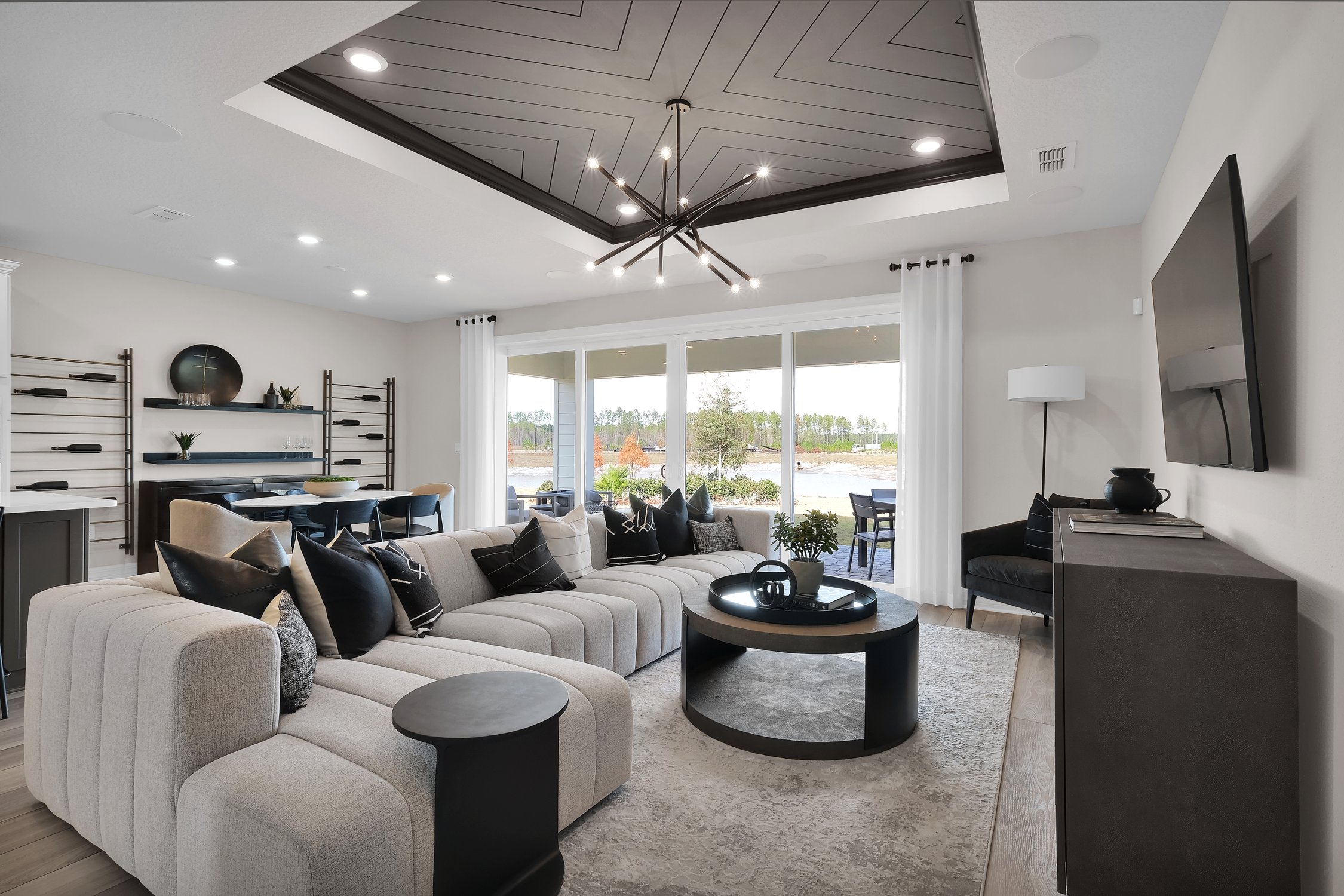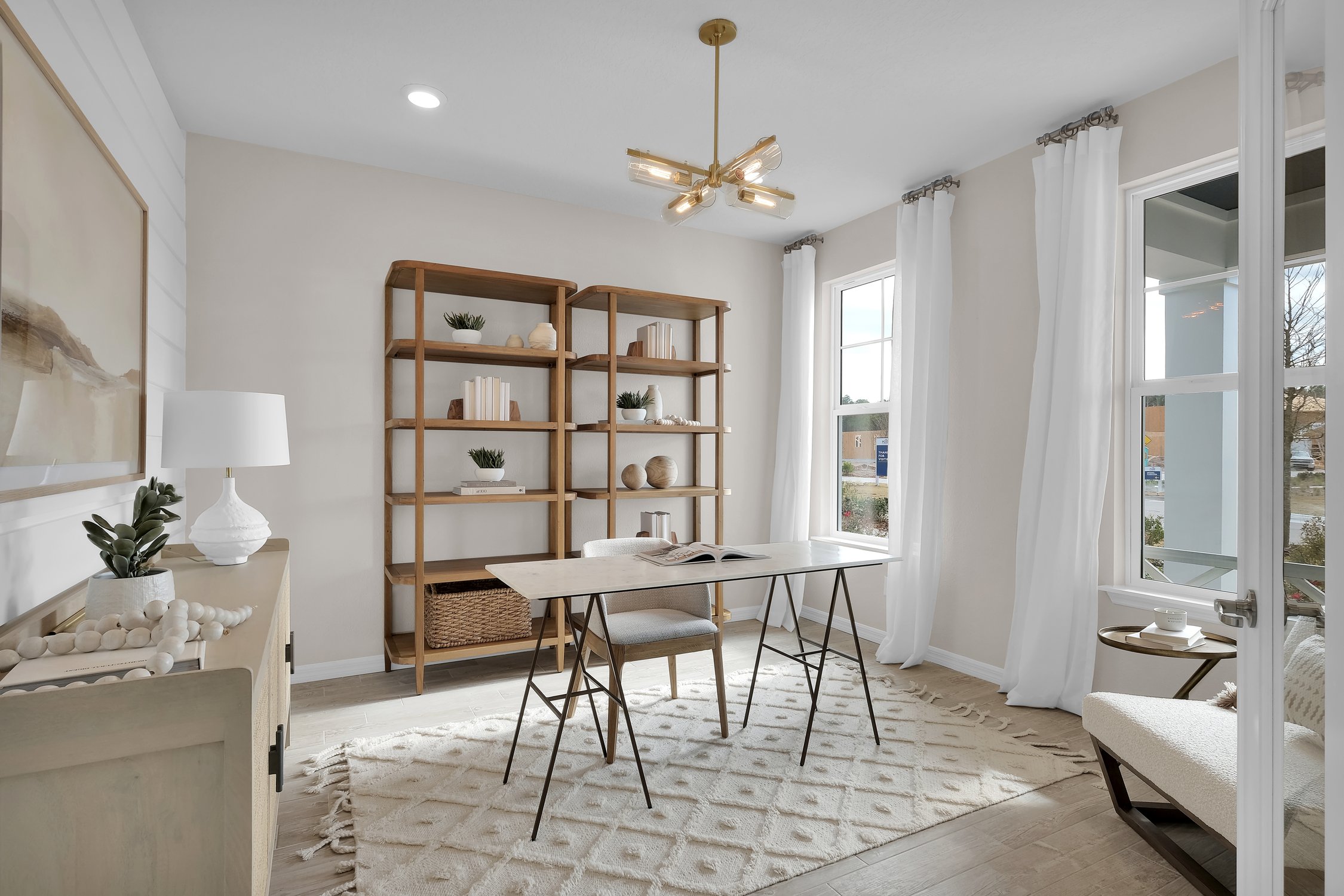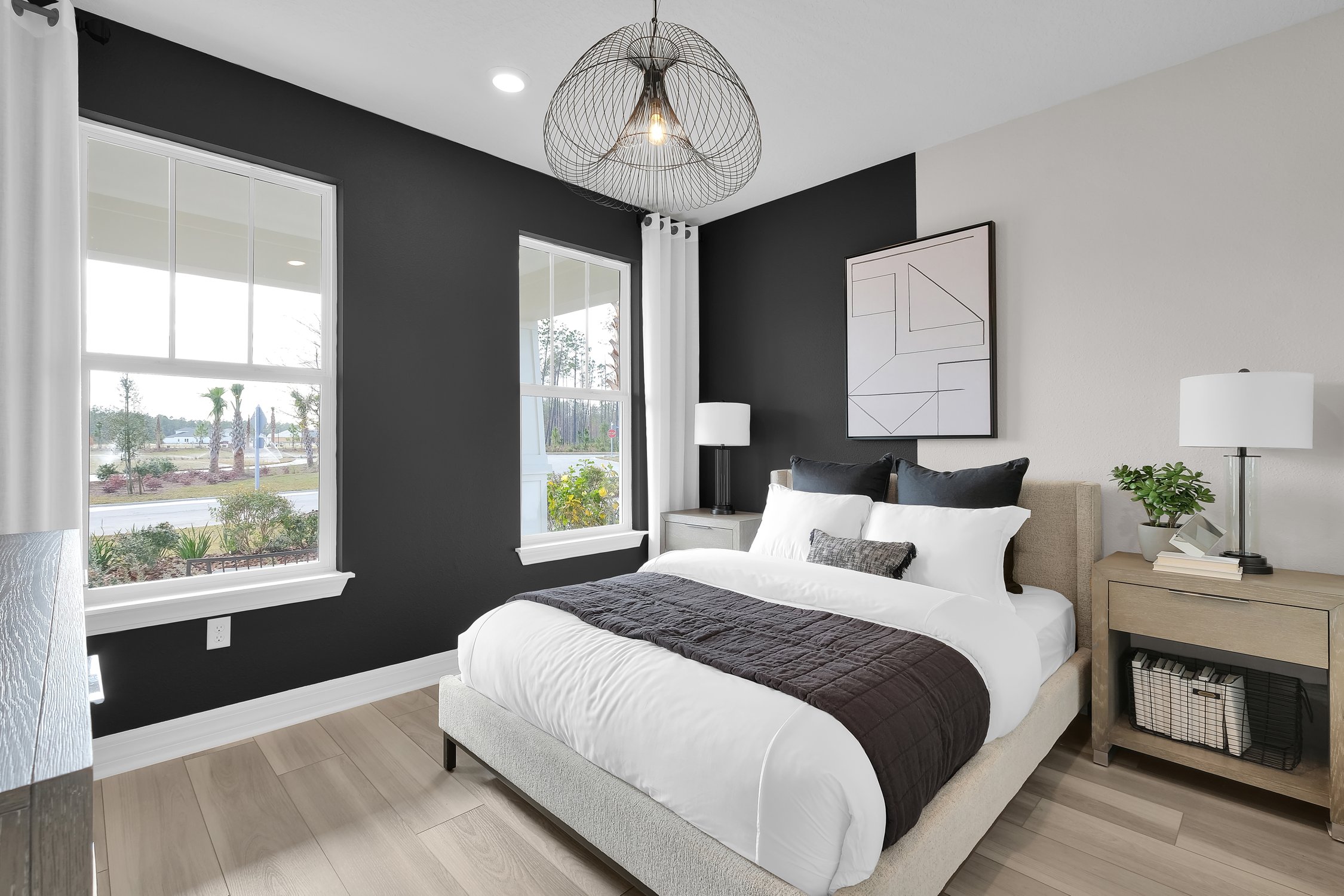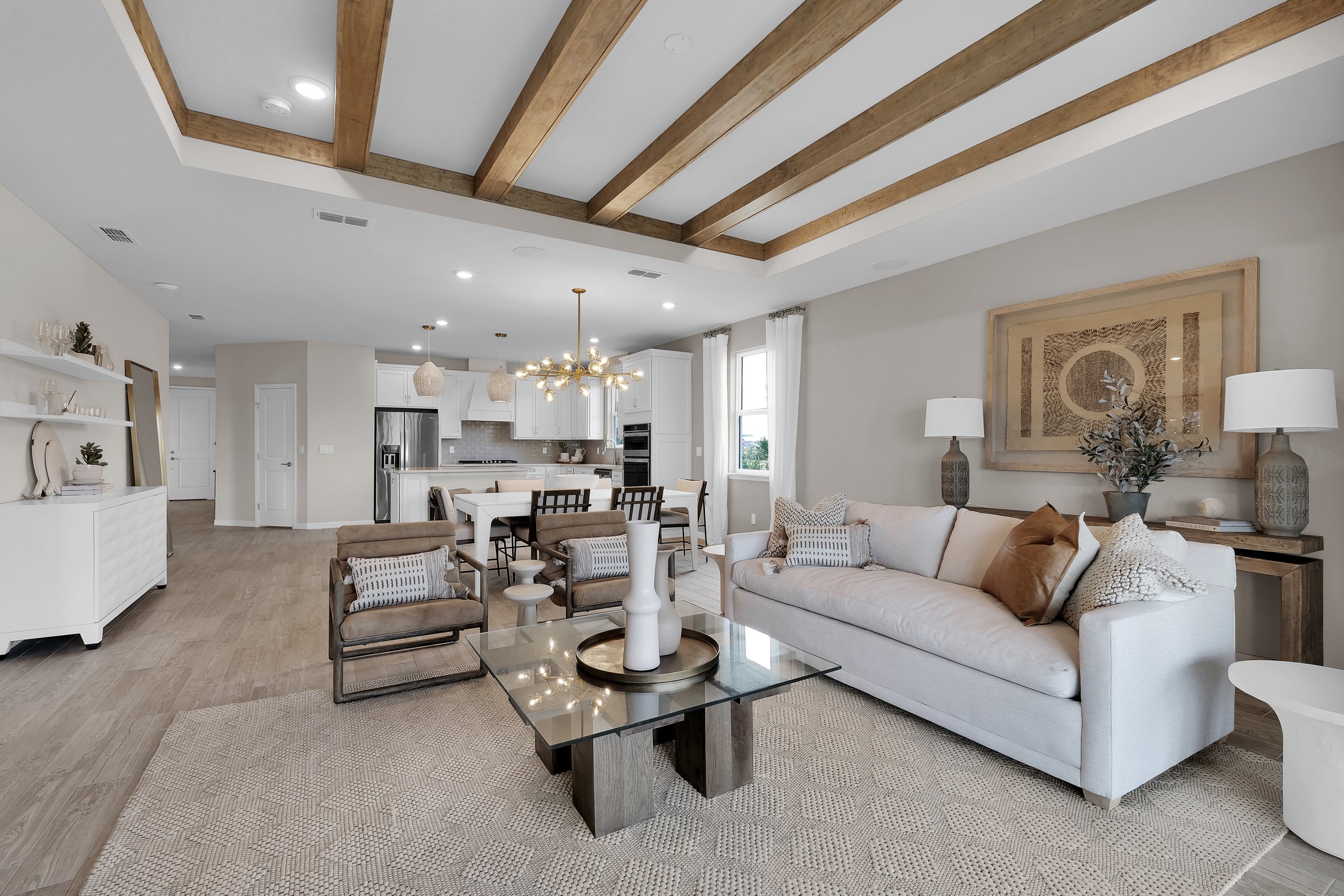 At Wildlight, we like to say we're "town in nature." And our distinct neighborhoods let you experience exactly that. Whether you choose to make your home nearer the "town" part, or the "nature," you'll get to experience a new kind of lowcountry living. One where trails and wetland preserves are right out your door. And an ice cream shop (and more) is just down the street.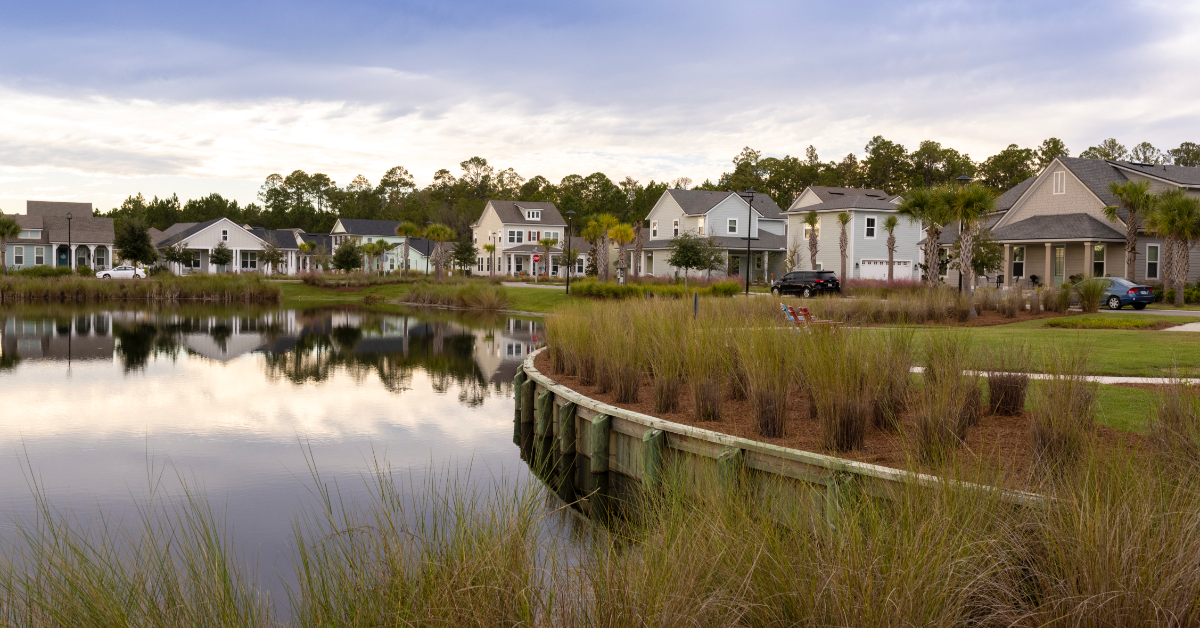 Founder's Park
Wildlight's first (and most centrally located) neighborhood, Founder's Park puts you closest to the center of town. Which means you'll be a short walk away from shops, restaurants and local businesses.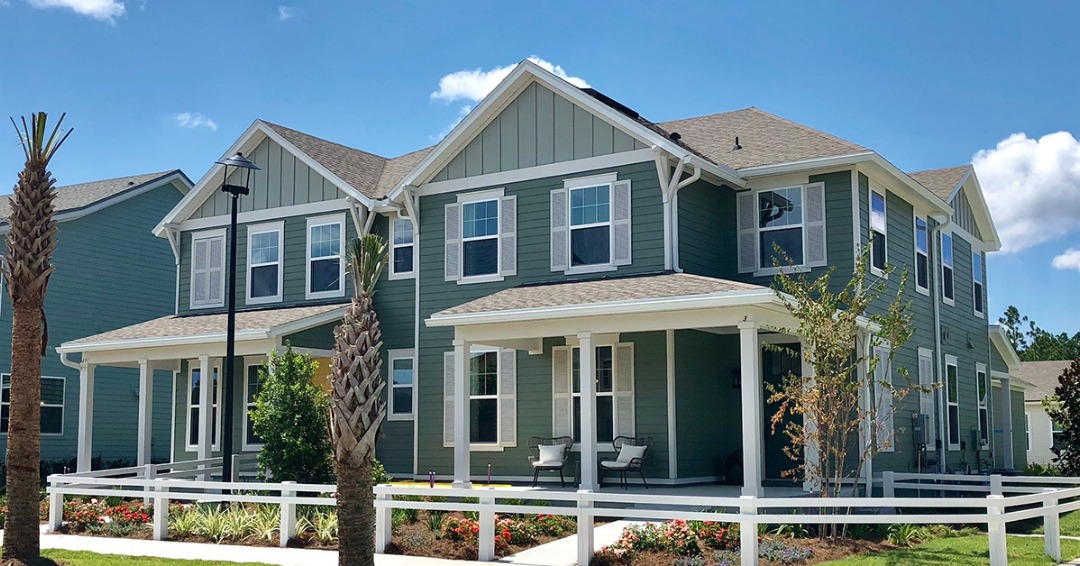 Founder's park is home to local North Florida builder Dostie. There are still a few townhome plans by Dostie available—the last opportunities in the neighborhood.
Forest Park
Surrounded by parks and walking trails, Forest Park is nearest to nature (and the YMCA that's right in the community). And those with kids, take note: it's also home to Wildlight Elementary and Waterbug Park pool.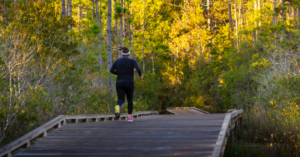 Forest Park features 19 floorplans (yes, 19) between Mattamy Homes and Riverside Homes. And Pulte Homes just introduced 5 new single-family plans (and opened two brand-new models).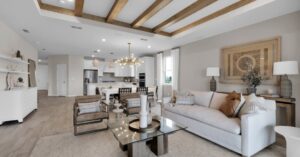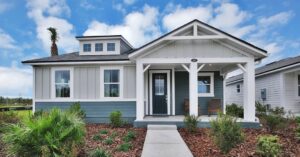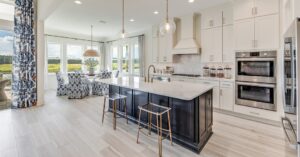 Del Webb Wildlight
This gated 55+ neighborhood is coming in spring 2022, and is equal parts luxury and low-maintenance. The one-story homes put everything you need on one level—and resort-style amenities like an exclusive clubhouse, pool, fitness center, social events and more will provide leisure opportunities just for Del Webb Wildlight residents.
Stay up to date on Del Webb Wildlight >
The Lofts at Wildlight
While these for-rent apartments aren't necessarily a 'neighborhood,' they certainly live like one. One-, two- and three-bedroom apartment homes – from 662 – 1,368 square feet – offer the latest in convenience and comfort. These pet-friendly buildings also include a swimming pool, outdoor kitchen, fitness center and more.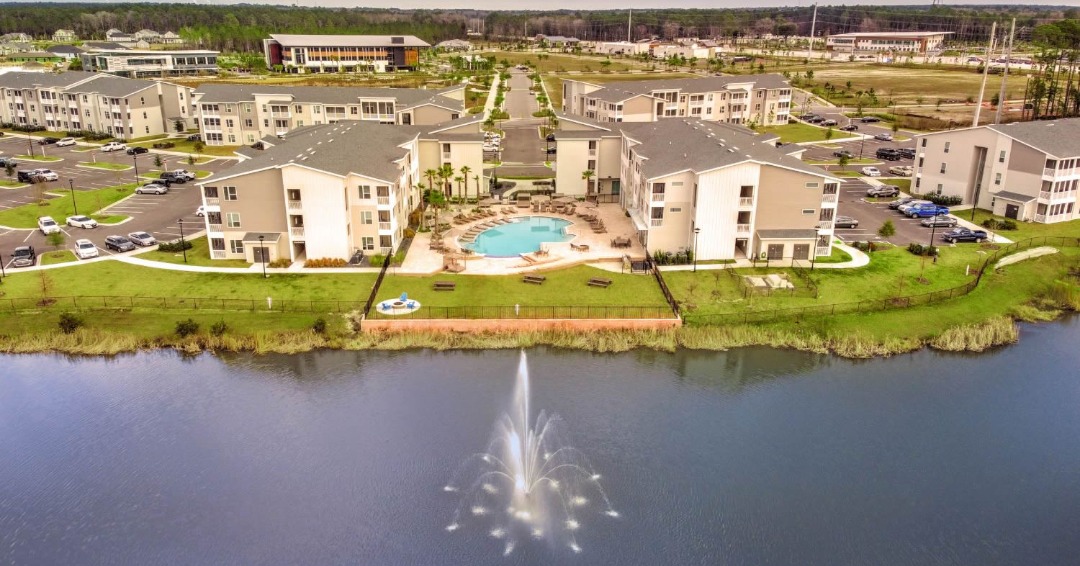 So, which will you choose? (Spoiler alert: you can't go wrong.)
And if there isn't something available that fits your needs right now, stay tuned. We'll be announcing more options this spring.
A seafood boil isn't unique to the Florida Lowcountry or even to the south. Folks from Maine to Louisiana have been celebrating family, friends and good food for decades, and even the west coast has its own spin on the tradition. But there is something about being outside on a sunny day in Florida, enjoying a dish of fresh shrimp, sausage, corn, potatoes and onions with family and neighbors around that truly feels like it belongs right here in the Lowcountry.
The tradition of getting together, sharing food and time and memories is as true to this region as sitting on your front porch at sunset, waving to and chatting with your neighbors. If you have the opportunity to attend a Lowcountry boil or want to try to capture the experience wherever you are, here are a few tips to make the most of this grand get-together.
•  Fresh is best. A good boil is all about the ingredients, especially the seafood. Down here, a boil will use shrimp caught that day (or that hour!). If you have a local seafood market, we recommend stopping by and getting a heaping portion of shrimp or your shellfish of choice there.
•  Be ready to get dirty. Digging into a plate of shrimp and sausage and veggies can get messy, but that's what makes a boil so much fun. You're around friends and family, so don't stress and just embrace the experience. Everything tastes even better that way.
•  All are welcome. A Lowcountry boil isn't just a recipe, it's an event best shared with others. Whether it's family, friends, neighbors or whoever's around (that delicious smell might just attract some new friends), it's best to make plenty of food and enjoy the time you spend together.
If you're throwing your own boil, we wish you luck, good food and good company. And if it seems intimidating to host, just come on down to the Florida Lowcountry for the real thing. It's an experience you won't regret, and you'll make memories to savor for years to come.
Feeding FLOCO's Future with Aquaponics
As populations grow and fewer young people enter into farming, the need for new and cost-effective solutions to maintain food supply becomes more urgent. Aquaponics is one such innovative solution that yields ample crops with more efficient use of land and water than conventional farming techniques.
A collaboration between North Florida's largest aquaponics farm, Traders Hill Farm, and Nassau County School District is giving Wildlight students the opportunity to learn about aquaponics. This mutually beneficial partnership allows West Nassau High School students to apply what they learn by growing lettuce for the school cafeteria.
Working with aquaponics in science classes also helps prepare Nassau County students for careers in sustainable farming.
"With our biotechnology and aquaponics program at West Nassau, we have all phases of a model workforce development program," Director of Career and Adult Education Brent Lemond told the Nassau County Economic Development Board. "There is an employer, Traders Hill Farm, assisting us to plan curriculum and ready to hire our graduates. We have a post-secondary partner in Florida State College at Jacksonville."
We look forward to watching this program continue to grow (no pun intended)!

Television, personal computers, space flight… There's no denying that the past century has been a huge one in terms of technological progress. But according to industry insiders, we're just getting started.
In fact, some of our biggest innovators are forecasting that we'll see more tech changes to our lifestyle over the next four to five years than we did over the past 100. What might that look like? Here are a few predictions:
1: Mind Control
Scientists have already created next-generation prosthetics where brain signals can move a robotic arm in the same way as a regular arm. The next step is wider uses for paralyzed patients, like mind-controlled wheelchairs and even day-to-day applications. The jury's out on how soon we'll be able to conjure up our favorite show with a thought, but experts agree it can't be far off.
2: Bottleneck-Free Internet Access
The amount of time the average American home spends streaming, downloading and uploading, has challenged internet providers to up their game. While top providers offer average speeds of around 50 Mbps, that's a snail's pace compared to the gigabit communities now in development, which will have connections 20 times faster. Take a look at this video to see how one community is starting from scratch to bring unlimited bandwidth to its homes and businesses.
3: A Sharing Economy
You can share your home via Airbnb, borrow a dress on Rent the Runway and even lend out your private plane on OpenAirplane. These businesses are built on the idea that it's more efficient to borrow something – say, a car – rather than own one that sits unused for 22 hours a day. Big players like Apple, Google and Uber are following this model and working on technology that will allow us to own less and share more.
4: Wall-to-Wall Screens
It's hard to believe that your shiny new LCD TV may soon be considered an antique, but at the speed that display technology moves, it's certainly a possibility. Imagine, walls, windows and mirrors covered with paper-thin OLED panels. Miniature chips in the screens will wirelessly connect to nearby devices, effectively eliminating TVs but bringing its viewing pleasure to every square inch of your house.