Let's get real here. We certainly understand why South Carolina would want to lay exclusive claim to the lowcountry. After all, it's one of the most naturally beautiful, culturally rich regions in all of North America. But sorry, Charleston, you're not the only place that has sea islands, long beaches and an inland geography characterized by lush forests and wetlands brimming over with wildlife.
The geographical fact is, the lowcountry extends from the Santee River north of Charleston down past Savannah, Georgia, all the way to the St. Johns River that runs through Jacksonville. In fact, all you have to do is hop on Google maps and look at that stretch of the Atlantic coastline, and you'll say to yourself, "Yep, that all looks pretty much the same."
Of course we also understand that the lowcountry is more than a certain kind of geography. It's a unique intersection of cultures and cuisines. And we happily acknowledge that as you travel from South Carolina to northeastern Florida, the cultural tone changes. It's still lowcountry, but it gets more relaxed. More beachy. Instead of the quaint formality of Charleston and Savannah, you find the laid-back vibe of Amelia Island. You could say that in Florida, the lowcountry trades in its bow tie and seersucker for board shorts and a pair of flip-flops.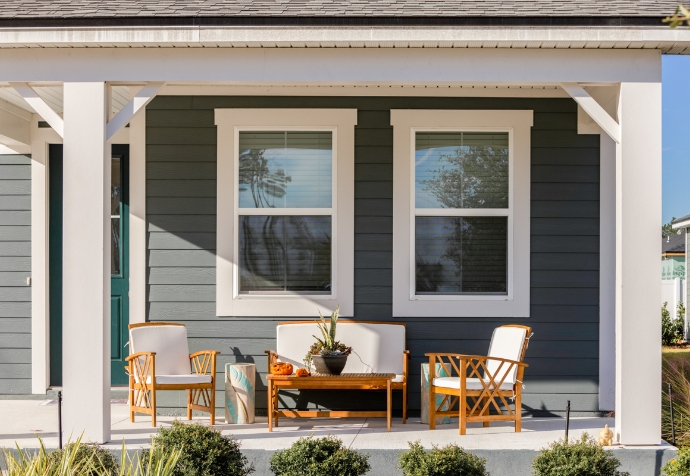 Then there are the homes. As with other places around the globe, classic lowcountry homes are a direct response to local weather. A raised first floor was a defense against high water. Tall ceilings helped to keep the indoors cooler. And a big front porch provided a shady place for everyone to come together and enjoy a cold drink and some neighborly conversation. In Wildlight, we've created a fresh interpretation of lowcountry style. Here you'll find plenty of porches and high ceilings. But the forms are simpler, more streamlined. With a contemporary flair that just feels … right.
Fortunately, what doesn't change with Florida's version of lowcountry is the yumminess of the food. The shrimp are just as fresh, the grits are just as creamy and the lowcountry boil is just as delicious and messy as anywhere else along this magnificent stretch of coastline. Maybe even a bit tastier. And around here, you can follow it up with a slice of made-from-scratch key lime pie.
Our Porchfest Model Home Tour was a fun-filled couple of weeks, and a celebration of community—from the fresh homes to the fresh food and the fresh air. We gathered together to celebrate neighbors, nature and all the things that make Wildlight so special.
For those who couldn't make it, here's what you missed: live music from local artists (a feast for the ears), six beautiful model homes to tour (a feast for the eyes) and delicious fare from local eateries (a feast for … well, a literal feast).
It was our way of showcasing the wonderful way that Wildlight lives. We like to say we're a new kind of Florida lowcountry. A town in nature, where your new home is an easy walk or ride (bike or golf cart) from a town center full of shops, restaurants, a YMCA, parks and trails. A place where, whether you prefer coastal or Craftsman, you can find a home that fits your flavor. And a spot where, without a doubt, the porch is the perfect place to spend time with family and friends.
We already can't wait for next time.
https://wildlight.com/wp-content/uploads/2022/05/April-Blog-06-800×419.jpghttps://wildlight.com/wp-content/uploads/2022/05/April-Blog-04-800×419.jpghttps://wildlight.com/wp-content/uploads/2022/05/April-Blog-08-800×419.jpghttps://wildlight.com/wp-content/uploads/2022/05/April-Blog-09-800×419.jpghttps://wildlight.com/wp-content/uploads/2022/05/April-Blog-07-800×419.jpg
At Wildlight, we like to say we're "town in nature." And our distinct neighborhoods let you experience exactly that. Whether you choose to make your home nearer the "town" part, or the "nature," you'll get to experience a new kind of lowcountry living. One where trails and wetland preserves are right out your door. And an ice cream shop (and more) is just down the street.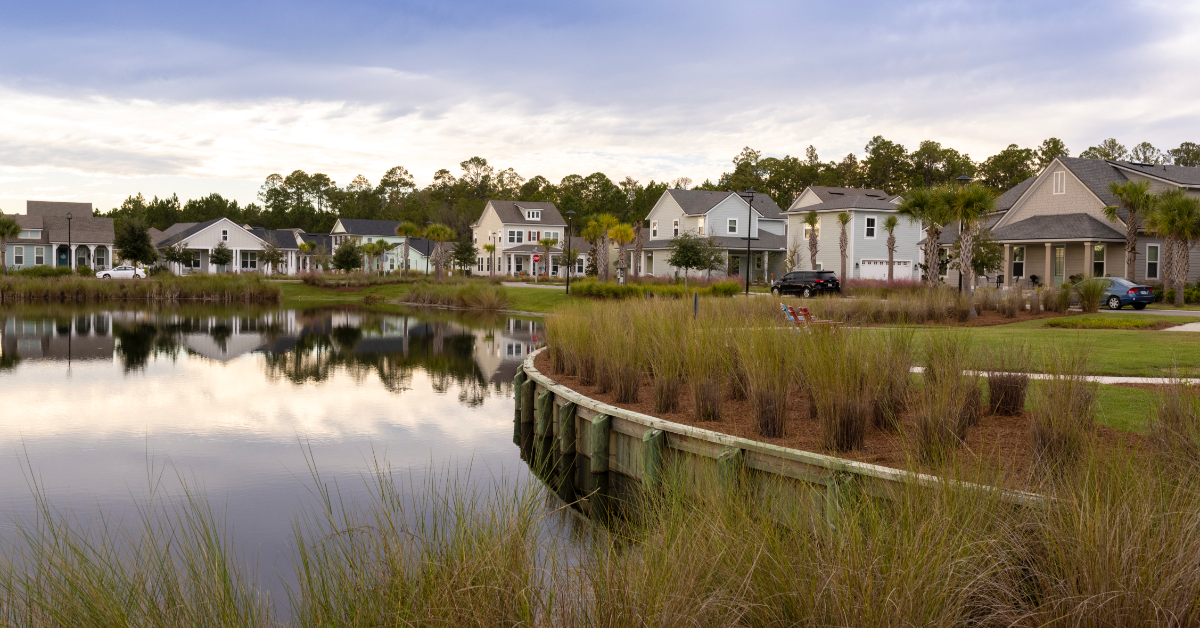 Founder's Park
Wildlight's first (and most centrally located) neighborhood, Founder's Park puts you closest to the center of town. Which means you'll be a short walk away from shops, restaurants and local businesses.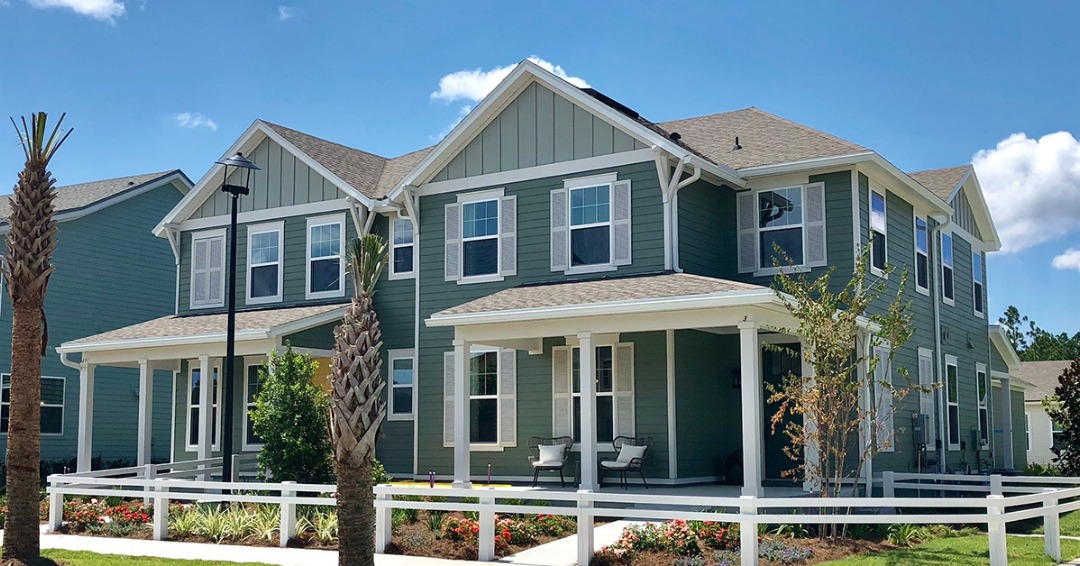 Founder's park is home to local North Florida builder Dostie. There are still a few townhome plans by Dostie available—the last opportunities in the neighborhood.
Forest Park
Surrounded by parks and walking trails, Forest Park is nearest to nature (and the YMCA that's right in the community). And those with kids, take note: it's also home to Wildlight Elementary and Waterbug Park pool.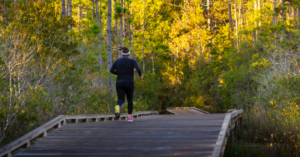 Forest Park features 19 floorplans (yes, 19) between Mattamy Homes and Riverside Homes. And Pulte Homes just introduced 5 new single-family plans (and opened two brand-new models).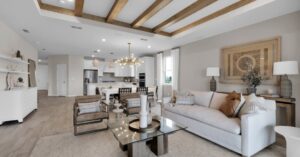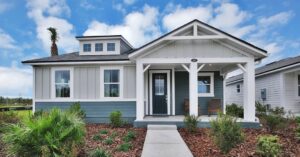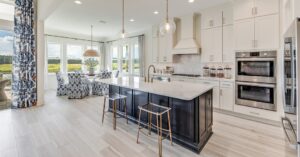 Del Webb Wildlight
This gated 55+ neighborhood is coming in spring 2022, and is equal parts luxury and low-maintenance. The one-story homes put everything you need on one level—and resort-style amenities like an exclusive clubhouse, pool, fitness center, social events and more will provide leisure opportunities just for Del Webb Wildlight residents.
Stay up to date on Del Webb Wildlight >
The Lofts at Wildlight
While these for-rent apartments aren't necessarily a 'neighborhood,' they certainly live like one. One-, two- and three-bedroom apartment homes – from 662 – 1,368 square feet – offer the latest in convenience and comfort. These pet-friendly buildings also include a swimming pool, outdoor kitchen, fitness center and more.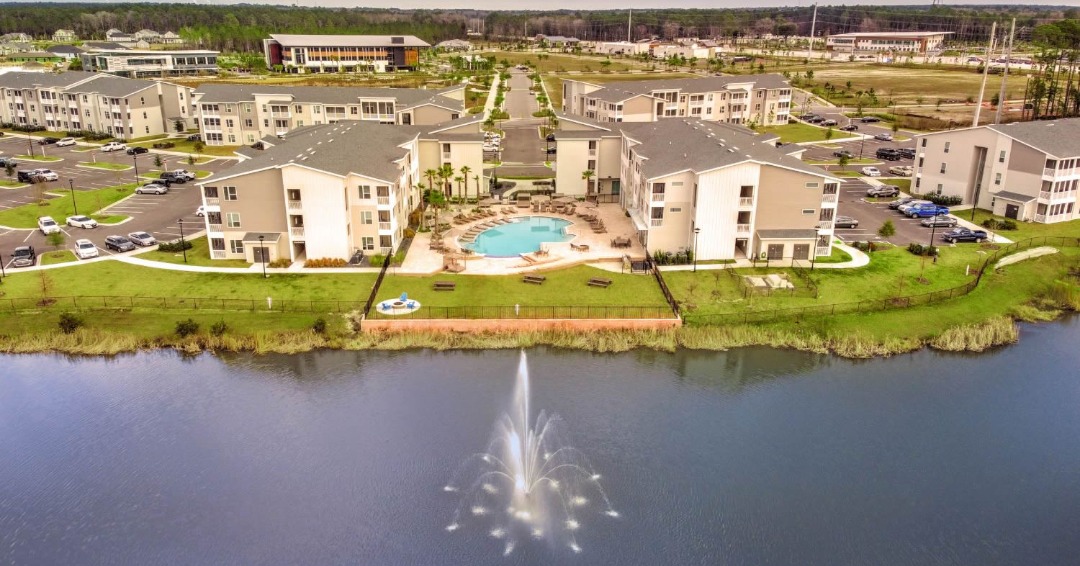 So, which will you choose? (Spoiler alert: you can't go wrong.)
And if there isn't something available that fits your needs right now, stay tuned. We'll be announcing more options this spring.
Memorial Day Weekend is usually a time to enjoy being with friends and family as we remember and honor our nation's fallen heroes. If your annual traditions involve attending parades and family picnics or traveling long distances, you may be feeling down that COVID-19 has put a damper on this year's plans. The good news is that you don't have to stay stuck at home all weekend. Here are a few ways you can spend the weekend close to FLOCO while safely social distancing.
EXPLORING AT FORT CLINCH STATE PARK
Several state parks are now open for limited activities, so why not enjoy a day at one of our own local gems? Fort Clinch offers many things to do for nature and history lovers alike. Though all campsites appear to be booked for the holiday weekend, you can still enjoy hiking the Willow Pond Nature Trail, wildlife watching, shark tooth hunting on the beaches, and of course, checking out the incredible 19th century fort.
RELAXING ON FERNANDINA BEACH
The best reason to live on Florida's First Coast is our beautiful beaches. Thankfully, Fernandina Beach is open from 6am-9pm with parking available in select areas. Many Fernandina Beach restaurants are open for takeout so you can grab lunch at one of many great places on your way to or from the beach. Check out the list of open restaurants here.
Though there won't be a parade this year, The Marine Corp League will be hosting a Memorial Day ceremony at Fernandina Beach's Veteran's Memorial Monument at 11:00am on Monday. Visitors are asked to wear masks and practice social distancing.
SOAKING UP HISTORY IN ST. AUGUSTINE
America's oldest city is just an hour south of FLOCO and well worth the trip! Although the historic Castillo de San Marcos is still closed, there are plenty of other ways to spend a day in beautiful St. Augustine. Many tour companies and museums are open with social distancing protocols in place, including Ancient City Tours, The Lightner Museum, Old Town Trolley and many more. You can find a full list of open attractions, shops and restaurants here.
SHOPPING AT ST. JOHNS TOWN CENTER
If you need to stock up on summer wardrobe staples, browse new home décor or upgrade your phone, many stores at St. Johns Town Center are open. Take advantage of special Memorial Day weekend deals and enjoy curbside pick-up from select dining spots. Visit the store directory to check the status of your favorite shops and restaurants.
However you decide to spend your time right here in Northeast Florida, we hope you have a great weekend and stay safe!
The Floco Festival is coming soon — and we're thrilled to welcome Florida's own Sister Hazel to headline the musical festivities. Florida has a rich history with music — relaxing, getting in the groove, and lowcountry living is the perfect inspiration for great music. Here are five bands you may not realize are from Florida.
Sister Hazel
This one's a bit of a giveaway, since we just mentioned they're headlining our Floco Festival this year. The band blends southern rock (more on that shortly), folk rock, classic rock and a time-honored but maybe little-known treble guitar style called jangle pop*. In doing so, they captured the sound of the 90s with Billboard hit "All For You."
Tom Petty
Singer-songwriter and guitarist Tom Petty also hails from Gainesville, Florida, where he was born and raised before he became the front man for Tom Petty and the Heart Breakers. Petty actually started his musical career in Gainesville in a band called the Epics with several future Heartbreakers. They didn't break the Top 40 until their second album, but hit platinum with their third, Damn the Torpedoes, which featured three of their most popular singles: "Don't Do Me Like That", "Here Comes My Girl" and "Refugee".
Lynyrd Skynyrd
Synonymous with southern rock, Lynyrd Skynyrd was actually one of a few bands to emerge from the Jacksonville area's lively music scene. Famous for hits like "Free Bird" and "Sweet Home Alabama", the band came up in the same region as the Allman Brothers Band and Molly Hatchet, bringing a country sensibility to rock 'n' roll culture.
*NSYNC/Backstreet Boys
It may be a hot take to group these two together, but it was also impossible to list one without the other. At the height of the teen pop craze, the only true rivals in the boy band music scene were *NSYNC and the Backstreet Boys, with a crowd of imitators in their wake. Mixing R&B, dance pop and hip hop, both bands topped the charts with hits like "I Want It That Way" and "Bye Bye Bye."
*https://en.wikipedia.org/wiki/Jangle
WILDLIGHT, FL – February 3, 2020 – Skinner Bros. Realty is continuing expansion at Wildlight with a new multi-tenant retail complex that will bring additional retail, restaurant and specialty service offerings to the area's Village Center. This is the third overall building development and second multi-tenant retail complex in Wildlight by the Jacksonville-based real estate developers. The building is slated for completion in August 2020 and will continue to advance the community's growth and progression.
"We're thrilled to welcome several new high-quality and convenient shopping, dining and specialty services to the rapidly growing Wildlight community," said Chet Skinner, vice president of Skinner Bros. Realty. "Our second multi-tenant retail complex will contribute to the four years of continued work in Nassau County, joining a well-rounded selection of businesses already established in the area such as Tasty's Fresh Burgers and Fries, Cold Stone Creamery, AT&T and more."
Skinners Bros. Realty submitted a preliminary site plan to Nassau County's Development Review Committee in September 2019, with construction having begun in January 2020. The 11,640-square-foot mixed-use building is located on State Road 200, just east of the community's main entrance, and will serve as an extension of the Wildlight Village Center's current offerings. Inspired by the community's Florida Lowcountry architecture and outdoor-living approach, the complex's exterior will maintain the unique authenticity of the culture, lifestyle and heritage. The development will feature simple lines, native Florida landscaping and a color palette to complement the community's natural surroundings.
This retail complex will bring additional lifestyle-focused businesses and services within walking distance to about 600 homes and apartments in Wildlight. Anejo Cocina Mexicana restaurant will anchor the complex and take up 3,700 square feet, leaving 1,800 square feet to Dep Nails & Spa and 6,140 square feet to lease up. The remaining tenant spaces are broken up between 1,200 and 2,500 square feet. In the coming months, developers hope to announce additional businesses to round out the already confirmed restaurant and specialty services spaces.
"We are pleased to continue working with Skinner Bros. Realty on the expansion of Wildlight," said Chris Corr, president of Raydient Places + Properties. "We have secured a solid foundation of retail shops, restaurants and sought-after services that will support the community's recent growth and demand, as well as help attract additional unique, local and regional tenants."
Looking ahead, Skinner Bros. Realty is planning three additional developments composed of single-tenant and multi-tenant buildings at Wildlight's Village Center. Other community developments in the area slated to open this year include Fairfield Inn & Suites, The Lofts at Wildlight, St. Clare Early Learning Center and Yulee KinderCare.
About Skinner Bros. Realty
Skinner Bros. Realty Company, established in January 1999, is a developer, investor, owner and manager of retail, office and mixed-use properties. The firm specializes in acquisition, planning, permitting, development and marketing of real estate as well as the representation of individual and corporate clients in the search for premier business locations.
About Wildlight
Wildlight is envisioned as a new town inspired by a character, culture and pattern of living that we call "Florida Lowcountry," where play is a part of every day and the natural world is a natural part of life. The plan for Wildlight includes a mix of homes, townhomes and rental apartments together with shops and restaurants, a new elementary school and a system of trails and pathways intended to make it healthy and walkable and connect it all together. Wildlight offers comfortable and friendly Florida Lowcountry living 20 miles north of Jacksonville, just east of Interstate 95 on A1A, with easy access to both Amelia Island and the Jacksonville International Airport. Wildlight is being created by Raydient Places + Properties, a taxable subsidiary of Rayonier Inc., a real estate investment trust. For more information please visit Wildlight.com.
The New Year is a perfect time for big plans, living better and a happier you. Even little changes in your activities and your perspective can make a major difference in the coming months. That's exactly the kind of thinking that Wildlight was built around, and wherever you are in 2020, we've got a few ideas for resolutions to make the year ahead a great one.
Spend More Time Outdoors
The outdoors rejuvenate the soul. The fresh air and open spaces let you breathe, relax or just have some fun. Whether it's hiking a nature trail, visiting the local park or a fun-filled day at the community pool, it makes an impact on your mood and well-being. So, carve out some time to escape those four walls and enjoy what outside has to offer.
Make New Friends
New faces. New ideas. Meeting new people is the best! A friendly wave and "hello" is an easy start and might just kick of a great conversation or a lifelong friendship. So, if you're sitting on your front porch and see a new passerby, why not say hello? Or if you're at the store, at a party or just out and about, make a point to meet and greet new people, and you never know who you might find!
Get More Exercise
This is kind of a classic, but working out more never hurts, and there are great ways to make it fun. Walk with a friend, join a biking group or get out on the water for some kayaking or paddle boarding. Think of it less like a workout and more like playing with health benefits. Before long, you'll wonder why exercise wasn't a regular part of your routine.
Play More and Stress Less
Speaking of playing, having fun in 2020 is a great way to reduce stress. From the workplace, home, finances and other sources, stress affects all of us to some extent, and too much can have serious health consequences. So be sure to schedule some downtime this year. Go out with friends, take yourself on a shopping spree downtown, or find a new event or class to try out. A community like Wildlight is built for residents to live and play, but you can make your own fun anywhere. And in doing so, you'll be making an even better 2020.
Happy New Year!
Florida may not have the quintessential snow-covered holiday landscape, but Lowcountry is rich with traditions celebrated by all our citizens. At Wildlight, our community loves coming together to celebrate pretty much anything, and the holiday season is just one big excuse for a party. Here are a few ways that the folks here celebrate the season Lowcountry-style:
Serve Up A Shrimp Boil
Lowcountry is known for its amazing seafood, and the holidays are a perfect time to enjoy the bounty of shrimp that Florida waters have to offer. From the Atlantic to the Gulf, this area has the best shrimp around, and making a dish everyone will love couldn't be easier. Just pick up a batch of shrimp, season your broth and boil them up for a holiday feast that is uniquely Southeast.
Citrus In Your Stocking
This may be more of a Florida thing than strictly Lowcountry, but one fun and very Southern tradition is putting oranges in the holiday stocking along with any gifts. The bright and sweet fruit is festive, fun and good for you, too! (And it makes a great filler in that pesky toe region.)
Deep-Fried Turkey
Though it's become popular nationwide, the tradition of deep-frying turkey was invented in the South. The frying process locks in the juices that can be lost when roasting the big bird, so you never have to worry about getting a piece of dry meat. Just remember: deep frying food requires attention and caution; just be careful and your holiday will stay happy!
Pecan Pie
Admittedly, this is a lot of food, but what are holidays if not a great time to feast with family and friends? December falls at the end of pecan harvesting season, and so plenty of those nuts go into delicious, sticky-sweet pecan pie. A slice of this traditional Southern dessert is the perfect way to cap off a meal (and we challenge you to grab a second slice without filling up)!
WILDLIGHT, FL – Jan. 23, 2019 – Wildlight, the new town being developed in Nassau County, is taking shape with residents moving in, commercial buildings under construction and exciting events going on for the greater community. The community's distinctive Florida Lowcountry aesthetic is coming to life through its residential architecture.
Raydient Places & Properties, the developer of Wildlight, is working with three home builders, D.S Ware Homes, Dream Finders Homes and Dostie Homes, to design and build single family homes and townhomes inspired by the Florida Lowcountry's character, culture and pattern of living. All three homebuilders are following Wildlight's Pattern Book to build homes inspired by 19th century, southern architecture, but with a forward-leaning, more-contemporary perspective. Florida Lowcountry's timeless design is characterized by large front porches, simple lines, native Florida landscaping and exterior color palettes that tie directly to the community's natural surroundings.
Wildlight's first homebuilder, D.S. Ware Homes, recently opened its second model home, the Willow. The new model is 1,866 sq. ft. with three bedrooms, two baths, and a covered patio. Much like D.S. Ware's first model home in Wildlight, the River Birch, the Willow features high ceilings, large windows and a front porch, perfect for Lowcountry living. Base price for the Willow is $309,900.
Dream Finders Homes will hold a grand opening for its first two model homes on Wednesday, Jan. 23, for interested individuals to tour the Augusta II and Anderson models. The Augusta II model is a two-story plan with 2,776 sq. ft. of indoor/outdoor living space. This home features four bedrooms, three bathrooms with grand double porches on the front of the home that capture the essence of Florida Lowcountry living. Base price for the Augusta II model is $344,990. The Anderson model is also a two-story plan, but with 2,862 sq. ft. and four bedrooms, three and a half bathrooms. Base price for the Anderson model is $367,990.
Dostie Homes has broken ground on its first townhome model in Wildlight called the Charleston featuring one of the renowned builder's all-new floor plans with 2,015 sq. ft., four bedrooms and two and a half bathrooms. Small, fenced rear yards with covered lanais also provide a sense of privacy, which is not typical of townhome living. Pricing for the townhomes start at $230,000. Dostie will also be building single family homes on 70-foot wide manor homesites with square footage ranging from 2,500 to 3,000 sq. ft.
###
About Wildlight
Wildlight is envisioned as a new town inspired by a character, culture and pattern of living that we call "Florida Lowcountry," where play is a part of every day and the natural world is a natural part of life. The plan for Wildlight includes a mix of homes, townhomes and rental apartments together with businesses, shops and restaurants, a new elementary school and a system of connecting trails and pathways intended to promote a walkable community and healthy lifestyle. Our Phase 1 plan is flexible and currently designed for about 1,000 homes throughout 260 acres, approximately. In addition, the community will have approximately 350 acres of permanently preserved open space. Wildlight offers comfortable and friendly Florida Lowcountry living located 20 miles north of Jacksonville and just east of Interstate-95 on A1A. There is easy access to both Amelia Island and the Jacksonville International Airport. Wildlight is being created by Raydient Places + Properties, a taxable subsidiary of Rayonier Inc., a real estate investment trust. For more information please visit Wildlight.com.
# # #
WILDLIGHT, FL – July 26, 2018 – Today, Raydient Places + Properties announced that Jacksonville-based Dostie Homes has been selected as the third residential homebuilder in Wildlight, the new town being developed in Nassau County. Dostie Homes will build the community's first townhomes near Wildlight Village along with single family homes.
(more…)